Roy Rogers' 'weird' Hollywood makeover left Western fans stunned, granddaughter says
Julie Rogers Pomilia detailed her life with Roy Rogers and Dale Evans in a memoi, 'Your Heroes, My Grandparents: A Granddaughter's Love'
Roy Rogers, the "King of the Cowboys," wasn't quite ready to tame Hollywood.
It was October 1937 when the entertainer, a shoe factory worker's son from Ohio, signed his first contract with Republic Pictures. But the star needed a makeover, and studio heads looked at another king for inspiration, "King of Hollywood" Clark Gable.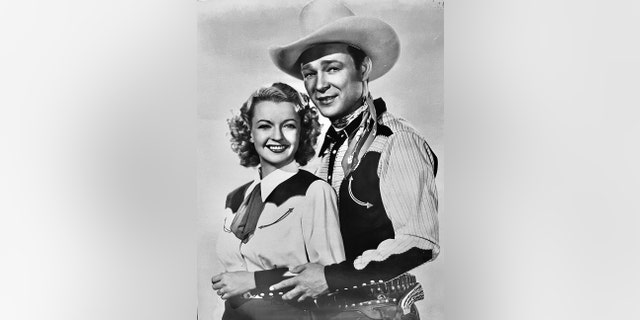 "When grandpa came to Hollywood, he had these really squinty eyes," the late star's granddaughter Julie Rogers Pomilia, author of "Your Heroes, My Grandparents: A Granddaughter's Love," told Fox News Digital.
ANN-MARGRET DESCRIBES HER ELVIS PRESLEY CONNECTION, REMEMBERS NIBBLING ON PAT BOONE'S SHOULDER
"I know he was part Choctaw Native American. … [His eyes] were very expressive," she shared. "But they were squinty, and they didn't like his eyes. And, so, they made him get prescription eyedrops to relax the muscles and open up his eyes. So his eyes were bigger. And all of a sudden, he started getting fan mail from people saying, 'Hey, what are you doing to Roy's eyes? It looks weird! We like his squinty eyes.' So they stopped that."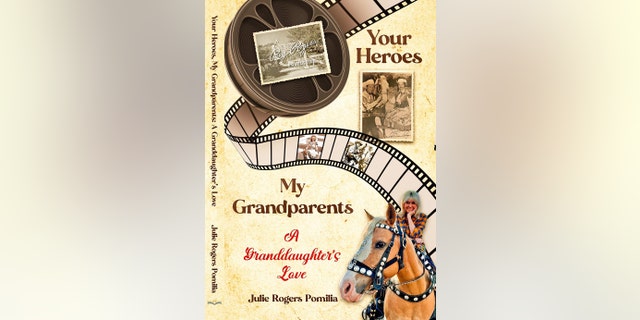 "It was Clark Gable's eyes that they were shooting for when it came to grandpa, but he was never going to have Clark Gable's eyes," Rogers Pomilia chuckled.
Rogers' daughter, Cheryl Rogers, previously revealed that makeup artists even attempted to glue his upper eyelids open. The patriarch later complained that the eyedrops gave him headaches, while the glue made his upper lids raw and sore as his "eyeballs felt burnt by the late morning."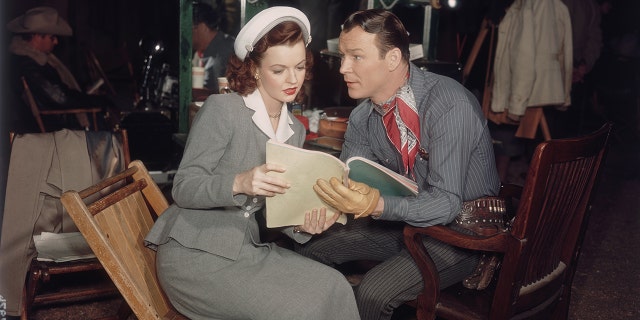 Rogers was quickly able to ditch the drops and glue without damaging his vision, but the studio had other plans to boost the actor's image for the big screen.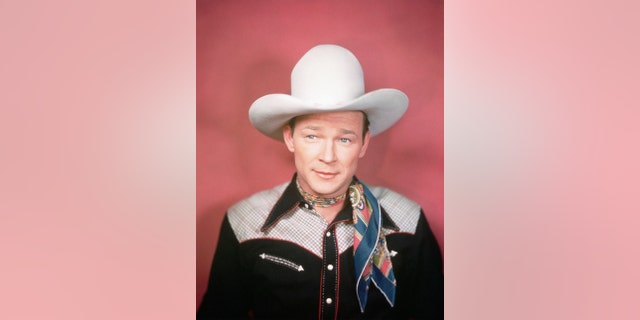 "They said he didn't have enough muscles, so they wanted him to do a hundred handstands a day and walk around on his hands – and he did that," said Rogers Pomilia. "And pretty soon, he was walking from set to set on his hands. [But] nothing really stuck, and people didn't care.
"And when they wanted him to go to Hollywood parties, he was shy, painfully shy. He was just bashful. He didn't know what to say. He wasn't good at small talk, and he was just a country boy. … He finally asked, 'Can I bring a friend?' And they said, 'Sure, bring a friend. We don't care, but just go to the party and get your name out there and rub shoulders with all the other celebrities.' And he brought his hunting buddy. They sat on the couch all night and talked about coon hunting. And they were like, 'OK, nevermind!'"
Rogers' beloved wife Dale Evans, who became known as the "Queen of the West," was also heavily scrutinized before her big debut.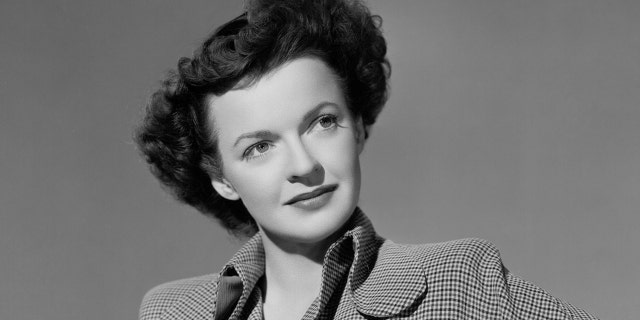 "When my grandma stepped off the plane, the guy to greet her from the studio said, 'Oh, you don't even look a thing like your photos! Your nose is too big, your forehead's too wide. We gotta do something with that hair.' And, 'Oh, look at those clothes! We gotta do a makeover on you.' And she was devastated. She was like, 'Well, welcome to Hollywood.'"
Still, the couple found instant success. Rogers' first film, 1938's "Under the Western Stars" was a huge hit. At the time, he was replacing another screen cowboy, Gene Autry, who was in a contract dispute with the studio.
According to Rogers Pomilia's book, Rogers went on to become the top Western box office star for 11 years in a row, from 1943 to 1954. Under contract with Republic Studios, Rogers made more than 100 films — as many as six films a year — which were seen annually by over 80 million Americans. He married Evans, his frequent co-star, in 1947. Together, they starred in the popular TV Western, "The Roy Rogers Show," which aired nine years on radio before heading to NBC for six seasons from 1951 until 1957.
CLICK HERE TO SIGN UP FOR THE ENTERTAINMENT NEWSLETTER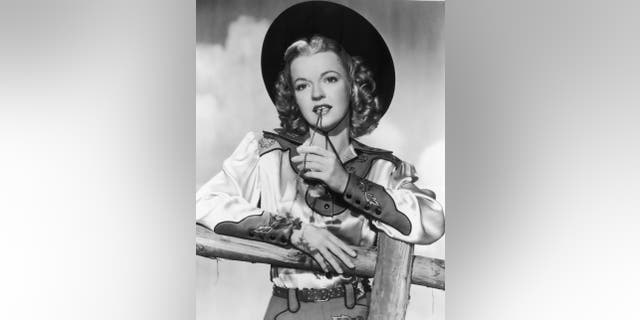 Rogers Pomilia also noted that the Roy Rogers Fan Club had nearly 2.5 million members in the U.S. alone, and 90,000 members in the U.K. It was the biggest fan club before the Beatles came to the scene. In a month, Rogers would receive up to 79,000 fan letters that he was determined to respond to personally. Earning $75 a week at Republic, Rogers couldn't keep up with the cost of stamps. As a result, he hit the road, performing at state fairs and rodeos, while earning an extra income selling merchandise.
Even Gable was impressed.
"Clark had similar interests with skeet shooting and all kinds of outdoor activities," said Rogers Pomilia about the "Gone with the Wind" star. "They became fast friends. They would golf and go to the shooting range."
But no pal could compare with Trigger, the "smartest horse in the movies." Rogers once said that Trigger, who cost a whopping $2,500 in 1938 was "the best thing that ever happened" to him. Due to his salary, Rogers had to make payments on Trigger, "like putting a couch on layaway."
According to The New York Times, the horse had no qualms about being a Hollywood star. He could fire a gun, untie ropes and even add and subtract, among many tricks.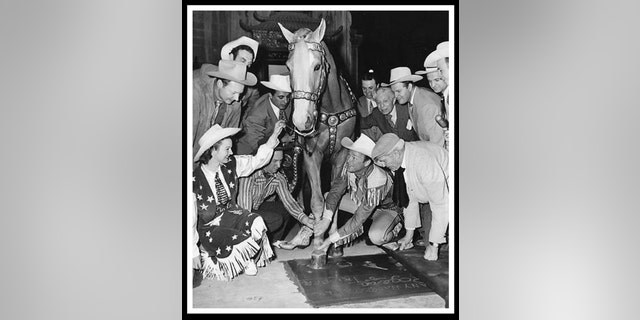 Rogers Pomilia's book noted that Trigger appeared in 88 movies and 100 episodes of her grandparents' TV show. He also got top billing over Evans. Trigger had his own comic book series and received over 1,000 fan letters a week. Trigger, formerly named Golden Cloud, had been ridden by Olivia de Havilland in 1938's "The Adventures of Robin Hood" before Rogers took a look at him.
When Trigger died in 1965 at age 33, a heartbroken Rogers was determined to "preserve" the horse. Rogers Pomilia pointed out that her grandfather loathed the term "stuffed."
'BEVERLY HILLBILLIES' STAR BUDDY EBSEN LOST 'THE WIZARD OF OZ' ROLE FOR THIS HORRIFYING REASON, DAUGHTER SAYS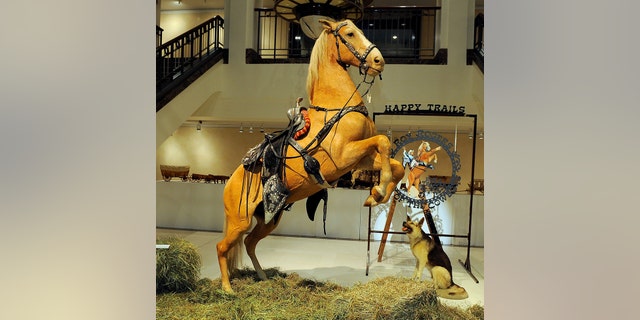 "He used to get so upset when people would say he was 'stuffed' because it's not like sawdust in a bean bag or something," she said. "He was very sentimental, and Gene Autry just didn't understand how he could pay that much money to preserve a horse. He said, 'Just throw him in the ground. He's done.' But grandpa just couldn't do that.
"He had a museum, and he thought his fans would like to see Trigger. … And, sure enough, people used to come [during] their vacations, knock on the front door at closing time and say, 'Can we please just come in and see Trigger? That's all we want to see.' So he was glad that he did it."
"He used to joke, 'When I die, just do that to me – stick me up on Trigger,'" Rogers Pomilia revealed. "Grandma used to give him the side eye and say, 'Well, don't do that with me and [my horse] Buttermilk. Don't even think about it!'"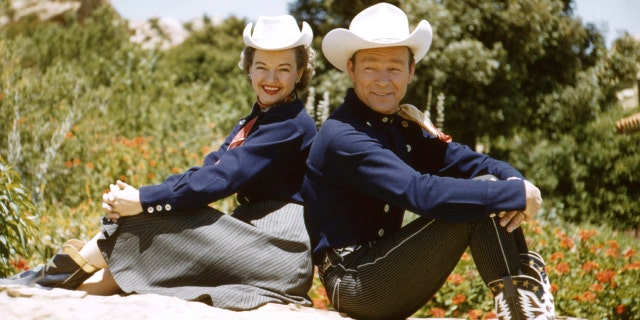 Rogers and Evans were married until his death in 1998 at age 86. Rogers Pomilia said the secret behind their decades-long union was their faith in God and love of family. The couple had nine children, 16 grandchildren and more than 30 great-grandchildren.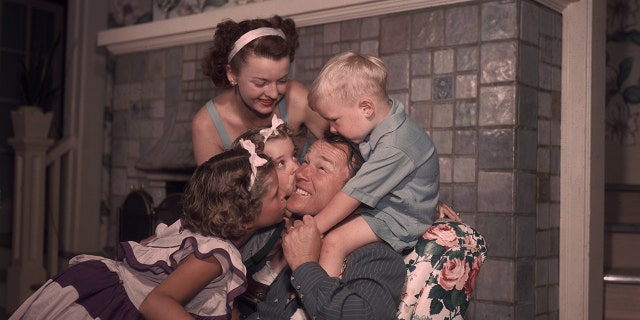 But the pair did suffer from heartbreak. Their daughter Robin Elizabeth, born with Down syndrome, died before her second birthday. They refused to keep her illness a secret, which was uncommon in those days. Their adopted daughter Deborah Lee was just 12 when she was killed in a bus accident in 1964. Their adopted son John David Rogers choked to death in 1965 at age 18.
Rogers Pomilia said it was their faith that helped them cope with the tragedies.
"It was a hard time," she admitted. "They turned to God. … They were chasing fame all their lives, and it just didn't work. They wanted to get their priorities right."
'50S STAR ANGIE DICKINSON ON FRANK SINATRA AND WHY SHE NEVER MARRIED 'LOVE OF MY LIFE'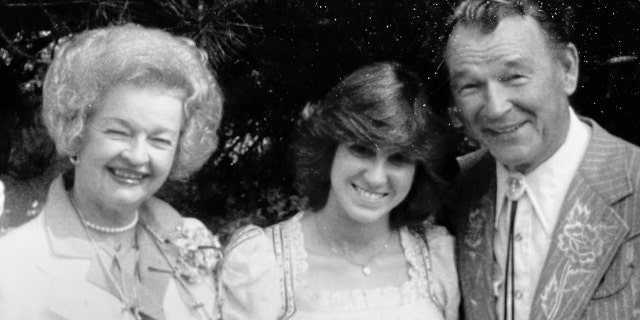 Evans died in 2001 at age 88. Rogers Pomilia said she still has fond memories of growing up with her famous grandparents.
"They always made time for us," she reflected. "They could be at the White House one weekend … and the next weekend they could be on the floor with me playing 'Old Maid.' … We spent a lot of time on their ranch about every weekend. We had dinners together. We had a big family, and we always wanted to spend time with each other. There was no pecking order. No one was more important than the other. None of that didn't matter. We were just a family."