Republican demands NJ Gov. Murphy halt offshore wind project for 30-60 days amid spate of whale deaths
An estimated 32 whales have washed ashore or been found dead along the East Coast since December
Garden State Republican officials are calling for a 60-day pause on offshore turbine development to investigate whether wind projects are killing marine life after a recent spate of dead whales washing up along the New Jersey-New York coastline.
During a recent local hearing, State Sen. Michael Testa, R-N.J., called on Gov. Phil Murphy to order a halt on offshore wind farm construction in the state to determine whether the project is responsible for the recent uptick in whale deaths.
CALLS MOUNT TO STOP OFFSHORE WIND PROJECTS AS MORE WHALES WASH UP DEAD: 'NEED TO TAKE A VERY HARD LOOK AT THIS'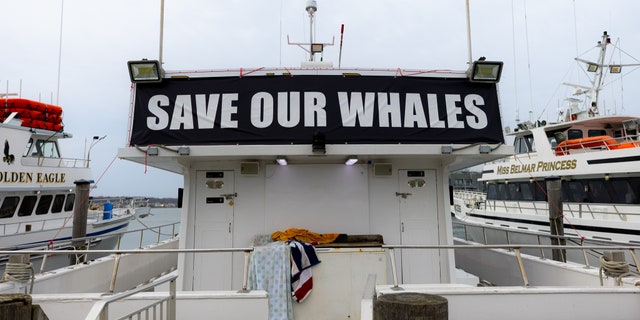 In an interview on "The Story" this week, Testa called out the "hypocrisy" of environmental NGOs, questioning the "deafening" silence from groups like the Sierra Club, one of the United States' oldest environmental organizations on the issue.
"We're seeing the utter hypocrisy of groups like Sierra Club and Greenpeace. We do know that If one whale were to die due to offshore drilling, they would be on the beach holding hands surrounding that whale carcass sinking kumbaya," Testa told Fox News host Martha MacCallum. "But they're not there right now."
Testa said he believes environmental NGOs are receiving "a lot of money" from big wind groups to look the other way as dead whales continue to wash ashore.
"How much money [is] big wind…donating to organizations such as the Audubon Society, to Greenpeace, to Sierra Club it certainly looks like a lot of money because I don't think that they seem to be culturally relevant anymore," Testa said.
PANEL OF DEMOCRATS, ENVIRONMENTAL ACTIVISTS BLAME CLIMATE CHANGE FOR WHALE DEATHS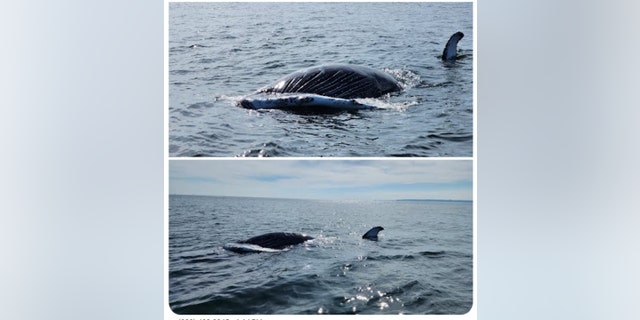 "[When] I was about 7 or 8 years old….you had bumper stickers saying 'save the whales.' We don't have that anymore. Where is their message? They're completely silent. Their silence is deafening. Or worse, they're saying the same thing that big wind is saying. That because of the climate crisis, we have to rush to judgment and erect these wind farms," Testa added.
Ack Nantucket Residents Against Turbines board member Amy Disibio told McCallum that less notable NGOS are also being paid by wind turbine developers to stay out of the conversation.
"So when the wind companies are donating big dollars to different organizations their voices become compromised, and it's really a problem. Their silence is a problem for people like the senator here. When they can't hear the voices of these organizations pushing back, the conversation is over," she said.
An estimated 32 whales have washed ashore or been found dead along the East Coast since December, according to the National Oceanic and Atmospheric Administration (NOAA). Since January, seven dead humpback whales have washed ashore on beaches in New Jersey. The most recent death came on April 9, when a fin whale washed up on a sandbar in Virginia, NOAA spokeswoman Allison Ferreira confirmed.
MYSTERY OVER WHALE DEATHS SPARKS ALARM: WE NEED TO 'PAUSE AND INVESTIGATE'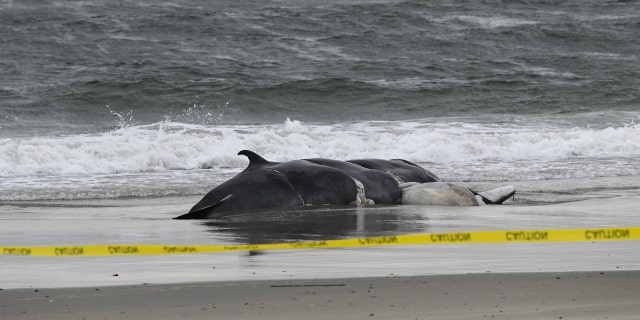 The Garden State has aggressively embraced the offshore wind energy industry, with three offshore wind projects already approved and more to follow, the Associated Press reported.
In April, NOAA acknowledged that New Jersey's first offshore wind farm may "adversely affect" whales and other marine mammals, but argued there's no evidence that its construction, operation and eventual dismantling will seriously harm or kill them
Testa said he hopes Murphy heeds his request for a 30-to-60-day review to investigate whether whale mortalities decrease once turbine production is stalled.
"I'm hopeful. It's doable," he said. " I think more people are waking up to the hypocrisy of the Murphy administration, the hypocrisy of groups like Greenpeace and the Sierra Club. We're getting ready to start the summer season, which is integral to my legislative district. People don't want whales and dolphins washing up on our shores in pursuit of big wind," he said, adding, "we have to take a long hard look at the return on investment for big wind."