Prince Harry, Meghan Markle court James Corden with new late-night cameo, Montecito visit
Former talk show host's apparent visit is latest meetup for couple's inner circle of stars, powerbrokers and VIPs
James Corden appears to be the latest star to meet up with Prince Harry and Meghan Markle.
The comedian, who recently ended his late night talk show "The Late Late Show with James Corden" and relocated back to the U.K., visited the United States and apparently stopped in to say hi to the Sussexes.
Corden's vehicle appeared to be heading toward Harry and Markle's Montecito home, a source told Fox News Digital.
"They [Corden and his family] went to Harry's for about an hour and then went to dinner at Lucky's [Steakhouse]," the insider said.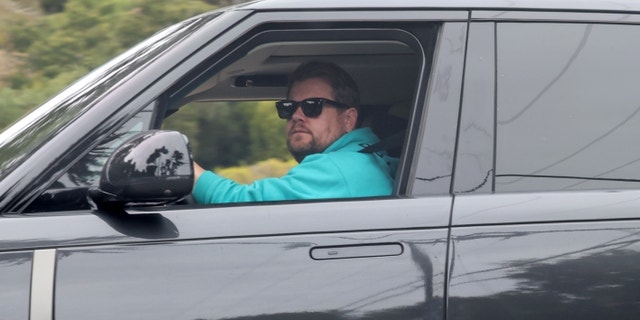 PRINCE HARRY, MEGHAN MARKLE COURTED BY GWYNETH PALTROW AS ACTRESS RACKS UP ROYAL FRIENDS
In 2021, Harry appeared on "The Late Late Show," not long after his move to the U.S. with Markle and toured Los Angeles with Corden. The duo rode around the city on an open-air double-decker bus, which Harry noted he'd never been on before. He'd "never been allowed to."
On Wednesday, it was revealed the Duke of Sussex even stopped by for the taping of the final episode of "The Late Late Show."
In a new behind-the scenes-video shared on the show's YouTube page, Harry is seen hanging out in the control room around the 9:17 mark, handing a drink to the show's executive producer, Ben Winston.
Corden appears to be one of the many celebrities in the Duke and Duchess of Sussex's inner circle. Markle in particular can count Oprah Winfrey, Ellen DeGeneres, Serena Williams and Gwyneth Paltrow among those in-the-know with the couple
Last year, Corden spoke with The Sun and shared that his children — Max, 11, Carey, 8, and Charlotte, 4 — with wife Julia Carey have hung out with Harry and Markle's kids — Archie, 4, and Lilibet, 23 months.
"It was more a sort of play date scenario [with the kids]. Then, we went out for dinner after. It was lovely," he told the outlet. "Obviously, I'm not telling you any more. Obviously."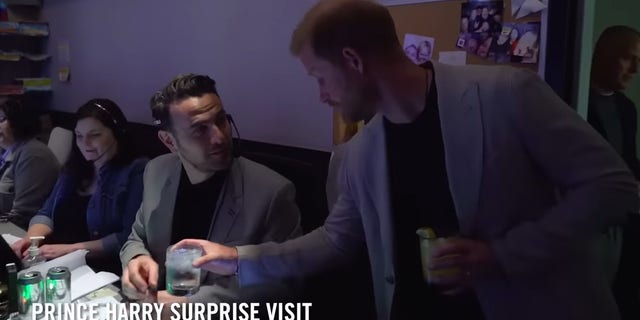 Corden, who attended Harry and Markle's wedding in 2018, also opened up a bit about their friendship in the interview.
"Look, I'm a huge fan of both of them. Obviously, I know Harry better than I know Meghan, but I think it's really hard to judge, or be judgmental. People process things and deal with things in different ways, and that's OK. And it's all right to think whatever you think about somebody. I don't know if it necessarily needs to be voiced the whole time, but my experience of them has been nothing but positive," he said at the time.
"I have a huge amount of respect and admiration for Harry, and anyone who has been around him and spent time with him would feel exactly the same way. I think he is a devoted and loving husband and father. And I think what they have done [in turning away from royal life] is incredibly brave, and I'll always be in their corner. I have nothing but admiration and respect for them. I think it's impossible to judge any of it really."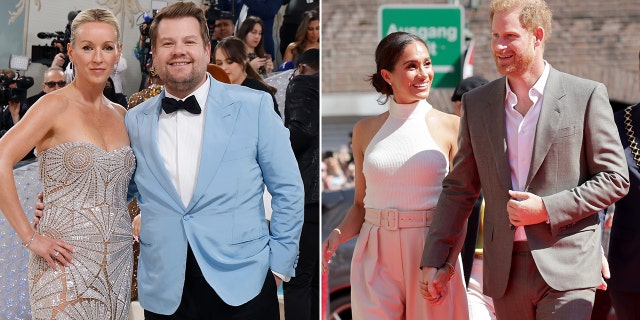 PRINCE HARRY, MEGHAN MARKLE IN NYC: TIMELINE OF ALLEGED 'NEAR CATASTROPHIC' INCIDENT
CLICK HERE TO SIGN UP FOR THE ENTERTAINMENT NEWSLETTER
During a 2021 interview with Corden, Harry discussed his decision to step away from the royal family.
"It was never walking away. It was stepping back rather than stepping down. It was a really difficult environment as I think a lot of people saw. We all know what the British press can be like. And it was destroying my mental health," he said at the time.
"So, I did what any husband and any father would do. I need to get my family out of here. But we never walked away. And as far as I'm concerned, whatever decisions are made on that side, I will never walk away. I will always be contributing. My life is public service. So, wherever I am in the world it's going to be the same thing."