Politico slammed for Casey DeSantis 'hit piece,' invokes Lady Macbeth 'trope' after blasting it for Dem wives
Politico Magazine previously defended Gisele Fetterman, Jill Biden, Hillary Clinton from comparisons to the Shakespearean villain
Politico faced backlash Friday as critics railed against its "hit piece" against Florida First Lady Casey DeSantis just days before her husband is expected to launch his 2024 presidential bid.
DeSantis, a former local TV personality and wife of Florida Republican Gov. Ron DeSantis, was the subject of story from Politico titled "The Casey DeSantis Problem: 'His Greatest Asset and His Greatest Liability.'"
"For some time now she's been seen mostly and by many as an absolute superstar of a political spouse… For nearly as long, too, though, others who have worked with her or around her have nodded more quietly to the downsides of the starring part that she plays," Politico senior staff writer Michael Kruse wrote. "The DeSantis inner circle is too small and remains so, they say, not only because he constitutionally doesn't trust people but because she doesn't either. Especially forthright are the people who are granted anonymity on account of their fear of retribution given their power — not just his but hers."
TEN MEDIA NARRATIVES WAGED AGAINST RON DESANTIS FROM 'DON'T SAY GAY' TO PUDDING
The piece quotes an anonymous GOP lobbyist calling her "the power behind the thrown" while another unnamed GOP consultant said she's "the tip of the spear." DeSantis donor and supporter Dan Eberhart told Politico, "She is both his biggest asset and his biggest liability."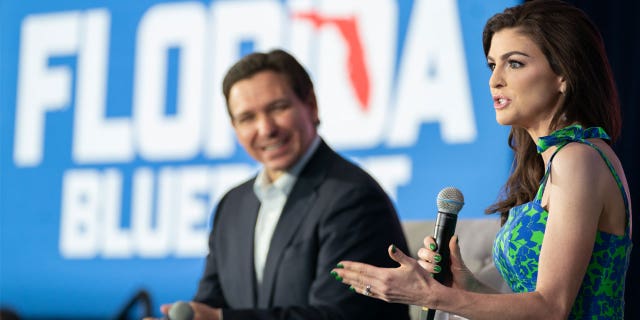 The article then quotes ex-Republicans who have become prominent Democrat allies like MSNBC contributor David Jolly, Lincoln Project co-founder Rick Wilson and political strategist Mac Stipanovich.
What raised more eyebrows was that Politico turned to a quote from last year by Trump loyalist Roger Stone comparing the governor's wife to Lady Macbeth.
"Have you ever noticed… how much Ron DeSantis' wife Casey is like Lady Macbeth?" Stone asked, which Kruse interpreted to mean "an agent… of her husband's undoing."
Lady Macbeth, the famed power-hungry character from William Shakespeare's "Macbeth" who notoriously pushed her husband to kill the king to become queen, was a comparison that Politico leaned into despite Kruse's acknowledgment that Stone's analogy was "hyperbolic."
"The more complicated but also more instructive reality is that she is neither the fawning caricature she's made out to be in conservative and even at times mainstream media nor a Shakespearean villain," Kruse wrote. "She might well be a bit of both, say even some DeSantis proponents, and somewhere in this tension sits the central dynamic of the pending DeSantis campaign. She can ameliorate some of the effects of his idiosyncrasies. She can also accentuate, even exacerbate, his hubris, and his paranoia, and his vaulting ambition — because those are all traits that they share."
Kruse also cited an unnamed lobbyist who said about a political falling out involving the First Lady, "It's a very Shakespearean kind of situation."
"'What's done,' to quote Lady Macbeth, 'cannot be undone,'" Kruse wrote.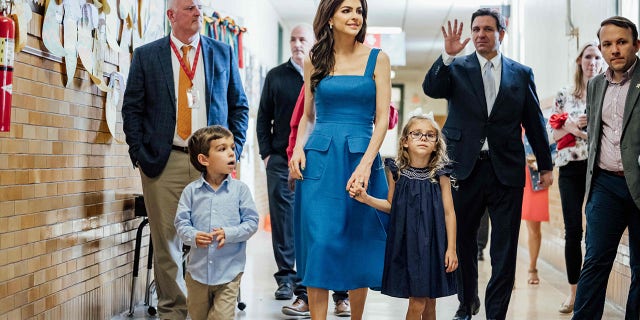 Notably, Politico previously derided "The return of the Lady Macbeth trope" during the 2022 midterms when it was used against the spouses of prominent Democrats like First Lady Jill Biden and Gisele Fetterman, wife of Sen. John Fetterman, D-Pa.
"While the attacks on Joe Biden and John Fetterman's wives might have mostly been intended as attacks on the male candidates, the end result is a reinforcement of traditional gender roles that make any ambitious woman suspect. If Gisele Fetterman or Jill Biden ever run for office, they can expect to see the same trope come back to target them, not their husbands. Just look at Hillary Clinton," Politico Magazine senior editor Katelyn Fossett wrote in November.
FLORIDA GOV. RON DESANTIS EXPECTED TO LAUNCH 2024 PRESIDENTIAL CAMPAIGN NEXT WEEK
Critics blasted the DeSantis "hit piece" on social media.
"A disgusting hit piece on Casey DeSantis, who my family and I know well and is a dear friend," Fox News host Mark Levin tweeted. "Media lowlifes just cannot control themselves. Michelle Obama, Jill Biden treated like saints. I'll address this on radio this evening. They pulled the same crap on Nancy Reagan, by the way. The media hate smart, strong, professional Republican women who are also loving mothers and wives, and who support their husbands."
"Wow...attacking the wife this early. They really fear him," National Review contributor Pradheep J. Shanker reacted.
"When you've entertained some stupid Roger Stone comment for several paragraphs, that's how you know you write totally garbage. Also, note, any piece that includes @DavidJollyFL is going to be a deranged hit piece," New York Post columnist Karol Markowicz wrote.
"Politico uses Roger Stone to cast aspersions on Ron DeSantis's wife. Hard to imagine them writing a story like this on Jill Biden or Michele Obama. First, Stone on marriage. Next, they're going to use Jeffrey Dahmer to offer tips on charcuterie," conservative radio host Erick Erickson quipped.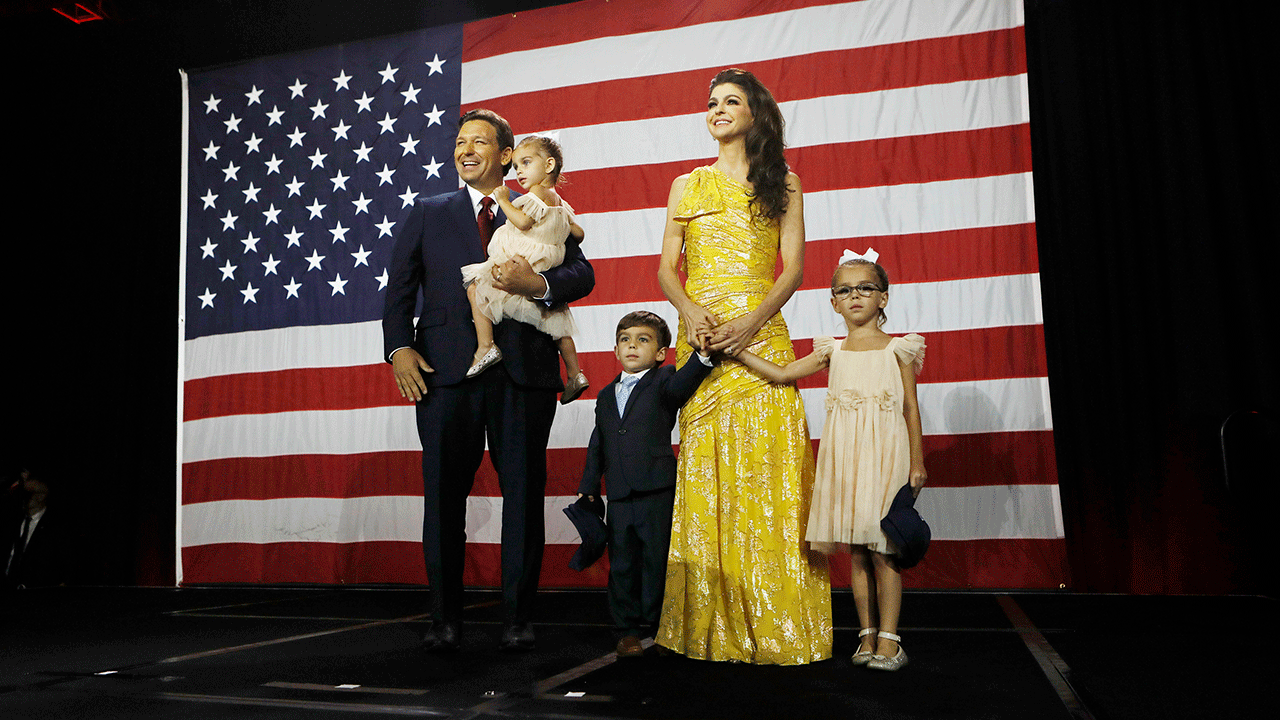 DESANTIS SAYS HE IS ONE OF ONLY THREE 'CREDIBLE' 2024 OPTIONS, CHANCES FOR TRUMP 'NOT GREAT': REPORT
"I must say that I strongly dislike it when spouses and children of politicians and candidates are attacked seemingly for no reason. Today I think Casey DeSantis is being unfairly targeted… Unless these individuals engage in behavior deserving of criticism, I find it disrespectful and inappropriate to attack them simply based on who they are," liberal Twitter personality Ed Krassenstein wrote.
"The fascinating arc of history in which the founder of a 'NeverTrump' organization is touting a piece about Casey DeSantis organized around a Lady MacBeth analogy that's based on a quote from, um, Roger Stone," New York Times columnist Ross Douthat tweeted.
"Basing an entire piece around a quote from someone they hate, when it's convenient, as a way to attack a couple's successful marriage? I'm sure that will sway voters!" conservative radio host Dana Loesch exclaimed.
"People who mock successful partnerships or ridicule the ways in which husbands and wives complement one another are weirdos," she added.
"If the closest you can get to someone's inner circle is his avowed rivals, it's not a story you have, it's a press release," Mediaite's Isaac Schorr wrote in an opinion piece.
Even liberal writer Joan Walsh of the left-wing outlet The Nation swiped Politico's reporting, stressing she is someone who "despises" the Florida governor "and I'm sure his lovely wife is just as terrible."
"Naked in its sexism while insisting that it's in fact giving the woman in question agency, credit, attention," Walsh wrote, later adding, "this seemed like the worst sort of Beltway journalism, answering a question other journalists are gossiping about but nobody can quite answer, while everyone looks away from the gargantuan right-wing forces that are disabling our democracy."
Bryan Griffin, a spokesman for DeSantis' political team, tweeted, "When activist media like @politico et al have no real access but want to push their narrative anyways about @GovRonDeSantis or @CaseyDeSantis, they quote liberal activists and pretend they're insiders. This is a dishonest tactic of desperation."
A spokesperson for Politico told Fox News Digital, "The piece is quite transparent in that it is heavily informed by, and includes current supporters and donors of Governor DeSantis, as well as staffers who work—or have worked—for him. Those sources quite obviously were not—and are not—Democrats. Further, the central thesis of the piece is ratified by a supporter of Governor DeSantis who is quoted extensively on record."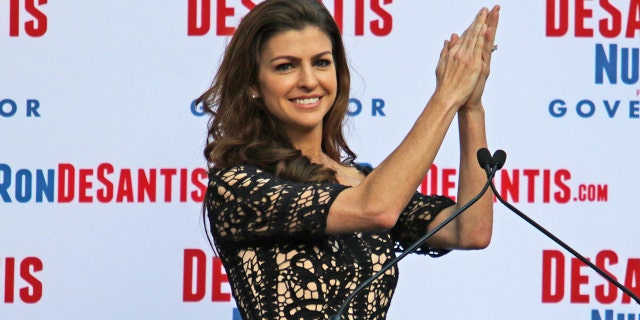 For years, Gov. DeSantis himself has been the subject of media attacks, especially during COVID when they went after his handling of the pandemic on a state level, which was widely praised by conservatives.
DeSantis is set to officially enter the GOP primary race next week as he is widely seen as the most serious challenger to Trump, who has a commanding lead in national polls but less so in various state polls. Some liberal outlets have already argued that DeSantis "is more dangerous" than Trump.