New Mexico teen who gunned down 3 struggled after leaving sports team: report
Farmington Deputy Police Chief Baric Crum has said investigators don't believe Wilson knew any of the victims
18-year-old Beau Wilson, who New Mexico authorities say shot and killed three elderly women at random, reportedly struggled emotionally after having to leave his school's wrestling team, according to NBC News.
The New Mexico teen was killed by responding officers' gunfire Monday after gunning down Shirley Voita, 79, Melody Ivie, 73, and Gwendolyn Schofield, 97, who were all in cars. Officials have yet to release a motive for the shooting.
Wilson's mother, Lorry Rodriguez, recently spoke with NBC News, saying her son relied on his high school's varsity wrestling team for a sense of purpose as he dealt with his parents' divorce and falling behind in classes.
"His life was going to practice, and when he didn't have that, he had nothing," Rodriguez told the outlet. "He didn't have nothing to work for. That's all he knew."
NEW MEXICO POLICE RELEASE BODY CAMERA VIDEO FROM SHOOTING THAT LEFT 3 PEOPLE DEAD, 2 COPS INJURED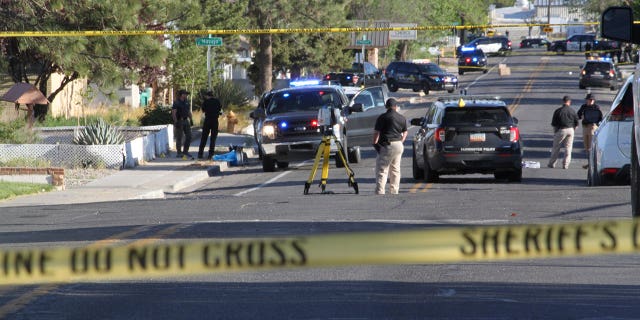 Daxton Allison, one of Wilson's former teammates, told NBC News Wilson's exit from the team came as a result of a strained relationship with his head wrestling coach, Brent Stover. Stover recently resigned from the position, per the outlet.
Wilson was a senior at Farmington High School, where graduation was held Tuesday night.
Rodriguez blames herself for not anticipating the violence, saying she knew her son had purchased a firearm. However, she said she had no concerns over the purchase.
"How did I not know? I ask myself that," Rodriguez said, according to NBC News.
NEW MEXICO OFFICIALS RELEASE VIDEOS SHOWING OFFICERS RUSHING GUNMAN WHO KILLED 3 WOMEN
New Mexico officials released body camera video Thursday of officers responding to the scene. One of the police officers shot during the incident could be seen falling to the ground. Other officers were seen giving the officer medical aid.
A photo of a note found on Wilson's body was released as well, with police also revealing Wilson had amassed a cache of weapons and ammunition at the home he shared with his father. Law enforcement found approximately 1,400 rounds of ammo stored, as well as ten other firearms of varying calibers scattered throughout the home.
NEW MEXICO POLICE RELEASE CRYPTIC NOTE FROM TEEN SHOOTER ACCUSED OF MURDERING 3 ELDERLY WOMEN, INJURING 2 COPS
Police noted the weapons, although accessible to Wilson, did not belong to him.
Police also revealed that although Wilson had been wearing a bulletproof vest when he first opened fire from his home, he "deliberately removed the vest" prior to his encounter with officers as he was walking down the street toward a church.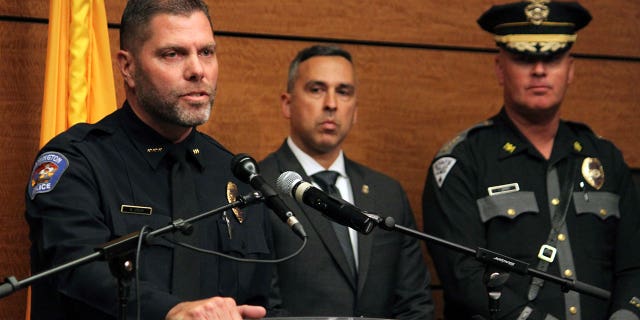 Witnesses and police say Wilson walked through the Farmington neighborhood where he lived and began randomly firing bullets until police arrived on the scene.
Farmington Deputy Police Chief Baric Crum previously said investigators don't believe Wilson knew any of the victims. Police officers shot during the incident have since been released from local hospitals.
Fox News Digital reached out to Stover for comment but did not immediately hear back.