Meghan Markle fans accuse Kate Middleton of copying Duchess of Sussex's style
The Princess of Wales played the piano in a blue gown during the finals of Eurovision
The court of public opinion is seething with contempt for Catherine, the Princess of Wales, who they believe copied Meghan Markle, the Duchess of Sussex.
It's a story that we've heard several times before, but fans on social media criticized the princess for wearing an eerily similar one-shoulder gown that Markle wore last year.
"It is quite creepy the way Kate Middleton copies everything that Meghan wears and does. She never ever has an original idea of her own Meghan lives on in Kate's head rent free," one Twitter user wrote.
Another person tweeted, "Copy Kate has once again 'borrowed' Meghan's style with a replica of the dress Meghan wore to the NAACP Image Awards."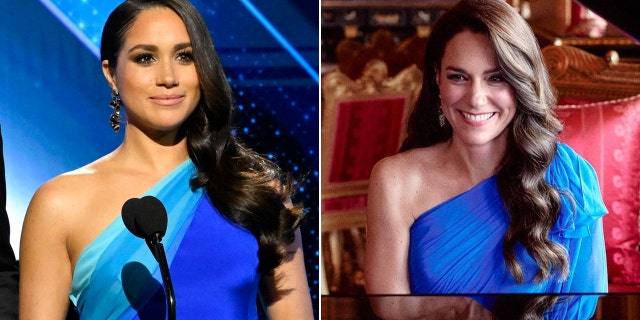 MEGHAN MARKLE, KATE MIDDLETON'S RELATIONSHIP IS 'NONEXISTENT,' THEY WERE NEVER FRIENDS
Making a surprise cameo in a pre-recorded video for the Eurovision Song Contest final, Kate Middleton wore a beautiful cascading Jenny Packham dress with a ruffled shoulder.
The color of her dress was symbolic, representing the Ukranian flag, as she dazzled while playing an instrumental version of "Stefania," by the Ukrainian group Kalush Orchestra. They group reigned victorious in the singing competition last year.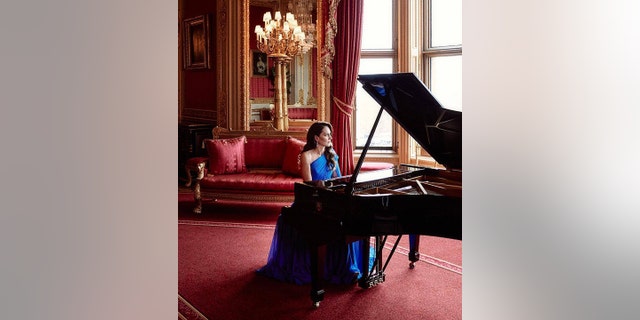 CLICK HERE TO SIGN UP FOR THE ENTERTAINMENT NEWSLETTER
At her first public event of 2022, Markle appeared at the NAACP awards in a Christopher John Rogers gown. Rogers, a Black designer, had reached out to Markle to collaborate on the look.
Markle's ombre gown had a similar chiffon detailing as Middleton's blue dress.
Often pitted against one another, their attire is frequently compared to one another. There have been several instances where Middleton and Markle have been spotted wearing nearly identical outfits. One example involves the infamous plaid jacket, which both women rocked on separate occasions.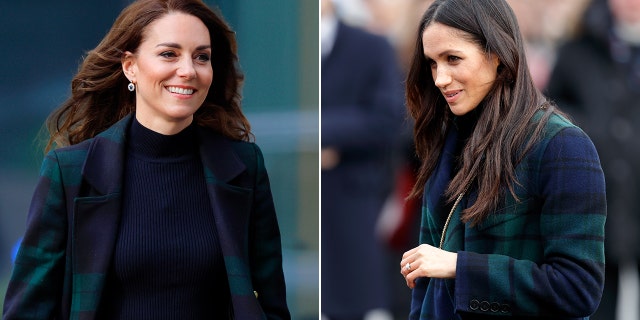 Earlier this year, shortly after the release of Prince Harry's memoir "Spare," Middleton stepped out in Liverpool wearing her own version of the blue and green blazer. Markle had worn a similar look in 2018 while in Edinburgh.
The two were also spotted wearing another similar coat. In 2020, Markle wore a tan coat in London during a trip to Canada House and Middleton wore a similar long coat last November when she visited the Ukrainian Community Centre in Reading.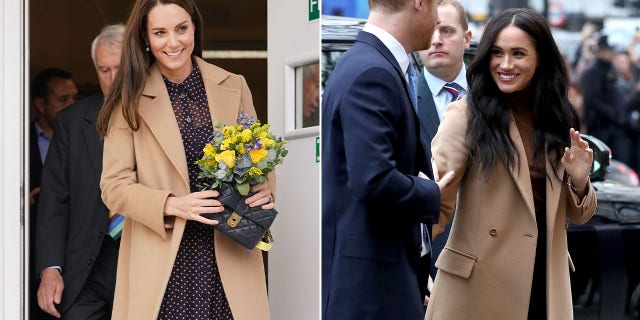 During a pre-coronation luncheon at Buckingham Palace on May 5, Middleton wore a black-and-white long-sleeve dress with Aquazzura bow tie pumps. The shoes appeared to be the same heels Meghan Markle has worn during previous royal occasions.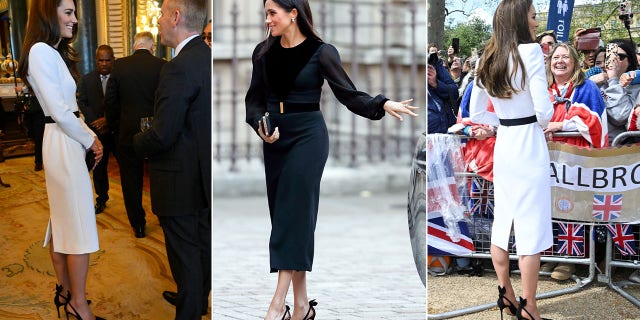 While plenty believe their similar style is not a coincidence, one person on Twitter offered a simpler observation.
"Meghan Markle stans and Kate Middleton stans fighting over who copies who when in reality both of them just simply have very basic middle aged rich women styles."