Hunter Biden appears in Arkansas court for hearing in child support case of 4-year-old daughter
Hunter Biden in court in Batesville, Arkansas, for Navy Jones Roberts paternity case
Hunter Biden is appearing in person in an Arkansas courtroom Monday for a hearing in the child support case of his unclaimed 4-year-old daughter born out of wedlock.
Lunden Roberts, the mother of 4-year-old Navy Jones Roberts, had reached an agreement with Hunter Biden in 2020 regarding the child's paternity and child support payments.
But the case was reopened when Biden requested adjustments to the child support payments. In December, Roberts's lawyers filed a motion to have the girl's last name changed to Biden.
HUNTER BIDEN ORDERED TO APPEAR IN-PERSON FOR ARKANSAS PATERNITY CASE HEARING FOR UNCLAIMED 4-YEAR-OLD-DAUGHTER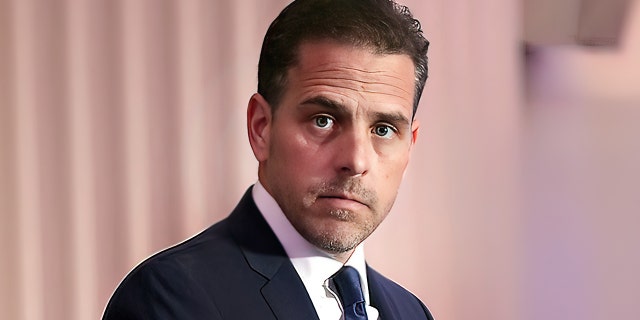 "The Biden name is now synonymous with being well-educated, successful, financially acute, and politically powerful," the motion said.
In rebuttal, Biden's attorney demanded "strict proof thereof that such request is in the best interest of the child."
BLINKEN AND WIFE EMAILED FREQUENTLY WITH HUNTER BIDEN, RAISING QUESTIONS ABOUT ROLE IN LAPTOP COVER STORY
Last week, Independence County Circuit Judge Holly Meyer ruled that Hunter Biden and Roberts must be present for every future hearing in the case.
Meyer scheduled a bench trial for July 24-25 in Batesville, Ark.
In a January 2020 order, Meyer declared "with near scientific certainty" that Biden is the father of the girl, referred to in court documents as "Baby Doe," following a DNA test.
The girl was born in August 2018, and a paternity suit was initially filed in May 2019.
President Biden has refused to acknowledge the granddaughter born out of wedlock. Last Christmas season, first lady Jill Biden hung stockings for six of their grandchildren at the White House, excluding Navy. Those recognized were Naomi, 27, Finnegan, 21, Maisy, 20, Natalie, 17, Robert Hunter Biden II, 15, and little Beau, 1.