High-tech cameras helping California firefighters battle wildfires are now publicly accessible
Cameras help first responders and researchers before, during and after natural disasters
Wildfire season is almost here, and there's a new way you can help firefighters — from anywhere.
The University of California San Diego and state fire agencies have partnered to launch a public website for people to watch live camera feeds across the state.
The program called ALERTCalifornia also helps firefighters fight fires by using a network of more than 1,000 live camera sensors to track the fires before, during and after. It gives them information on the conditions before sending crews into the flames.
"We're trying to understand the impacts, the cascading disasters after these events," said Dr. Neal Driscoll, a professor of geology and geophysics at the UC San Diego Scripps Institution of Oceanography in
La Jolla, California
.
WILDLAND FIREFIGHTER TRAINEES PREPARE FOR FAST-APPROACHING WILDFIRE SEASON: 'OPPORTUNITY TO GIVE BACK'
"I'm a professor. I study earthquakes, I make sensors, and here these sensors lend themselves to other events, such as atmospheric rivers and wildfires," he continued.
Cal Fire, or the California Department of Forestry and Fire Protection, uses this data from emergency command centers.
"These cameras are on mountaintops that we can access, and so if we get a 911 call from someone reporting smoke, we can one click away just get on the computer and see if there is actually any smoke in the area," said Capt. Brent Pascua, Cal Fire Public Information Officer. "We can use multiple cameras to pinpoint the location and get a better location as well."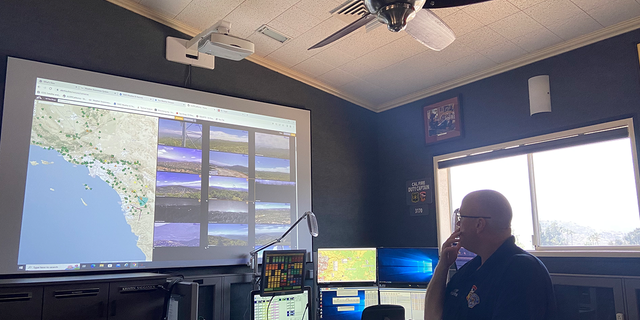 Last year, extreme drought contributed to around 7,500 fires, burning hundreds of thousands of acres and damaging over 700 buildings. At least nine people died.
This year, an unusually wet winter caused flooding and record snowfall. The cameras helped first responders monitor those weather events, too.
"(Cal Fire) conveyed to me that five, six years ago they had to send a battalion out or an aircraft to confirm ignition," Driscoll said. "Now, they can turn our cameras. They can immediately move the camera and image that area and confirm ignition."
SOUTHERN CALIFORNIA MOUNTAIN COMMUNITIES STILL CLEARING SNOW FROM RARE BLIZZARD, OTHERS TRAPPED WEEKS LATER
The high-definition cameras can pan, tilt and zoom, with a view as far as 60 miles on a clear day and 120 miles on a clear night, according to Scripps Institution of Oceanography. New ones were recently installed in Los Angeles, Santa Barbara and Madera counties since the new year.
Only fire agencies can control the movement of the cameras, which are placed on tripod platforms that can be removed seasonally with little to no impact on sensitive habitats and tribal lands.
The cameras allow crews to get information on how big the fire is and how many resources they need to deploy.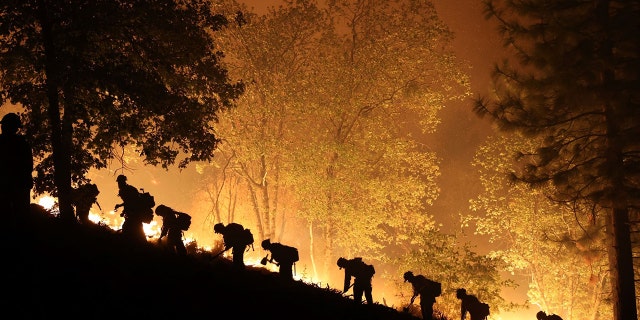 Suzanne Leininger, an intel specialist with Cal Fire, creates prediction models of the fires using the camera system.
"Models are going to provide information. It's not going to necessarily be 100% of what it's going to do, but it will give us an idea of what it has the potential to do," she said. "Nothing ever, ever, ever will replace the firefighters in the field needing to put a line on the ground and water on the fire, so this is only a tool to support and hopefully make them have a safer environment."
CO LAWMAKERS LOOK INTO ARTIFICIAL INTELLIGENCE TO IDENTIFY WILDFIRES EARLY
The camera network started in 2000, with improvements to the technology over time. It was originally created to study earthquakes. Since then, it's expanded to monitor various natural disasters like wildfires. They are also placed on ski lifts.
The latest feature, public access to the camera feed, was launched last week. People who live in an evacuation zone can use this tool during a disaster, and anyone can enjoy the view of California's scenic landscape whether it's to bird watch or see snow fall.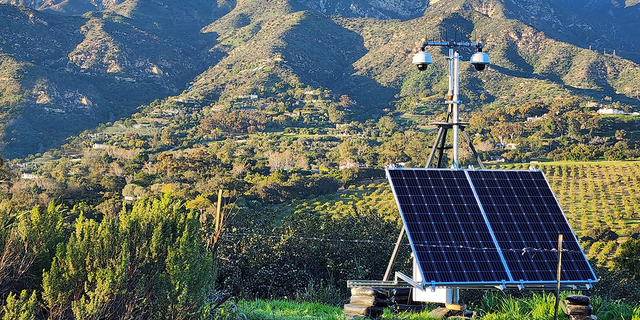 Those at home can access the live camera feed online at alertcalifornia.org.
WILDFIRES MAY THREATEN INPATIENT HEALTH CARE FACILITIES IN MANY CALIFORNIA COUNTIES, STUDY SAYS
Pascua, who has been in the industry for 20 years, has seen how the improvements in firefighting have made their jobs easier and safer.
"We used to write hydrants on our map, books in pencil. Now we have systems in our engines on tablets where it shows you where every hydrant is, where every address is, so there's no more having to memorize or write it in a book," he said. "We have infrared cameras now that will show hidden fires for us, whether it's on a structure fire or on a wildland fire."
Commanders can also see where each engine or crew is using a GPS tracking system and can update maps in real-time
"The thing that's really moving fast is the amount of information we can backhaul or bring from wild or mountainous regions into our lab that's just increased every day," Driscoll said.