Florida authorities remove 6-foot alligator from Publix grocery store parking lot
Last month, a 72-year-old man had part of his leg bitten off by an alligator in Titusville, Florida
Alligators are just like us. They even go grocery shopping.
A nearly six-foot alligator was removed from the parking lot of a Publix grocery store in Pinellas Park, Florida, Thursday evening.
Someone called police to report the gator was roaming around the parking lot near 49th Street and Park Boulevard, police said in a release.
"We can only speculate that he was on his way to pick up a PubSub," the Pinellas Park Police Department joked in a Facebook post. The post showed photos of the reptile as it was captured and released into a nearby body of water with the help of Florida Fish and Wildlife.
ELDERLY FLORIDA MAN'S LEG BITTEN OFF BY ALLIGATOR, OFFICIALS SAY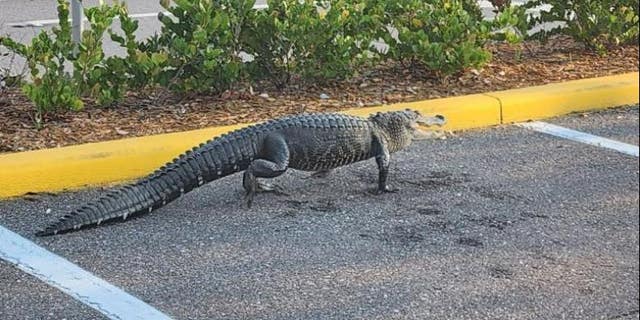 Police joked in a press release the alligator was "obeying all traffic laws" as it moved along a sidewalk toward the parking lot near a busy intersection.
"We're happy to report both he and the shoppers are safe!" police added.
Alligator sightings in the Sunshine State aren't uncommon.
Last week, a 5-foot alligator was found climbing through a stormwater pipe in Oviedo, a town near Orlando.
HUGE ALLIGATOR SWIMMING IN ALABAMA OCEAN SHOCKS BEACH-GOERS: 'NEVER CHARGED OR HISSED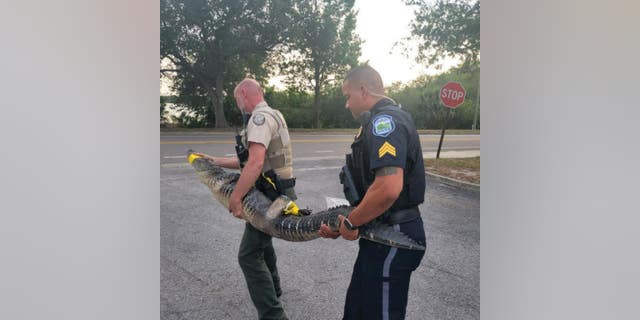 "Just another reason not to go wandering down into the Stormwater pipes!" the city said. The gator was seen via a robotic camera that went down into the pipes. The animal eventually disappeared from view.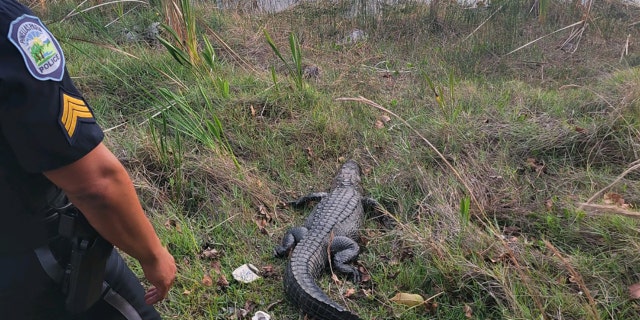 Last month, a 72-year-old man had part of his leg bitten off by an alligator in Titusville. In February, an 85-year-old woman was killed by a 10-foot alligator in Fort Pierce while walking near her retirement home.