Crews begin cleaning Massachusetts site where a pharmaceutical plant blast killed 1 worker
The MA explosion marked the pharma plant's 3rd safety accident since 2020
Rescue workers in Massachusetts have recovered the body of a person killed Thursday after a powerful explosion tore through a pharmaceutical chemical plant.
Acting Newburyport Fire Chief Stephen Bradbury III described the blast as a seven-alarm hazardous materials event and said crews were expected to resume cleanup Friday morning, including removing chemicals from the building.
Authorities said there was no threat to the nearby population.
MASSACHUSETTS WORKER REMAINS MISSING AFTER PHARMACEUTICAL PLANT EXPLODES, RIPPING OFF ROOF
The explosion happened around 1 a.m. Thursday at the Sequens/PCI Synthesis plant, officials said. Video showed most of the roof torn off a building, marking at least the third safety problem at the plant since 2020.
U.S. Sen. Edward Mark of Massachusetts said the company needs to provide answers about what happened.
"We can't keep excusing companies' flagrant disregard for worker safety," he said in a tweet.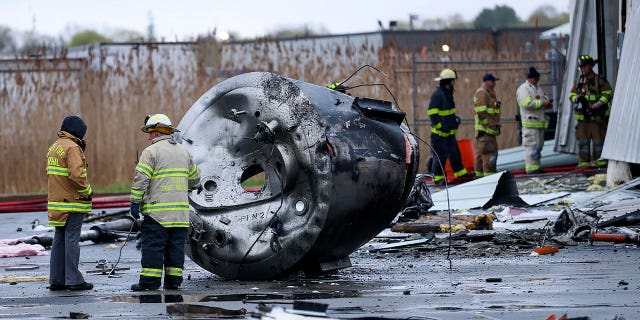 It wasn't immediately known what caused the explosion, or what — if any — chemicals were involved. Smoke from the fire blew into a largely unpopulated area, according to the state Department of Environmental Protection, which added that initial air monitoring found no significant problems.
Four workers were sent to a hospital, but were uninjured and released. Officials did not immediately identify the person who died.
POWERFUL EXPLOSION AT MASSACHUSETTS PHARMACEUTICAL PLANT SENDS 4 TO HOSPITAL, 1 WORKER LEFT UNACCOUNTED FOR
"All our attention is focused on the situation of our employees," PCI Synthesis said in a statement.
The plant lies a little more than 30 miles north of Boston. A chemical fire in the building in June 2021 sent smoke pouring out of roof vents and prompted a hazardous materials team to respond, according to a fire department statement at the time.
In 2020, authorities said a chemical reaction caused a series of explosions at the plant. That happened a year after the Occupational Safety and Health Administration found "serious" violations in how the company managed highly hazardous chemicals, according to online agency records.
The factory has also been cited by OSHA for workplace safety violations and in 2019 paid a penalty of more than $50,000 to settle Environmental Protection Agency charges that it violated hazardous waste laws.