Coronation fashion: Kate Middleton honors Princess Diana, twins with Princess Charlotte
The Princess of Wales honored late Princess Diana with pearl and diamond earrings at King Charles III's coronation
As millions gathered worldwide to witness His Majesty, King Charles III officially being crowned the King of England, the women of the royal family dressed in high regal fashion for the momentous occasion.
While King Charles was crowned with St. Edward's Crown - which was created in 1661 and only worn by the king during the ceremony - his wife Queen Camilla was crowned beside him, with her head held high wearing Queen Mary's Crown.
"Queen Camilla looked utterly statuesque in her long white Bruce Oldfield Coronation gown, emblazoned with silver and gold embroidery," royal fashion expert Miranda Holder told Fox News Digital.
CORONATION OF KING CHARLES III: THE HISTORIC DAY IN PHOTOS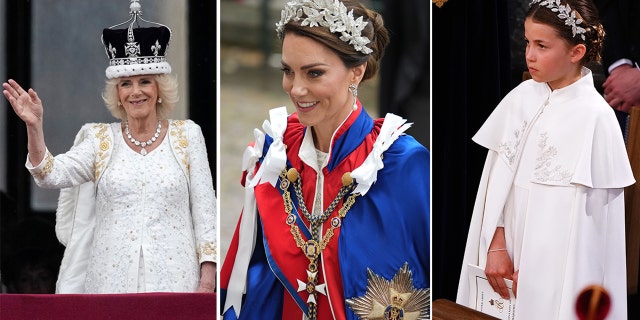 "The silhouette was typical of the Queen's signature style, the elongated waist balancing out her shorter torso, the bracelet sleeves the perfect backdrop to the exquisite embroidery featuring the national emblems of the U.K.; shamrock, daffodil, a thistle and rose."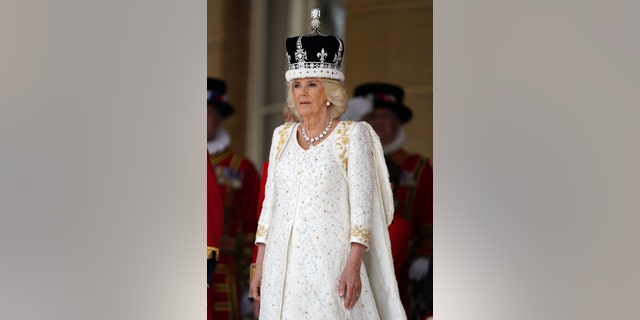 "The gentle V-neck was the perfect frame to the magnificent Coronation necklace and the silver embroidery in the body of the dress featured British wildflowers intertwined with bunting in celebration of the couple's passion for nature combined with this historic day."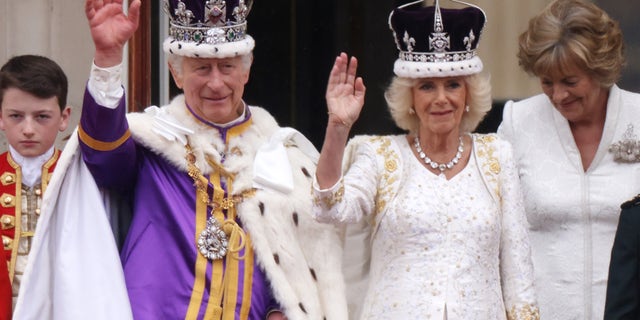 KING CHARLES AND CAMILLA'S LOVE STORY: HOW SHE WENT FROM MISTRESS TO QUEEN
Queen Camilla's Robe of State is made of crimson velvet and was originally made for Queen Elizabeth's coronation in 1953.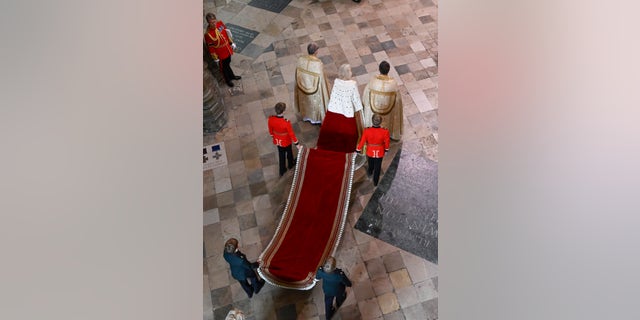 All eyes were on Princess Kate Middleton as she shined in full regalia during the historic coronation ceremony at Westminster Abbey.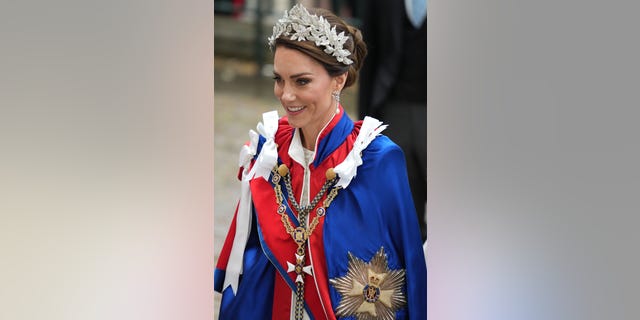 The Princess of Wales' striking ensemble featured an exquisite custom gown by Alexander McQueen - the same designer who made her breathtaking bridal gown for her royal wedding to Prince William.
Middleton looked elegant and regal in her robes, as she proudly wore the beautifully decorated garter paraphernalia.
"The outfit was perfect, subtle enough to not steal focus from the Sovereign and his Queen but quietly beautiful, fitting for a woman of Kate's beauty and position," royal fashion expert Holder added.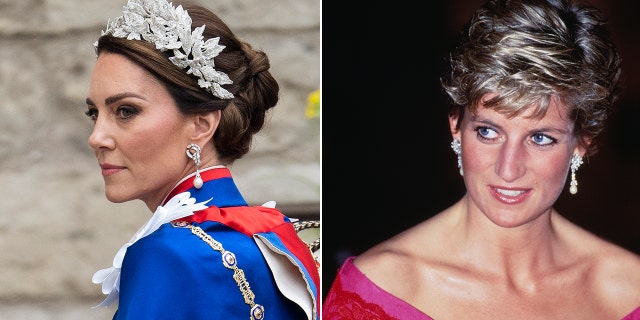 The Princess of Wales kept the memory of Princess Diana close to her heart as she honored her late mother-in-law with a touching accessory to complete her regal ensemble.
"The earrings, known as the 'diamond and south sea pearl earrings' feature a circular design of diamonds, a single diamond-encrusted pear and a large dangling pearl drop. Diana loved the jewels, and wore them repeatedly throughout the '90s," Holder noted to Fox News Digital.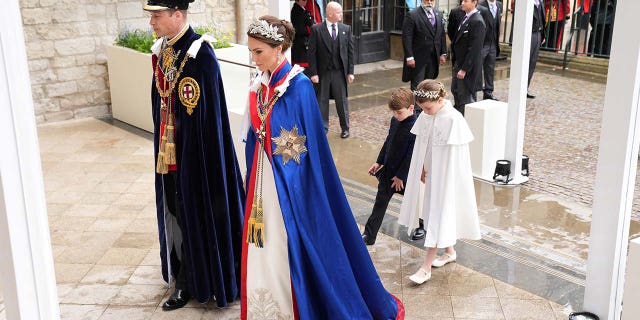 As Middleton stood proudly next to her husband Prince William and their three children - Prince George, Princess Charlotte and Prince Louis - she had a precious mother-daughter matching moment at the celebratory event.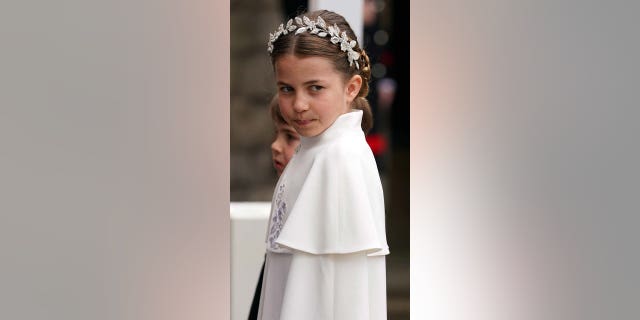 The Princess of Wales and Princess Charlotte wore similar glittering leaf tiaras, as Middleton's daughter stole the show in her stunning Alexander McQueen headpiece.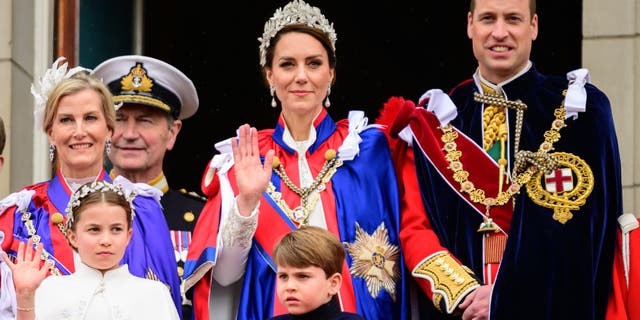 "Princess Charlotte coordinated with her mother in a typical Wales show of family unity in a similar glittering botanical hairband and sweet McQueen cape dress in court dress white," Holder detailed.
KING CHARLES OFFICIALLY CROWNED BRITISH MONARCH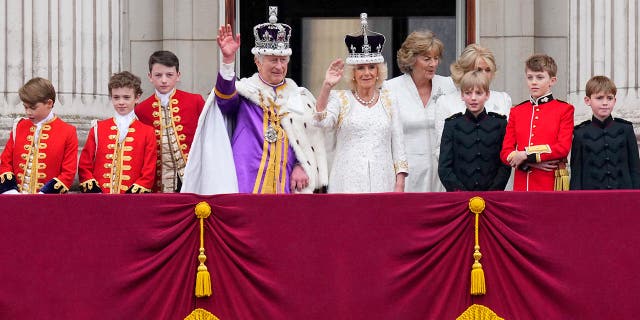 CLICK HERE TO SIGN UP FOR THE ENTERTAINMENT NEWSLETTER
King Charles III and Queen Camilla later appeared on the balcony of Buckingham Palace in their elegant royal ensembles for a fly-past to conclude the coronation ceremony.
Thirteen other members of the royal family, including Prince William, Kate Middleton and their children along with Prince Edward and Princess Anne joined them as they waved to a crowd of onlookers.