Biden to visit upstate New York, just as Adams sparks anger with plans to bus migrants
Title 42 will end on Thursday and is expected to bring a wave of new migrants
President Biden is scheduled to visit upstate New York on Wednesday, just as fellow Democrat and New York City Mayor Eric Adams is under fire for busing migrants north amid a broader migrant crisis besieging parts of the country.
Biden is scheduled to visit Westchester County, where he will deliver a speech on how Republican spending cuts would hurt teachers, veterans and the elderly, according to The Associated Press.
However, while the White House has been focused on the battle over the debt ceiling and spending cuts, Biden may be pushed to address the ongoing migrant crisis, which has sparked a political battle within the Empire State, despite its significant distance from the southern border.
New York City Mayor Eric Adams announced a plan on Friday to bus migrants to the Rockland and Orange counties as part of an effort to help the self-described "sanctuary city" deal with a migrant burden that it is now finding too overwhelming to handle.
NEW YORK COUNTIES DECLARE EMERGENCY AS MAYOR ADAMS PLANS TO BUS ILLEGAL MIGRANTS FROM THE BORDER THEIR WAY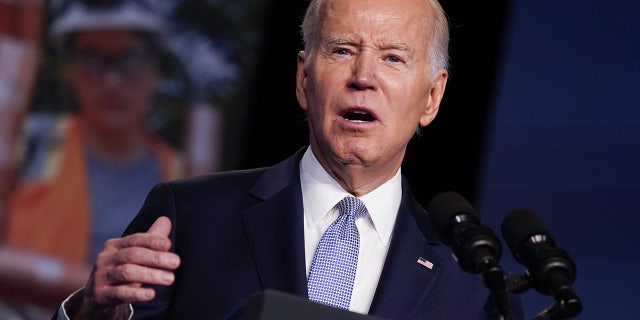 Adams has said that there are more than 37,500 migrants in the city. Some have traveled there themselves, while others have been assisted by a busing effort by Texas Gov. Greg Abbott who set up a scheme last year to bus migrants to sanctuary cities like New York City and Washington D.C.
The busing comes ahead of the expected end of the Title 42 public health order on Thursday. The order has been used since March 2020 to expel hundreds of thousands of migrants rapidly at the border due to public health reasons related to the COVID-19 pandemic. In March 46% of migrants were expelled due to Title 42.
With the order ending, authorities are bracing for a new wave of numbers as migrants believe they are more likely to be released into the U.S. -- which appears to be the case as sources tell Fox News that authorities are preparing for mass street releases.
BORDER PATROL CLEARS WAY FOR MIGRANT RELEASES TO CITY STREETS, SOURCES SAY
Adams said the migrants sent from New York City to Rockland and Orange counties would be provided with meals, counseling and other services for a stay of up to four months in the hotels.
That sparked anger from those counties. The executive of Orange County issued an order for hotels not to accept migrants, while Rockland County Executive Ed Day said the county was "not equipped to humanely assist these individuals, which eventually we're going to have to do."
CBP, ICE TO LAUNCH ENFORCEMENT OP IN EL PASO AS MIGRANT NUMBERS SURGE
The Biden administration has said it has a plan in place to deal with the expected surge later this week, and has announced a series of measures to promote what it says is an orderly and humane process for migration.
That includes the setting up of migrant processing centers in Latin America, stiffer penalties under regular Title 8 authorities for illegal entry and greater cooperation with Mexico on taking back migrants.