Anna Nicole Smith's daughter Dannielynn Birkhead wears late mom's jewelry and sunflower gown at Kentucky Derby
The 16-year-old and her father Larry Birkhead have attended every Kentucky Derby since 2010
Anna Nicole Smith's daughter Dannielynn Birkhead paid tribute to her late mother through jewelry when she stepped out for the 149th Kentucky Derby Saturday.
The 16-year-old wore a Leo Lin sunflower print gown and accessorized with a crystal necklace and bracelet from Smith's personal collection as she walked the red carpet at Churchill Downs with her father Larry Birkhead, 50.
Birkhead color-coordinated with his daughter in a light blue suit, yellow tie and sunflower lapel pin. Ahead of the famed horse race in Louisville, Kentucky, Birkhead shared a trio of photos featuring him with Dannielynn and former Bon Jovi guitarist Richie Sambora.
"Rockin' the rest of @kentuckyderby out with Richie Sambora and Dannielynn," he wrote.
ANNA NICOLE SMITH'S DAUGHTER DANNIELYNN BIRKHEAD IS ALL GROWN UP DURING KENTUCKY DERBY APPEARANCE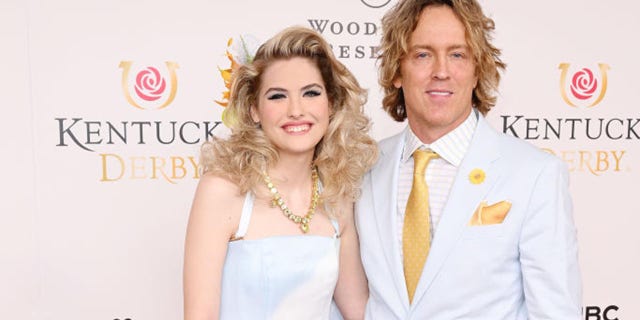 "Richie graciously made good on his offer to give Dannielynn a private guitar lesson and spent a ton of time giving her confidence building tips and mastering the art of playing the guitar. Great guy!
"Dannielynn played a little @janetjackson "Black Cat" for him. Now off to the @kentuckyderby after the Barnstable-Brown Gala last night."
The Barnstable Brown Gala, which benefits the Barnstable Brown Diabetes Center at the University of Kentucky, is one of the most exclusive and star-studded Derby eve parties. Dannielynn met Jackson at the charity event last year while she was wearing an outfit once owned by the legendary singer.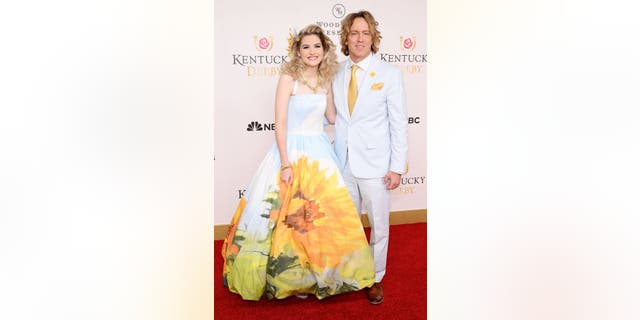 APP USERS CLICK HERE
Dannielynn also honored her mother through her style at the 34th Annual Barnstable Brown Gala Friday night, wearing a black and white top with a print featuring photos from Smith's 1992 GUESS campaign that she paired with pieces of her mother's jewelry.
Birkhead shared a slideshow of photos in which he was seen posing with Dannielynn ahead of the gala.
CLICK HERE TO SIGN UP FOR THE ENTERTAINMENT NEWSLETTER
"Heading to the annual Barnstable-Brown Derby Eve Gala," he wrote in the caption of his Instagram post. "Tonight is the 20th anniversary where I met Dannielynn's Mom at the same event."
Smith and Birkhead first met in 2003 while he was working as a freelance photographer and the former Playboy Playmate was shooting her E! reality show "The Anna Nicole Show." Smith died in 2007 at the age of 39 when Dannielynn was just 5 months old.
APP USERS CLICK HERE
The Kentucky native later uploaded more pre-party images of himself and his daughter, writing, "Can't believe Dannielynn is almost 17. Time for a great Derby weekend."
Taking part in the Kentucky Derby festivities is an annual tradition for Dannielynn and Birkhead. Father and daughter have attended the Kentucky Derby every year since 2010.
Though Birkhead prefers to raise Dannielynn out of the spotlight, he told Fox News Digital attending the historic annual event is a way to honor the past and continue creating new traditions with his little girl.
APP USERS CLICK HERE
"It's kind of been a tradition that we would go every year," he said.
"That's where I met Anna Nicole Smith. And it's something that I've taken my daughter back every year since. She's old enough to kind of understand what it is.
"Since I did meet her mom there, it started off just kind of me taking her back and showing her around and kind of letting her know the stories that, you know, this is kind of where I met your mom and things.
"And then it came to kind of people look for my daughter there because I really don't let her do any public events. And so, in all honesty, the Kentucky Derby is kind of the growth chart for Dannielynn."