Alligator spotted roaming Florida city's underground stormwater pipes with robotic camera
A crew was investigating potholes when they stumbled upon 5-foot alligator in Oviedo, Florida
A city crew in Florida spotted a 5-foot alligator lurking in a stormwater pipe while investigating the pipes with a robotic camera last week, officials said Tuesday.
The stormwater crew in the city of Oviedo, located about 20 miles northeast of Orlando, was on Lockwood Boulevard to check on a series of potholes that appeared in the roadway on Friday, the city said in a Facebook post.
The crew used a four-wheel robotic camera to go into the pipes below the road and investigate any anomalies such as leaking pipes, cracks or other defects underground, officials said.
However, crews instead found a different kind of anomaly while searching the underground pipes.
ELDERLY FLORIDA MAN'S LEG BITTEN OFF BY ALLIGATOR, OFFICIALS SAY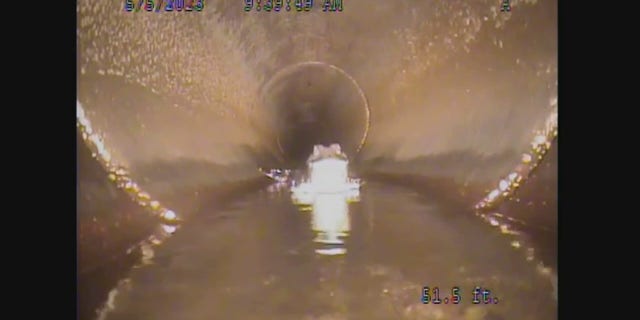 The city shared video of the crew's robotic camera rolling up into a 5-foot alligator.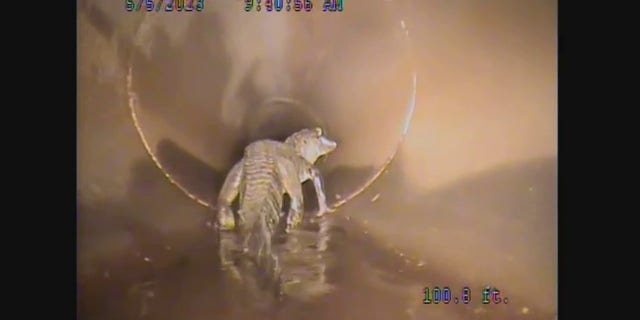 "At first, they thought it was a toad and, in the video, you see two little glowing eyes until you get closer – but when it turned around, they saw the long tail of the alligator and followed it through the pipes!" the post reads.
The robot followed the alligator about 340 feet before the getting stuck on a small indentation. The alligator then wandered off down the pipe and disappeared.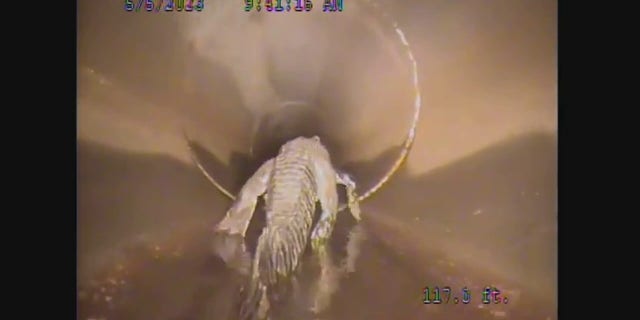 TEXAS PHOTOGRAPHER CAPTURES HUGE SNAKE DEVOURING FISH: 'IF YOU'RE SQUEAMISH, THEN SCROLL'
"Just another reason not to go wandering down into the Stormwater pipes!" the city said.
Alligators are found in all of Florida's 67 counties, according to the
Florida Fish and Wildlife Conservation Commission.
The agency says that potential conflict between humans and the reptiles will always exist, and urged residents to keep their distance from the animals, swim only in designated swimming areas during the day, and to keep pets on a leash and away from bodies of water.