Alec Baldwin, father of 8, becomes first-time grandfather
The '30 Rock' actor's oldest daughter, Ireland, has welcomed her first daughter
Alec Baldwin is a new grandfather. The "30 Rock" actor's wife Hilaria congratulated Baldwin's daughter Ireland Thursday on welcoming her new daughter Holland.
"All of these aunties and uncles and us grandparents are so excited that Holland is here!!!" Hilaria wrote in an Instagram post that showed the couple with their brood of seven. "Congratulations to the mama and papa, Ireland and Andre. We love you so very much!"
Baldwin shares Ireland, 27, with ex-wife Kim Basinger, 69. Ireland and rapper boyfriend RAC (André Allen Anjos), 38, first shared the news on her Instagram with a photo that showed RAC leaning next to her in her hospital bed while she holds the baby whose face is covered.
It was simply captioned "holland."
ALEC BALDWIN TURNS 65 WITH 7 KIDS UNDER 9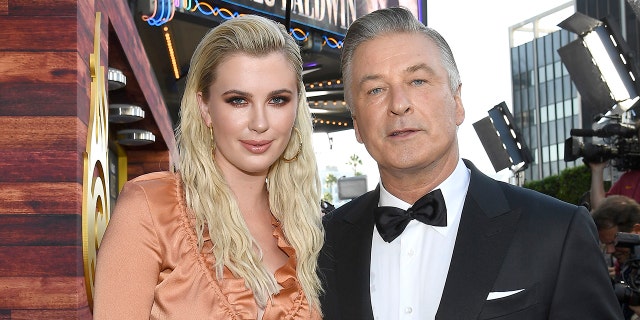 Baldwin, 65, has been embroiled in controversy for the last two years after a gun he was holding fired on the set of the movie "Rust" in New Mexico, killing cinematographer Halyna Hutchins. Hutchins died Oct. 21, 2021.
The group had been rehearsing a scene, and Baldwin had been practicing cross-drawing the revolver. A live round struck Hutchins and director Joel Souza, who was injured.
Earlier this year, Baldwin was charged in New Mexico with two counts of involuntary manslaughter, but the charges were later dropped. Prosecutors explained charges could be refiled pending further investigation.
Baldwin still faces a handful of lawsuits, including one brought by "Rust" script supervisor Mamie Mitchell, along with another by Hutchins' mother, father and sister. Both parties are represented by attorney Gloria Allred.
APP USERS CLICK HERE FOR PHOTO
Baldwin and Ireland's relationship seems to have healed from the stress it was put under during his divorce from Basinger 16 years ago, when he called his 11-year-old daughter a "rude, thoughtless little pig" in a leaked voicemail.
In 2015, the pair seemed to have put the ugly call behind them when Ireland tweeted a photo of the two reading the children's book "If I Were a Pig."
"If I were a pig….I would be a rude and thoughtless one of course!" Ireland joked.
She also made light of it during a 2019 roast for the actor, joking she hadn't checked her voicemails in 11 years.
On Mother's Day, Baldwin name-checked Hilaria and Ireland along with his sisters and late mother.
APP USERS CLICK HERE FOR POST
"Women bring a powerful and unique type of caring to the world," he wrote, adding, "HMD to all the women out there who keep the world going."
CLICK HERE TO SIGN UP FOR THE ENTERTAINMENT NEWSLETTER
Basinger also honored her only daughter in a couple of Mother's Day Instagram posts this week before Ireland gave birth.
"The best thing I will ever do in my life… Is having had anything to do with bringing this little soul to this planet…" Basinger wrote alongside a vintage photo of her holding hands with her baby daughter.
"Being her mom has brought me every happiness… every joy……. and has defined the depths of love… Deeper than the deepest ocean …. Wider than the sky… Passed the stars up to Heaven and down to the bugs in the grass……Happy Sunday to all those amazing mothers out there…. AND COMING SOON !!!!!!!!!! The next little girl in line."