117 Democrats vote 'no' on bill condemning efforts to defund the police
Rep. Jerry Nadler, D-N.Y., said the resolution was 'empty rhetoric'
The House on Thursday passed a resolution that condemns recent efforts to defund or abolish the police, over the objections of more than half of House Democrats.
Lawmakers voted 301-119 to pass the non-binding resolution that recognizes the "dedication and devotion demonstrated by the men and women of local law enforcement who keep our communities safe," and "condemns calls to defund, disband, dismantle, or abolish the police."
Every one of the "no" votes came from Democrats, and as a group Democrats voted 87-117 against the measure. Three Democrats voted "present," and all but two Republicans voted for it.
During debate, the top Democrat on the House Judiciary Committee, Jerry Nadler, D-N.Y., dismissed the bill resolution. "This resolution is nothing more than empty rhetoric designed to score political points," he said.
'SQUAD' DEMS VOTE AGAINST HONORING POLICE OFFICERS KILLED IN LINE OF DUTY
Democrats also bristled at language in the resolution that says "leftist activists and progressive politicians called for the defunding and dismantling of local police departments across the country and actively encouraged resentment toward local law enforcement."
"It talks about leftist violence, but it refuses to talk about right-wing violence," Nadler said, noting that the bill makes no reference to how police helped restore order during the January 6 riot at the Capitol. "It is not a balanced or fair resolution."
"I resent the characterization that somehow we progressives do not support law enforcement just because we want to have accountability in our community so that Black and Brown people can walk down the street and feel safe," added Rep. Pramila Jayapal, D-Wash., who chairs the Congressional Progressive Caucus.
AOC RIPPED FOR POLICE-CRIME COMMENTS: WE SHOULD CALL THE 'SQUAD' WHAT THEY ARE - 'STUPID RADICALS'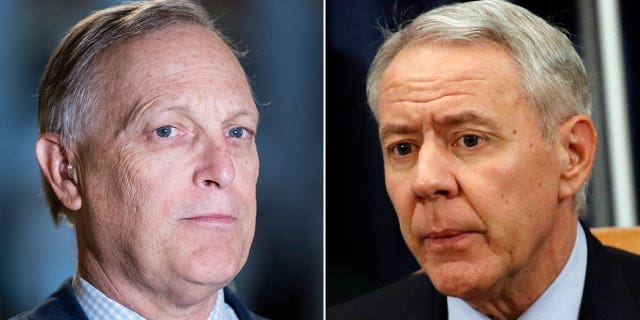 "Let's take out the references to progressives which I take great offense to," she said.
But Rep. Ken Buck, R-Colo., the lead sponsor of the resolution, quoted Japayal from a news story in which she called for reduced funding for law enforcement.
"Law enforcement as a whole has a culture of brutality that you cannot deny if you look at all of these incidents. Most of the protesters are calling for a complete transformation of policing," he quoted Jayapal from a news report. Buck read another media report that said, "Jayapal said that governments should shift significant sums of money from police and place it in other community-based programs."
A leading sponsor of the resolution, Rep. Andy Biggs, R-Ariz., quoted Nadler, who said there should be "substantial cuts to the police budget" in New York.
TOP CONSERVATIVE ADVOCACY GROUP TARGETS HOUSE DEMOCRATS OVER CRIME WITH NEW AD BLITZ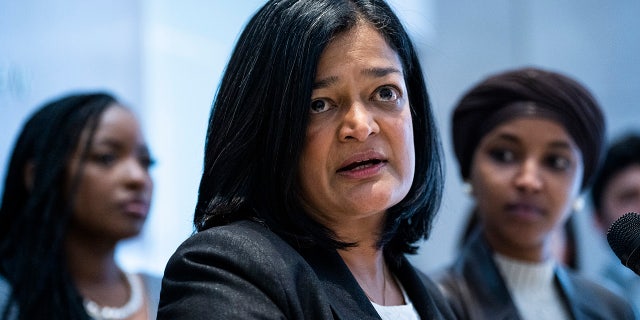 "Don't tell me now that you can't vote for this resolution, which honors local police enforcement and condemns the defund the police movement," Biggs said. "Don't tell me that's idle rhetoric."
The House vote capped off a week in which House Republicans called up a few bills aimed at supporting police across the country. Lawmakers passed a bill that would make illegal alien assaults against police officers a deportable offense – that bill passed in a 255-175 vote that saw support from 36 Democrats.
The House also passed the Federal Law Enforcement Officer Service Weapon Purchase Act, which would end the policy of requiring service weapons to be destroyed after they are retired from official use and allow police to buy and use retired service weapons. This bill passed 232-198, thanks to help from 13 Democrats.
Today's resolution opposing efforts to defund or abolish the police received the most number of Democrat votes across all three bills up this week.