US Navy, FDNY collaborate in Hudson River dive training at USS Intrepid: 'Protect life and property'
Navy Mobile Diving and Salvage Unit 2 teams up with FDNY divers to swap life-saving procedures, new technologies
Two all-American agencies are teaming up to keep our country safe.
The U.S. Navy met up with FDNY firefighters on Wednesday of this week to work together on a demonstrative dive training mission at the USS Intrepid.
The two entities swapped valuable information on diving techniques and technology — and then took a dip in New York City's Hudson River for a mock dive.
US NAVY DISPLAYS TIMES SQUARE DIVE TANK DURING FLEET WEEK
The dive tested out anti-terrorism force protection (ATFP) procedures used by the military to search for explosives on the running gears and props of boats.
U.S. Navy master diver and senior chief Ryan Ilagan said in an on-camera interview with Fox News Digital that the "inter-operability training" allows both the Navy and FDNY dive units to compare their separate operations (SEE the video at top of this article).
"We conduct these exercises regardless of wherever [we are], to be able to conduct operations with anyone anywhere," he said.
"For this evolution … we wanted to link up with a dive unit up here in New York to share our capabilities, conduct subject-matter exchange and learn how diving operations with the fire department are similar or [not] similar to Navy diving," he continued.
The FDNY special operations unit was approached by the U.S. Navy to collaborate with the department's dive class, FDNY rescue battalion chief Thor Johannessen told Fox News Digital.
"It really worked out well to do this joint training, where even though our missions don't overlap directly, a lot of the techniques and equipment [do]," he said.
NATIONAL NONPROFIT REACHES $300 MILLION IN FUNDS DISTRIBUTED TO BENEFIT COMBAT-WOUNDED SERVICE MEMBERS
The FDNY's mission to "protect life and property" sometimes includes scuba diving, but it's only one part of the bigger picture, Johannessen also said.
"Our Navy divers dive for a living every day and … that's not all we do. We're firefighters first," he said.
"So to learn and train with an organization that dives as the focus of their mission is a great opportunity," he added.
At the end of the day, trainings like this are all about keeping the public safe, firefighter Jack Westrenen, of Staten Island's Fire Rescue 5, told Fox News Digital.
WWII NAVAJO CODE TALKER TURNS 106: HOW THESE MARINES' SPECIAL LANGUAGE CHANGED MILITARY CAPABILITIES
He and his fellow firefighters were focused on advancing their dive and rescue skills during the week of training, which included two days of diving, he noted.
"[I'm hoping to] learn new techniques and better my skills to get better in the water," Westrenen said.
Navy master diver Ilagan said, "We're very thankful for the city of New York and the fire department for having us, and for the USS Intrepid [for] providing us with a unique training ground."
The certification exercise event is also a deployment workup for some of the Navy divers present, which Ilagan emphasized is helpful for working alongside other units overseas.
"Just like any other deployment, we're tasked to work with other agencies and units," he said.
NEW JERSEY MAN WALKS ACROSS US TO RAISE NEARLY $100K FOR HOMELESS VETERANS: 'RESPECT AND REVERANCE'
"This is a very similar event [to] how we would operate on deployment … So this is a perfect training ground," he added.
Mobile Diving and Salvage Unit 2, stationed in Virginia Beach, Virginia, is a salvage diving company that rescues and recovers vessels, equipment and other water-bound material.
In addition to the dive, MDSU 2, company 2-4, and the FDNY presented to each other procedures and technologies used in service — like salvage robotics.
CLICK HERE TO SIGN UP FOR OUR LIFESTYLE NEWSLETTER
This includes a robot called a "video ray defender" which is programmed to detect, inspect and retrieve underwater targets without putting lives at risk, Navy master diver Ilagan explained.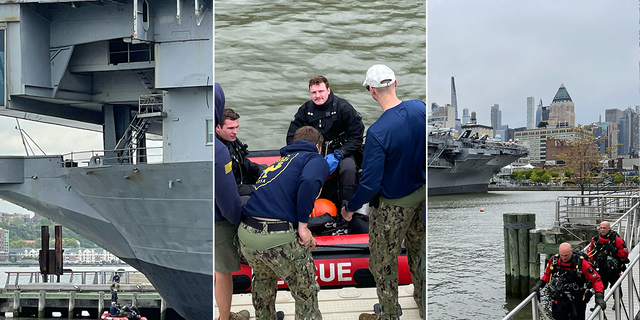 "Based on contaminated water or the threat level, we can easily deploy a robot and get the same amount of information with limited resources," he said.
"I can send a two-man team now with robotics and conduct reconnaissance and get enough information for us to plan and execute diving operations."
Both organizations are in the midst of trying out location robotics, FDNY rescue battalion chief Johannessen revealed.
"[The Navy] would be looking for something other than what we're looking for — drowning victims, vehicles, sometimes helicopters," he said.