UFC's Dana White: We don't do anything 'woke' over here
He says 'the entire place erupted' when Trump walked into UFC 287
Ultimate Fighting Championship President Dana White told "Unfiltered" how the sport has garnered an immense following in recent years by distancing itself from "woke" culture and reacted to former President Donald Trump's appearance.
White credited UFC's strategy during the COVID bans to grow the business, saying the organization was the first major sport to fill stadiums again.
"When all the COVID bans were being lifted, it grew our business, I don't know, like 70% or something like that, because we were the only thing to watch," he told host Dan Bongino.
White said the global, multi-billion-dollar enterprise does not buy into anything "woke."
Bongino asked White about the sold-out crowd's reaction when former President Donald Trump made an appearance at UFC 287 in Miami on April 8.
"It's insane, you know, if you think about this, I've been doing this for, like, 23 years. When you're walking with Trump, it's a whole 'nother level, man. The entire place erupted. Everybody was going crazy, and it was fun."
DONALD TRUMP SHOWS UP TO UFC 287 IN SUPPORT OF DANA WHITE, JORGE MASVIDAL
Trump entered the arena alongside the UFC president to an electrified crowd and sat front row outside the octagon with White, Mike Tyson, Kid Rock and other high-profile figures.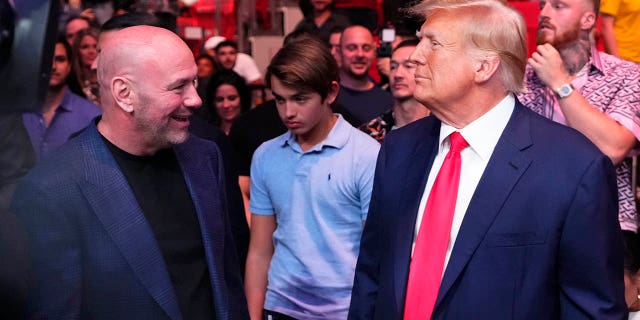 It was announced in April that World Wrestling Entertainment would merge with UFC's parent company Endeavor Group to form a public company.
White said the merger is "real good synergy" as the deal will shape the future of wrestling and MMA.