'Shameless bigotry': AOC's not-so-warm welcome to Marjorie Taylor Greene after she leads NYC Trump rally
New York congresswoman says protesters drowning out MTG are 'social consequences for shameless bigotry'
Rep. Alexandria Ocasio-Cortez, D-N.Y., applauded what she called "social consequences" for Rep. Marjorie Taylor Greene, R-Ga., Tuesday, after the GOP congresswoman led a New York City rally protesting the indictment of former President Donald Trump.
Trump was indicted by a grand jury Thursday over alleged hush money payments to adult film star Stormy Daniels and former Playboy model Karen McDougal during the 2016 campaign cycle. The former president arrived in New York Monday ahead of his court appearance, prompting political protests to break out in the streets outside the courthouse.
With a megaphone in hand, Greene led a rally outside the New York City courthouse to protest the indictment and support Trump before his arraignment Tuesday, but progressive representative AOC blasted her efforts as "shameless bigotry."
"Welcome to NYC! Where there are still social consequences for shameless bigotry," AOC wrote in a Twitter post fired at Greene, upon reports that the Republican congresswoman was being heckled at by anti-Trump protestors during the rally.
MARJORIE TAYLOR GREENE LEADS NYC RALLY PROTESTING TRUMP INDICTMENT, AFTER RECEIVING WARNING MAYOR ADAMS
The comment came after reports that people were shouting and blowing whistles over Greene in an effort to prevent her from being heard during the protest.
"We are here to peacefully protest against the persecution of an innocent man. Not just any innocent man, this is the former President of the United States of America," Greene told the crowd.
NYPD COPS BRACE FOR CHAOS AMID TRUMP ARRAIGNMENT FRENZY
Greene also hit back at Mayor Eric Adams, after he urged her to be on her "best behavior" ahead of Tuesday's protest.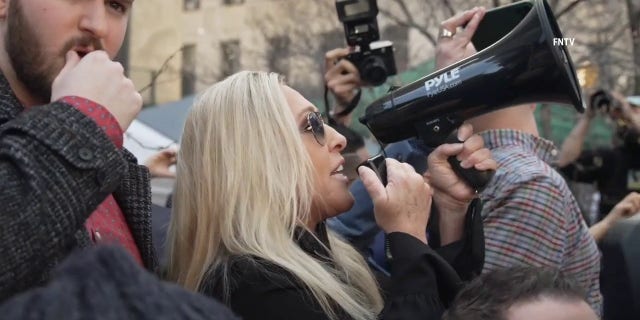 "Also, to the Mayor Adams, as you can see, I am here peacefully protesting. He called me out by name," Greene said.