Nashville congressman drops bill expanding teachers' Second Amendment rights, 'ensure our kids are safe'
The bill has double-digit GOP co-sponsors already, including Reps Andy Biggs and Lauren Boebert
Nashville Rep. Andy Ogles, R-Tenn., is dropping a bill to expand teachers' Second Amendment rights and protect students from school shooters.
Ogles is introducing the Teachers Empowered Against Classroom Harm (TEACH) Act on Friday to establish a grant program to provide defensive firearms training programs to protect students from armed intruders.
"The TEACH Act would harden schools by allowing teachers and school staff the option to participate in defensive training programs aimed at protecting schools and their children," Ogles told Fox News Digital.
NASHVILLE SCHOOL SHOOTING BLAMED ON REPUBLICANS, GUN CULTURE BY MEDIA: 'GOP GUN RIGHTS FANTASY'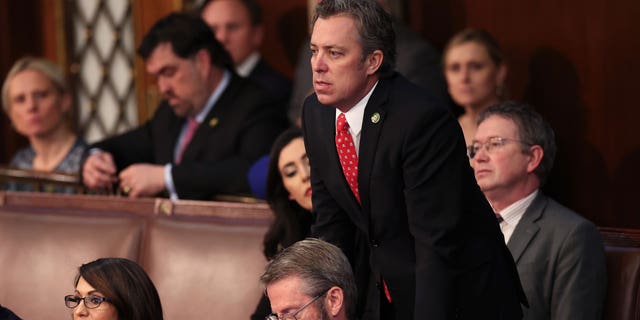 "Right now, Education Secretary Cardona has a personal slush fund of over $27.5 million dollars -- instead of using that money to advance the Left's indoctrination campaign, we should work to hat our kids are safe from armed intruders," the congressman continued.
"We will never be able to ban the intentions of evil people but we can allow responsible men and women of good will to equip themselves in order to stop bad actors in their tracks," he added. "This bill would help make our students, educators, and classrooms safer."
Rep. Andy Biggs, R-Ari., a cosponsor of the legislation, told Fox News Digital the "Democrat approach to gun violence in schools has repeatedly failed and infringed on our Second Amendment rights."
"Hardening American schools is an effective first step to keep our children safe from armed intruders and does not penalize law-abiding gun owners," Biggs said. "I applaud Congressman Ogles' latest legislation that allows us to better harden schools and protect our children from gun violence."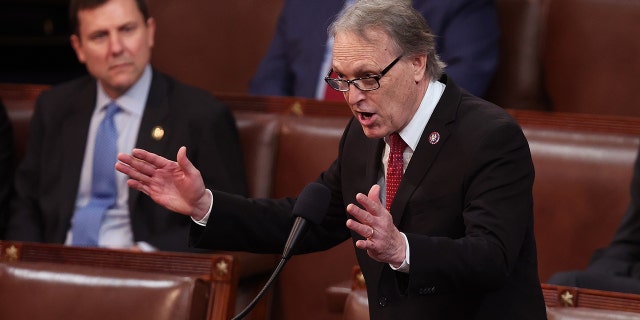 Colorado GOP Rep. Lauren Boebert, another cosponsor of the bill, told Fox News Digital that in "2021, 49% of all active shooters were stopped by armed civilians."
FBI UNDERCOUNTS NUMBER OF TIMES ARMED CITIZENS HAVE THWARTED ACTIVE SHOOTING INCIDENTS: REPORT
"If Congress is serious about preventing school shootings, it needs to harden schools, allow teachers to take self-defense training, and modernize school firearm policies when over half of states recognize Constitutional Carry," Boebert said.
"Protecting the Second Amendment is the most effective way to prevent violence in our communities and to stop school shootings," she continued. "Gun free zones are dangerous, since they create vulnerable targets."
Boebert added that "Republicans need to defeat the myth that gun control is the solution to school shootings, and we need to show that we are serious about protecting the Second Amendment while also protecting students from evil murderers."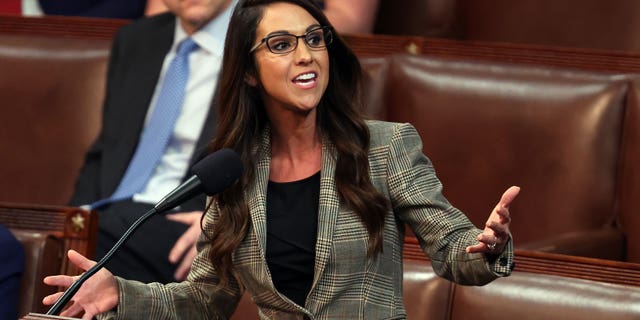 The bill removes a prohibition on using Elementary and Secondary Education Act funds for school safety and repeals a section of the U.S. Code encouraging states and local jurisdictions to adopt policies going further than the Federal Gun-Free School Zones Act.
Additionally, the bill redirects about $27.6 million in appropriated funds from the secretary of education for technical assistance and capacity building to a new voluntary grant program to provide defensive firearms training programs for teachers to protect schools.
The bill has double-digit GOP co-sponsors already, including Biggs and Boebert, as well as Reps. Troy Nehls of Texas and Alex Mooney of West Virginia.
The measure is also supported by the gun rights nonprofit Gun Owners of America (GOA).
GOA Director of Federal Affairs Aiden Johnston toldDigital "GOA is proud to endorse this legislation from Rep. Ogles."
"At GOA, we've been championing the need to harden schools, which comes in many forms," Johnston said. "Whether it's arming willing teachers or empowering parents, these policies play a major role in deterring violence at schools."
NASHVILLE CONGRESSMAN RESPONDS TO RADICAL TRANS GROUP: TURNING SHOOTER INTO 'MARTYR' IS 'BEYOND DISTURBING'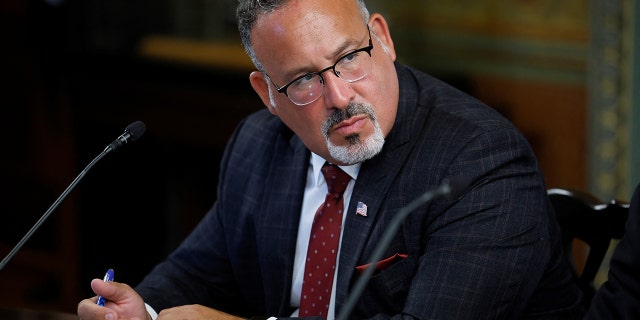 "There's a reason that no school shooting has occurred at a school with armed teachers, and Rep. Ogles' legislation will play a critical role in hardening schools by creating a pool of federal funds to train willing teachers and modernizing school firearms policies at a time where over half of the United States recognize Constitutional Carry," he continued.
Ogles' districts includes part of Nashville, where last month a transgender mass shooter killed three 9-year-olds and three adults at a Christian school before being killed by police.
The Tennessee Republican sharply criticized a far-left transgender group that he said is attempting to portray the Nashville school shooter as a "martyr."
Following The Covenant School shooting, the Trans Resistance Network issued a statement calling it a dual tragedy for the victims and their families, along with the transgender shooter, 28-year-old Audrey Hale.
"Any attempt to turn a mass murderer into a martyr is beyond disturbing," Ogles, who represents the community where the shooting happened, told Fox News Digital. "The notion that someone would try to justify this atrocity disgusts me to my core.
"March 27, 2023, was not a dual tragedy as this radical group wrote," Ogles said. "It was a targeted attack on children attending a Christian school perpetrated by a hate-filled domestic terrorist. There is no place for accepting or justifying the actions of The Covenant School shooter."