Maine rail line reopens after weekend derailment
The site near Jackman, ME was cleared to resume operation by late Monday morning
A rail line where three locomotive engines and six train cars derailed over the weekend has reopened after track repairs and removal of damaged equipment, the railway owner said Monday.
MAINE FIRE CHIEF CALLS CREW'S ESCAPE FROM FIERY TRAIN DERAILMENT AN 'ABSOLUTE MIRACLE'
By late Monday morning, two days after the derailment and fire sent three workers to the hospital for evaluation, repairs and safety inspections were completed, Canadian Pacific Kansas City said.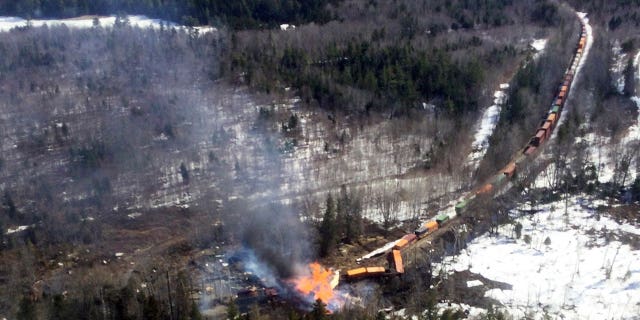 The derailment happened about 15 miles east of Jackman, Maine.
TRAIN CARRYING HAZARDOUS MATERIALS DERAILS IN RURAL MAINE, RESIDENTS WARNED TO 'STAY CLEAR'
Tragedy was averted because two of the derailed cars carrying hazardous liquids did not spill their loads or ignite, even after the locomotives and other rail cars carrying that were lumber caught fire, officials said.
Canadian Pacific Kansas City is leading cleanup, salvage and repair, working with state agencies and local fire and rescue.