Madeline Kingsbury: Winona police make new request to property owners in search for missing mom
Madeline Kingsbury, a 26-year-old mother of two, was last seen by her children's father around 8 a.m. on March 31
Authorities in Minnesota are seeking additional information from specific property owners in the search for Madeline Kingsbury, a 26-year-old mother of two who has not been seen or heard from since March 31.
The Winona Police Department and the county's emergency manager requested on Wednesday that property owners in Winona and Fillmore counties report old wells from before 1925, old homesteads, old windmills or windmill bases and sinkholes that are accessible by car.
Police said the above information could lead to new searches since those details are not included in available records, adding that the request is part of "ongoing efforts to find Maddi and bring her home."
Kingsbury disappeared in the morning on Friday, March 31, after she dropped her two kids off at daycare with their father around 8 a.m. She reportedly sent her sister, Megan, a "goofy" text around 8:15 a.m. and has not been heard from since.
SEARCH FOR MADELINE KINGSBURY DRAWS THOUSANDS OF VOLUNTEERS: 'WE ARE NOT GIVING UP'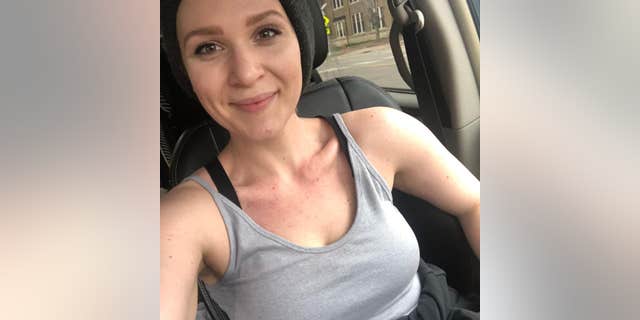 In addition to Wednesday's request for information, Winona police asked property owners in Winona, Fillmore and Houston counties who consent to a property search to display a blue check mark in an easily-visible location.
"Volunteers will only be looking for Maddi, signs of a disturbance or something out of the ordinary," a statement read.
Police said volunteers searching the properties will not enter homes or structures, and will follow all property postings and state and local laws. Volunteers will also confirm with the property owner that the search can take place.
Once the search is complete, a blue ribbon will be tied around the mailbox or a property post to signify the area has been checked. Property owners who have already consented to searches but have not received a ribbon may place the blue ribbon on display themselves.
MINNESOTA MOM MADELINE KINGSBURY SINGS TO BABY IN 2021 VIDEO AS MILITARY BROTHER RETURNS FROM OVERSEAS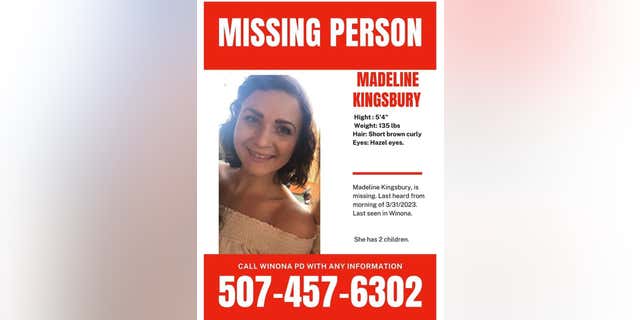 Volunteers are allowed to participate in the search for Kingsbury as they please, but police stated to make safety the top priority.
"Please do not search alone, don't search dangerous areas and don't enter the water," Winona PD wrote. "We don't want anyone to get lost or hurt, which would also pull resources from our search for Maddi."
The community in and around Winona has come out in droves to search for Madeline, and their coordinated efforts continue through Facebook groups like Finding Madeline Kingsbury, which has over 18,000 followers.
"The community surrounding our family, from the volunteer searchers on ground and event organizers to the offered prayer, has been indescribable, humbling and awe-inspiring," said Stephen Kingsbury, Madeline's brother. "It's hard to imagine how it could ever be reciprocated. Our gratitude for all involved in our efforts to bring our sister/daughter/mother home will never fade."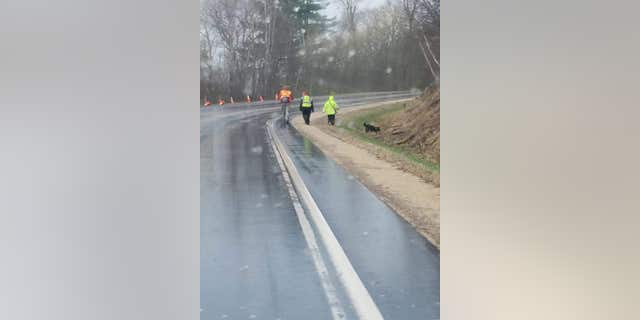 MADELINE KINGSBURY: COURT DOCS, MINNESOTA POLICE CONTRADICT CLAIMS FROM FATHER OF MISSING WOMAN'S KIDS
In an earlier Fox News Digital report, Winona Police Chief Tom Williams said Kingsbury's disappearance is "suspicious" and "involuntary," but details on a potential suspect have not yet been released.
As of Wednesday, authorities said the investigation is active and ongoing, and police are "not prepared to identify a suspect or person of interest at this time."
Adam Fravel, the father of Madeline's two young children, was the last person who saw her alive. Fravel was noticeably absent from a news conference on her case and remained silent on her disappearance until 12 days later when he released a prepared statement through his lawyer.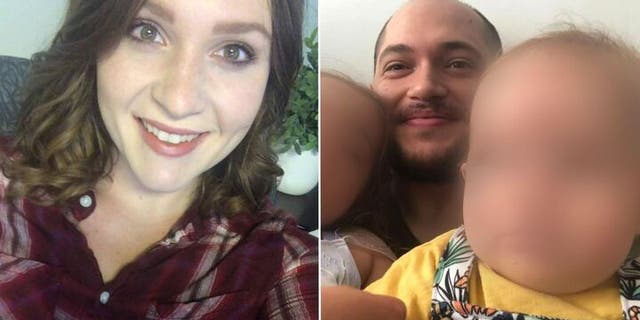 "Over the course of the last 12 days my family and I have been subject to a myriad of accusations regarding the disappearance of the mother of my children," Fravel said. "I did not have anything to do with Maddi's disappearance."
On April 4, Fravel was described as "non-cooperative" during an alleged standoff with social workers and police, who attempted to take custody of the children because he doesn't have custodial rights, according to court documents obtained by Fox News Digital.
"At one point, (Fravel) took the younger child into the residence and locked the door despite being told that the children were in the care and custody of Winona County," a petition by Winona County Health and Human Services alleges. A social worker also reported hearing Fravel shout expletives while he was inside the home.
Winona police also reiterated a $50,000 reward is available for information leading to Kingsbury's whereabouts. Tips can be sent to Crime Stoppers at 1-800-222-TIPS or online at crimestoppersmn.org.
Property owners with any information to report can send details to search@co.winona.mn.us.