Lynyrd Skynyrd honored at 2023 CMT Awards by all-star line up: 'They'll live on forever'
CMT Tribute will include members from ZZ Top, Bad Company, The Allman Brothers' Band, and Guns N' Roses
Lynyrd Skynyrd is being honored at tonight's 2023 CMT Music Awards by an all-star lineup, including Billy Gibbons from ZZ Top, Bad Company's Paul Rodgers, The Allman Brothers' Band's Warren Haynes, all of whom are honored to be part of the tribute.
"I think the fact that modern country music is so influenced by Skynyrd and ZZ Top and Allman brothers and stuff like that is very appropriate and well deserved," Haynes told Fox News Digital before the show. "And I think for me, it's just an opportunity to pay tribute to friends and music that we love."
The tribute will feature two of the band's biggest hits and comes 50 years after the band's debut album, "Lynyrd Skynyrd." It also comes a few weeks after the death of Gary Rossing"I think the songs were just honest, and you walk away with them in your head, stuck in your head. I think that music, the songs themselves will live on forever," Haynes said of the band's enduring popularity and influence.
ZZ Top's Gibbons agreed, adding, "The song structure on the surface may seem, following the hard fast rule of three chords, no more than three chords, but the sophistication behind it creates a sense of intrigue, I think that it's fair to say that they're here for a long, long time."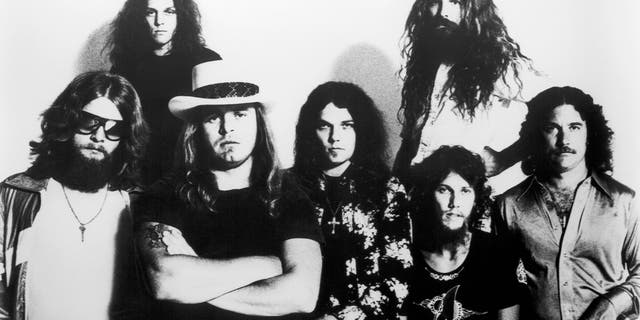 LYNYRD SKYNYRD BROTHERS' CHILDHOOD HOME DECLARED HISTORIC SITE
Paul Rodgers of Bad Company, who will be singing lead vocals with Gibbons, noted he'd been friends with the band for 50 years.
"Lynyrd Skynyrd introduced me to my wife, so they've got a lot to answer for," he added jokingly.
The lineup also includes Slash from Guns n' Roses on guitar, and country star Cody Johnson on vocals with Rodgers and Gibbons.
Johnson counts himself as a longtime fan not only of the iconic band, but the artists he's working with to pay tribute to them.
"It's amazing, to share the stage with Paul Rodgers… I mean, Billy Gibbons and Slash, I could keep going," he told Fox News Digital. "… to stand up here and sing two of the greatest hits that they've ever had with some of the best guitarists of all time, it's, to be honest, pretty damn cool."
He also shared the band's deep influence on him as a musician.
"For a kid that grew up in Texas which was still the South, you listened to Lynyrd Skynard," Johnson said. "For me, I listened to the B cuts, the stuff that didn't really hit with everyone else, but it taught me how to sing the blues. It taught me how sing Southern gospel."
Lynyrd Skynyrd was proud of their Southern roots, something Johnson appreciated, despite controversy around their decision to use the Confederate flag in their imagery.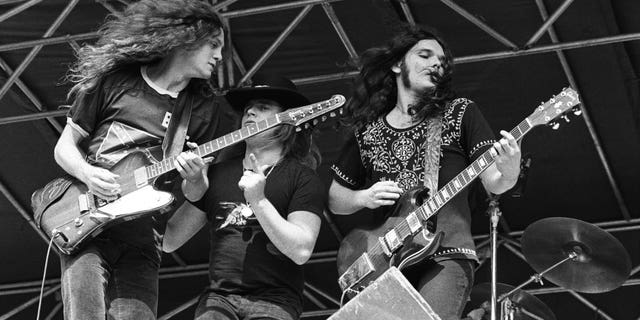 LYNARD SKYNYRD'S SWEET HOME AWAY FROM HOME IS, YOU GUESSED IT
"I think the fact that they came from the South and they flew a Confederate flag and they were so much flack behind that at the time, but all their songs were about peace. All their songs were about loving people," Johnson said.
And for the "Dear Rodeo" singer, there will never be another band like Lynyrd Skynyrd.
"I think it was an era of music that only would have existed in that time, it will never exist again. It's something that nobody can copy, nobody can ever say hey we want to go back to that and redo it. It'll never exist again."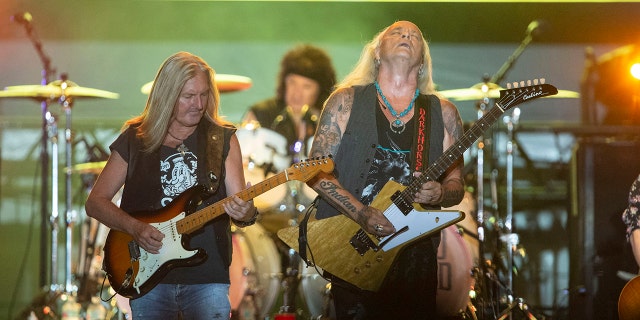 He continued, "As hard as I can try to recreate it, it won't happen again. So, to be a part of it, man, it's pretty special. And honestly it feels like we're stepping back in a time capsule and saying, 'Let's open it up, let's taste it, let's smell it,' let's feel and then that's all we get, there's just that special moment."ton, Lynyrd Skynyrd's final original founding member and guitarist