Lori Vallow trial: 'Cult mom' allegedly researched wedding dresses on same day husband's first wife buried
Prosecutors in Vallow's murder trial revealed on April 10 that Tammy Daybell died of asphyxiation
So-called "cult mom" Lori Vallow researched wedding dresses on the same day her husband Chad Daybell's first wife was buried in Idaho following her Oct. 19, 2019, death, according to local news.
Vallow and Daybell are accused of killing two of Vallow's children, J.J. Vallow and Tylee Ryan, around September 2019, and Tammy Daybell in October 2019. Prosecutors in Vallow's murder trial revealed on April 10 that Tammy died of asphyxiation.
On Oct. 22, 2019 – the day of Tammy's funeral, three days after her death – the user of a gmail account associated with Vallow searched "wedding dresses" and "wedding dresses in Kauai," where Vallow and Daybell were married in Hawaii on Nov. 5, 2019, according to East Idaho News.
"What also caught my attention was this was being looked at on the same day as Tammy's funeral," Rexburg Police Department Detective David Stubbs testified on Monday.
LORI VALLOW TRIAL: IDAHO PROSECUTORS REVEAL BOMBSHELL DETAIL ABOUT DEATH OF CHAD DAYBELL'S FIRST WIFE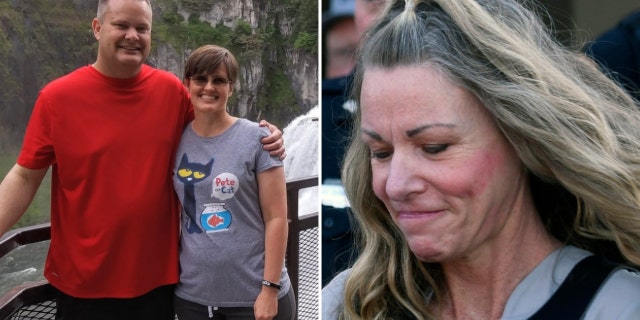 Months prior to Tammy Daybell's death, which was originally determined to be natural, the account user researched "wedding bands made of malachite." The user then ordered two rings that totaled more than $800.
"We were thinking it was odd for her to be looking at wedding rings at that time," Stubbs said.
LORI VALLOW TRIAL: WHAT TO KNOW ABOUT 'CULT MOM' ACCUSED OF KILLING 2 KIDS, HUSBAND'S FIRST WIFE
Prosecutor Lindsey Blake previously argued that Vallow would have done anything to get Tammy Daybell out of the picture and have Chad Daybell "all to herself."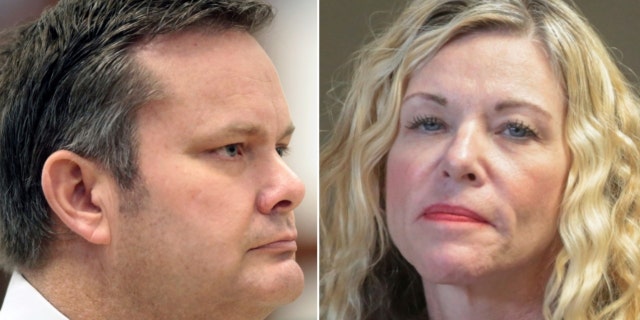 The couple first met in 2018 at a Preparing a People conference and shared the belief that they had been married in a past life. They also believed people emit light or dark spirits – sometimes so dark that certain people could be considered zombies, Blake said earlier this month, as FOX 10 reporter Justin Lum reported.
"Defendant will move any obstacle in her way to get what she wants and she wanted Chad Daybell," Blake argued.
LORI VALLOW CASE: JJ VALLOW'S GRANDMOTHER DOESN'T 'RECOGNIZE' SO-CALLED 'CULT MOM' SMILING OUTSIDE COURT
J.J. and Tylee went missing in September 2019 – around the time investigators believe they were murdered on Chad Daybell's Idaho property.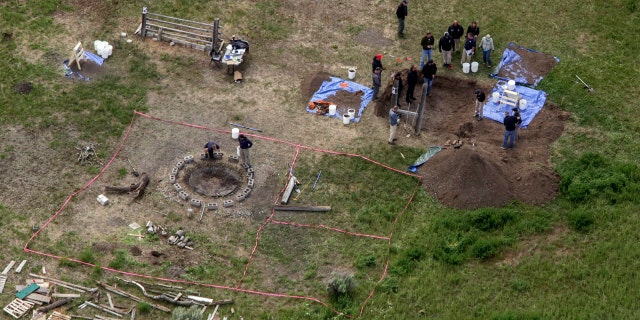 On Oct. 9, 2019, a masked gunman appeared outside Tammy Daybell's home as she was getting home from work and fired multiple times. Investigators believe Lori Vallow's late brother, Alex Cox, was behind the attempted shooting, Blake said, according to Lum.
LORI VALLOW TRIAL: IDAHO INVESTIGATOR DETAILS GRUESOME FINDINGS AT 'BURAL SITE' WHERE CHILDREN'S BODIES WERE FOUND
Ten days later, on Oct. 19, 2019, Tammy died of asphyxiation, though a medical examiner initially listed her cause of death as natural, resulting from cardiac arrest, according to FOX 10.
Authorities eventually found J.J. and Tylee's bodies buried on Daybell's property in rural Idaho in June 2020.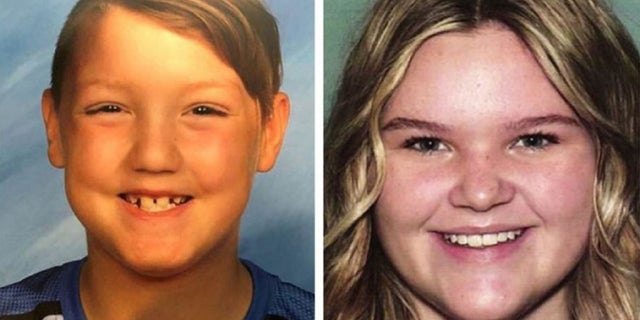 Tylee and J.J.'s respective causes of death have not been released yet, though he thinks they will be brought up in trial. Investigators found Tylee's remains dismembered and burned while J.J.'s body was wrapped in plastic and tied with duct tape.
Vallow and Daybell allegedly collected J.J.'s and Tylee's Social Security benefits between Oct. 1, 2019, and Jan. 22, 2020, after their murder.
Authorities arrested Vallow in February 2020 and Daybell in June 2020.
The couple was indicted in late May 2021 on multiple counts each of conspiracy to commit first-degree murder and grand theft by deception, and first-degree murder related to the deaths of Tylee, J.J. and Tammy Daybell, officials announced at the time. Arizona officials in June 2021 also indicted Vallow in the July 2019 murder of her ex-husband, Charles Vallow.