Liberals rage at 60 Minutes for interviewing Marjorie Taylor Greene: 'Legitimizing a ghoul'
Liberal actor Bradley Whitford compared Greene to Hitler: 'Reminds me of a guy we defeated in the 1940s who wasn't afraid to share his opinions'
The announcement that Rep. Marjorie Taylor Greene, R-Ga., would be appearing on this Sunday's episode of CBS "60 Minutes" infuriated prominent liberals on social media this week.
Figures including MSNBC's Mehdi Hasan, NBC News Ben Collins, former GOP Congressman Adam Kinzinger, liberal commentator Elie Mystal, gun control activist David Hogg and others, took to Twitter to slam the CBS program for hosting Greene, one of the high-profile MAGA supporters in Congress.
The official Twitter account for the long-running CBS show caused the uproar on Friday, posting a preview of the pre-filmed interview. It featured four images of 60 Minutes host Lesley Stahl speaking to Greene in various interview location.
MARJORIE TAYLOR GREENE SAYS REPUBLICANS DON'T NEED TO PROTEST POTENTIAL TRUMP ARREST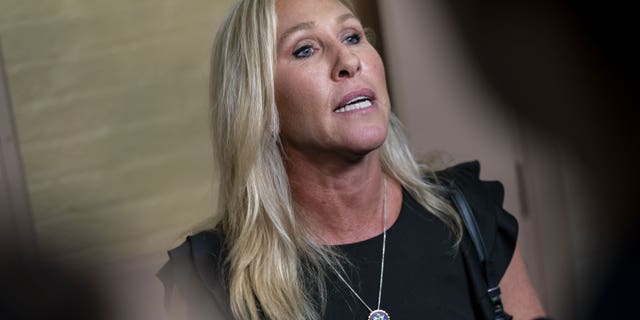 One notable photo featured Stahl and Greene conversing in the Capitol rotunda, evoking scenes from the January 6 Capitol riot.
In addition to the photos, the account stated, "Georgia Republican Rep. Marjorie Taylor Greene, nicknamed MTG, isn't afraid to share her opinions, no matter how intense and in-your-face they are. She sits down with Lesley Stahl this Sunday on 60 Minutes."
The CBS program's efforts to speak to the well-known right-wing politician were not welcomed by liberals on the platform.
Frequent MSNBC guest and The Nation correspondent Elie Mystal blistered CBS' apparent civil treatment of the GOP congresswoman. He decried that the network referred to Greene by her nickname, as though it signified some friendliness between both parties.
He wrote, "The way you guys say her 'nickname' is MTG... as if it's a cute moniker bestowed by her besties... when her initials are just MTG and her 'nicknames' are 'Marjorie Three Names' and 'Unfrozen Caveman Congresswoman' just shows that you're here to launder her rep and complicit."
Former CNN and NBC anchor Soledad O'Brien mocked "60 Minutes'" characterization of Greene, implying the network was making her out to be less dangerous than she is. She tweeted, "Folks, she's just 'in your face.'"
Liberal actor Bradley Whitford compared Greene to Adolf Hitler in a sarcastic post, tweeting, "Reminds me of a guy we defeated in the 1940s who wasn't afraid to share his opinions, no matter how intense and in-your-face they were. Too bad you couldn't interview him, @LesleyRStahl, you could have asked him about his vegetarianism and his love of dogs."
Whitford, who was in "The West Wing," added, "You're legitimizing a ghoul who harasses victims of school shootings, @60Minutes. But yeah, @LesleyRStahl, you'll get tons of attention! Not great for a generation traumatized by gun violence. Shame on you."
LAUREN BOEBERT, MARJORIE TAYLOR GREENE SNIPE AT EACH OTHER OVER MCCARTHY SPEAKER SUPPORT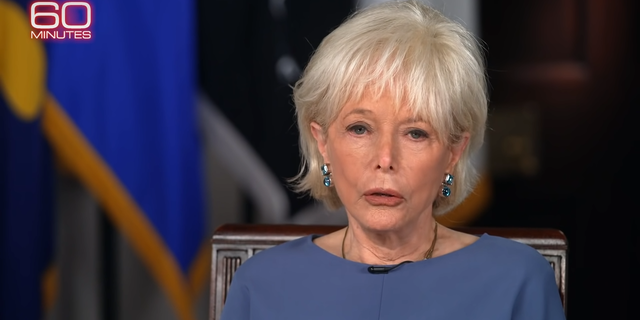 Liberal commentator Molly Jong-Fast provided her two cents, tweeting, "Attention is currency and 60 minutes is spending its currency on the Jewish space lasers woman."
Former GOP Congressman and January 6 Committee member Adam Kinzinger remarked, "Wow. Insane that 60 min would do this."
Former CNN anchor John Harwood mocked 60 Minutes' tweet, writing, "'Her opinions.'"
Atlantic contributor Jemele Hill blasted the show because she didn't like the framing of the interview. She tweeted, "There's nothing wrong with interviewing and profiling controversial, even despicable people, but this framing is s---. There's also a fine line between engaging provocative people and platforming stupid. This is platforming stupid."
MSNBC host Mehdi Hasan tore into his media colleagues over this interview. He tweeted, "So brazen anti-Muslim, antisemitic, anti-trans bigotry, and insane conspiracies about Hillary Clinton torturing kids and murdering her opponents, are reduced by a storied American news brand merely to 'intense and in-your-face'. This is equal parts embarrassing and reckless."
CLICK HERE TO GET THE FOX NEWS APP
NBC News senior reporter Ben Collin brought up one of Greene's old social media posts against gun control activist David Hogg, tweeting, "Opinions such as calling a Parkland shooting survivor 'Little Hitler'? What are we doing here, guys?"
And Hogg himself blasted 60 Minutes, tweeting, "I look forward to your questions about why she thinks school shootings are fake and why she's supported QAnon."