Jeremy Renner visits the hospital workers who 'saved my life' after devastating snowplow accident
The actor spent more than two weeks in Reno's Renown Regional Medical Center after suffering more than 30 broken bones in the horrific incident
Jeremy Renner returned to the hospital to visit the medical workers who treated him after his devastating snowplow accident in January.
On Friday, the 52-year-old actor shared photos to his Instagram Story in which he was seen spending time with the hospital staff at the Renown Regional Medical Center in Reno, Nevada. In one image, the Marvel star was seen smiling and leaning on his cane as he posed with 12 staff members.
"I got to revisit the amazing group of people who saved my life," the Marvel star wrote on the photo, adding several heart and prayer hands emojis.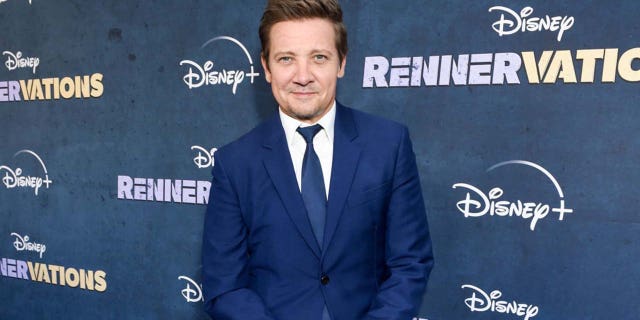 Renner uploaded another snap in which he was seen standing next to a doctor and wrote "Thank you" with a prayers hand emoji. The two-time Academy Award nominee shared a third photo of himself standing by the hospital's front sign with several staff members.
JEREMY RENNER FEARED HE'D BE 'SCIENCE EXPERIMENT' AFTER ACCIDENT: 'WHAT'S MY EXISTENCE GONNA BE LIKE?'
On New Year's Day, Renner broke over 30 bones when he was crushed by a 14,000-pound Pistenbully near his home in the Lake Tahoe area.
He was airlifted to the Renown Regional Hospital where he stayed for more than two weeks as he underwent multiple surgeries for blunt force chest trauma and other orthopedic injuries.
Over the past four months, Renner has kept his fans updated on his journey to recovery. Last month, he shared a video in which he was seen walking for the first time since the near-fatal accident as he used an anti-gravity treadmill.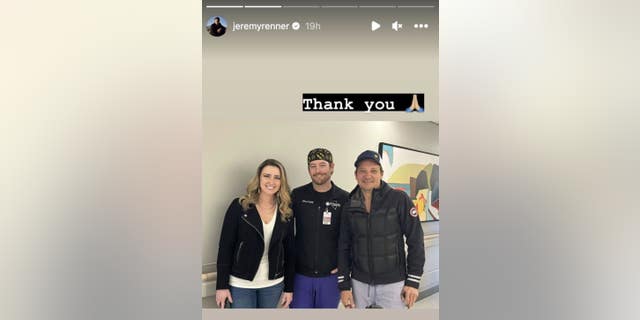 Earlier this week, the California native made his first red carpet appearance since the incident at the premiere of his Disney+ show "Rennervations."
CLICK HERE TO SIGN UP FOR THE ENTERTAINMENT NEWSLETTER
Renner was joined by his 10-year-old daughter Ava as they walked hand-in-hand down the carpet. During a panel discussion after the screening of the first episode, host Jimmy Kimmel asked Renner about the accident and his recovery.
Kimmel told the actor that if he'd been in his position, he'd complain constantly and "never get out of bed," but that his recovery has been "remarkable."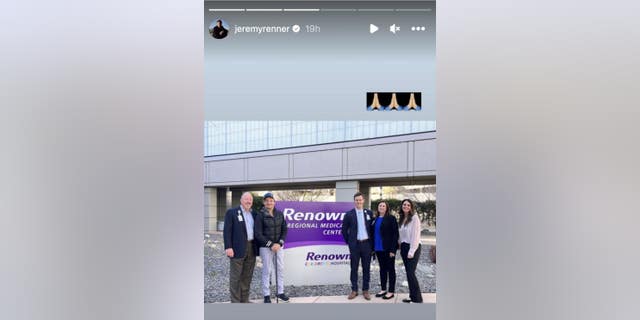 "It's easy to do when you have the love and support that I have," Renner responded. "Doing it alone would have been impossible. A lot of people, some are here, were a part of saving my life and keep me alive to breathe and move through."
"It took a lot of people," he continued. "It starts with my family, my daughter, then a big part of my recovery was this show, it set a big milestone for me to get better, to make sure that all our hard work was not for naught… For me to run my damn self over, well, there's no alternative."
He continued, "For me, it was easy, I had somewhere to go, somewhere to point, and I had a lot of love, man."