'Inseparable' dog, goat duo to live out rest of days together on farm
'This was the best outcome we could hope for,' Shinica Thomas says
Their charming bond has melted the hearts of everyone who has met them and now, the fate of a viral goat and dog duo from North Carolina has been sealed.
Cinnamon and Felix will be spending the rest of their days together on a farm.
"I'm so excited they will be living their dream life in Johnston County with their new family," Shinica Thomas, chair of the Wake County Board of Commissioners, said in a press release. "The Wake County Animal Center has a fantastic rescue network, and they focused on the best solution for this pair after getting custody of them. This was the best outcome we could hope for!"
Cinnamon the goat and Felix the dog ended up at the Wake County Animal Center on March 13 after their owner became unable to care for them any longer.
POLAR BEAR IS SNAPPED STANDING UPRIGHT IN CANADA'S BAFFIN ISLAND: 'GAVE ME GOOSEBUMPS'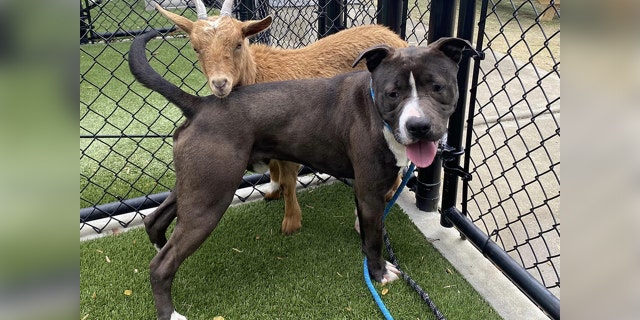 Staff immediately noticed the two were best friends who would play, eat and sleep together. A call was put out on social media to find a rescue partner to keep the two pals together.
"Goats are social animals and so are dogs, so when they're put together – it makes sense they would find friendship," Wake County Animal Center Director Dr. Jennifer Federico said. "In many cases of interspecies friendship, the species are not normally seen together, and sometimes, one is of a species that ordinarily preys on the other in nature – whatever the reason for these two bonding, it's clear what would be best for their well-being is to keep them together."
RESCUED DOLPHIN THRIVES 1 YEAR AFTER ARRIVING IN FLORIDA KEYS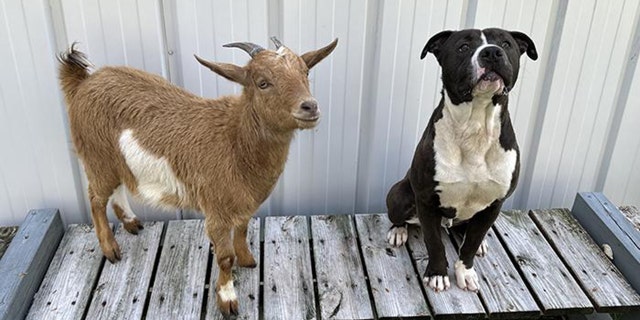 Last week it was announced the once-homeless odd couple was getting their happy ending due to the help of a long-time national rescue partners Chris and Mariesa Hughes of the Mr. Mo Project, and a local foster family they had previously worked with.
"We are so blessed to be able to foster Felix and Cinnamon!" Jacqui Bankes, the new proud owner of the dynamic duo, said. "As their forever foster, we are excited to keep them together and also integrate them with our other goats and dogs, after appropriate testing and quarantine."