Former Arkansas Gov. Asa Hutchinson launches White House bid, joining Donald Trump in growing GOP 2024 field
The field of Republican presidential contenders continues to grow, with Hutchinson joining Trump and Haley in the 2024 White House race
Former Arkansas Gov. Asa Hutchinson is formally jumping into the race for the White House, joining a growing field of contenders taking on former President Donald Trump in the battle for the 2024 GOP presidential nomination.
Hutchinson on Wednesday announced his candidacy for president at a campaign launch event in his hometown of Bentonville, Arkansas.
"In this campaign for president, I stand alone in terms of my experience, record, and leadership," Hutchinson said in prepared remarks shared with Fox News Digital. "From Congress to DEA to Homeland Security, I have served our country in times of crisis. As governor of Arkansas, we cut taxes and created record surpluses."
Hutchinson outlined his credentials as a conservative whose "mettle has been tested" over his decades of political service.
FIRST ON FOX: HUTCHINSON'S 2024 BID TO GET BOOST FROM SUPER PAC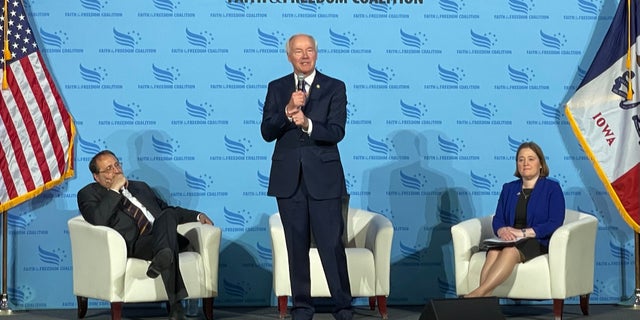 A former federal attorney turned two-term congressman who served as Drug Enforcement Administration administrator and Department of Homeland Security undersecretary during then-President George W. Bush's administration, Hutchinson has long showcased that he's a "consistent conservative."
Hutchinson, who steered the National Governors Association last year, had been mulling a 2024 White House run for months. He told Fox News Digital interview last summer that he wanted a role in helping to shape the future of the GOP and "that might lead to a presidential campaign down the road."
Hutchinson left office in Arkansas in January due to term limits, and was succeeded by Gov. Sarah Huckabee Sanders, the former White House press secretary during then-President Trump's administration and the daughter of former longtime Arkansas Gov. Mike Huckabee.
As he concluded his tenure as governor earlier this year, Hutchinson made back-to-back trips to Iowa, the state that for a half century has kicked off the presidential nominating calendar. And he's returned to Iowa a handful of times the past couple of months. He's also made visits over the past year to New Hampshire and South Carolina, which vote second and third in the GOP primary order.
On Saturday, addressing an influential crowd of evangelical voters at a major gathering of the Iowa Faith and Freedom Coalition, Hutchinson gave a preview of his campaign launch, saying "I can stand here today and say that I am a candidate for president in 2024."
Asked how he could compete with bigger names larger war chests, such as Trump and Florida Gov. Ron DeSantis, who's seriously mulling a White House run, Hutchinson sad in a Fox News digital interview that "hard work is a big part of it and you increase name identification by being out in the communities, by raising money, being on the television and communicate in every which medium which you can. So that will happen over the course of time. The debates are an important part of the ability to get your message out as well"
"I'm not worried about where we are now. This is a long runway. We've got time to build the name identification and I look forward to the opportunity to engage in retail politics that means so much here in Iowa," he emphasized.
Hutchinson's prepared remarks didn't mention any rumored or actual GOP candidates for president. But he did compare Arkansas' record during the COVID-19 pandemic.
"When I had pressure from Washington and the national media to shelter in place, I said 'no.' And the result was that our businesses survived and we had more days of in-classroom instruction during the pandemic than almost any other state. Yes, that's right... we beat Florida!" Hutchinson said.
Hutchinson is a vocal GOP critic of Trump. Pointing to the Jan. 6, 2021 attack on the U.S. Capitol by Trump supporters aiming to upend congressional certification of President Biden's 2020 victory over Trump, which the then-president has been accused of fueling, Hutchinson told Fox News "I do believe that he disqualified himself and should not serve our country again as a result of what happened."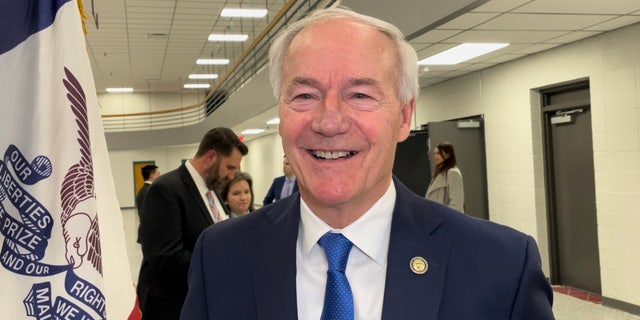 Longtime Republican consultant Ryan Williams noted that the 72-year old Hutchinson "has a long record in public service serving in the both the House and executive branch of the federal government and as a governor. He can run a campaign on being a competent executive, serving our country in Congress and in the Department of Homeland Security.
But Williams, a veteran of multiple GOP presidential campaigns, said that "unfortunately for Hutchinson, the base of the party that turns out in primaries doesn't really value experience. He's not particularly exciting and he doesn't really stand out for any one thing in particular in a crowded field of candidates… He's someone who's been around politics for a long time and his time is likely behind him at this point."
For Hutchinson, the location of his campaign kick-off was telling.
"It means a lot for me to do my formal announcement in my hometown of Bentonville. That's where I first practiced law. That's where I was city attorney. I tried cases there. I built an FM radio station there in Bentonville, but most importantly, that's where I started by family," the former governor told Fox News. "These are my roots and it's important for a national audience to understand where I come from and very humble roots, but Bentonville illustrates how you can start small and you can be a success and it tells the American story."