Chinese box believed to be owned by emperor from Ming Dynasty found in dusty cabinet, now set for auction
A WWII major bought the unique decorative box while in London
A decorative box that is believed to have been bought by an army major shortly after World War II is up for auction — again.
The box, made for the 15th century emperor Xuande, has been sitting in the attic of World War II Major Edward Coplestone Radcliffe's family home since 1967.
Radcliffe purchased the box during an auction in London in 1946.
RARE WORLD WAR II 'ESCAPE KITS' SOLD AT AUCTION
He later put it up for exhibit at the National Gallery of South Africa's Chinese Exhibition, according to SWNS.
The box has reportedly been left untouched in the attic of the family home since Radcliffe's death in 1967 — until now.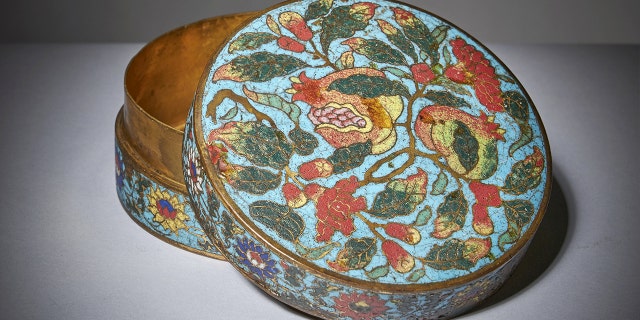 The box will be put up for auction in May 2023 by Dreweatts, as SWNS reported.
The box is one just one of two boxes like it being held in private hands, and not a museum, SWNS said.
Believed to be one of five ever made, the box "bears the incised six-character marks of Xuande," notes Antique Collecting magazine — something that is rare among these types of boxes.
EXTREMELY RARE ENIGMA MACHINE USED BY THE NAZIS DURING WWII SURFACES, UP FOR AUCTION
Emperor Xuande was the fifth Emperor of the Ming Dynasty and reigned for over a decade from 1426 to 1435, as SWNS reported.
The colorful box has drawings of pomegranates and gold branches throughout, and is believed to be worth roughly $10,000 today.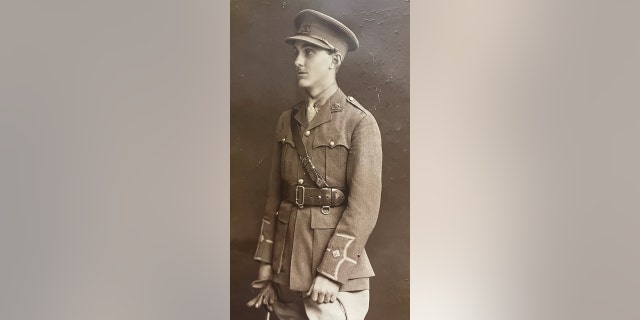 The box was likely made for the emperor, said Dr. Yingwen Tao, a specialist in Chinese and Asian art at Dreweatts, the company that will be hosting the upcoming auction for the box.
WWII D-DAY MEMORABILIA UP FOR AUCTION
"There is every indication that all five [pieces in the collection] were made in the same imperial workshop, for the Emperor, as crucially, all are doubly marked with an incised Xuande six-character reign mark on the underside of the box and the interior of the cover," he told SWNS.
Tao went on to say that each of them are the same size and have similar designs throughout.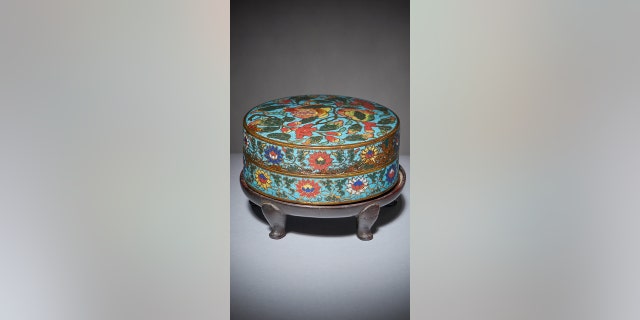 Director of Asian Ceramics and Works of Art at Dreweatts, Mark Newstead said the piece looked too good to be true at first.
"This initial estimate was based on it being from the 17th century, but it is now looking extremely modest, and it's thought it could achieve much more, even in its slightly damaged condition," he told SWNS.