Arnold Schwarzenegger calls out CBS headline on pothole story: 'Why institutional trust is in decline'
Schwarzenegger posted a video on Twitter of himself filling a pothole in Los Angeles neighborhood
Actor and former California governor Arnold Schwarzenegger claimed that a CBS headline on his recent filling of a pothole in his neighborhood was "bogus."
The "Terminator" star garnered attention on Tuesday after posting a video of him filling in a "giant" pothole in the Brentwood, California community after allegedly dealing with it for weeks.
"Today, after the whole neighborhood has been upset about this giant pothole that's been screwing up cars and bicycles for weeks, I went out with my team and fixed it. I always say, let's not complain, let's do something about it. Here you go," Schwarzenegger wrote on Twitter.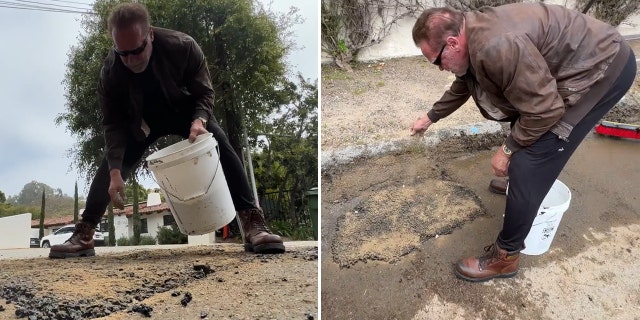 However, CBS News insisted in a tweet that the pothole was actually a trench used for utility work.
ARNOLD SCHWARZENEGGER FILLING A POTHOLE SPARKS CONTROVERSY WITHIN CITY OF LOS ANGELES
"The 'giant pothole' that Arnold Schwarzenegger said he recently filled on a street in his Los Angeles neighborhood of Brentwood was actually a trench that had been dug for utility work, according to the city," CBS News tweeted.
CBS' headline for the story also read "Schwarzenegger filled a utility trench, not a pothole, city of Los Angeles says after video goes viral."
Schwarzenegger called out this framing on Twitter, claiming that it could be used as an example in the decline of media trust.
"This headline/tweet is bogus. The story is correct - the utility work was finished in January. I filled in the hole 3 months later and the city left my fix in place. This story should be taught in a class for people who are confused about why institutional trust is in decline," Schwarzenegger tweeted.
CBS News' tweet also featured a Community Note reading, "The pothole was filled three months after the utility work ended, according to Schwarzenegger."
A city spokesperson said in a statement that the hole the actor filled up "is not a pothole," but rather "a service trench that relates to active, permitted work being performed at the location by SoCalGas, who expects the work to be completed by the end of May."
A spokesperson also explained to Fox News Digital that work in the area began on Jan. 26 with expectations to be completed by the end of the week.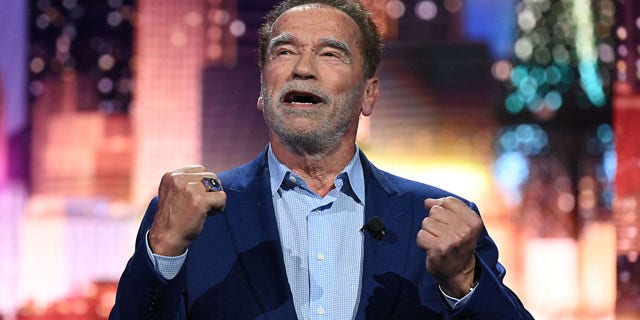 MAN'S WEIGHT LOSS JOURNEY, POSITIVE OUTLOOK GETS HIM PROPS FROM ARNOLD SCHWARZENEGGER
However, Marissa Girolamo, a communications manager at SoCalGas, revealed on Thursday that they kept Schwarzenegger's efforts intact while strengthening the patch.
"We did leave the patch that Governor Schwarzenegger applied, however yesterday our crews went back to the site and we used special equipment to go over the patch to make it all stronger," she said.
"Teamwork. Happy to help speed this up, and thanks to the crew for pumping up my fix," Schwarzenegger tweeted.
After the city spokesperson's statement, a representative from Schwarzenegger remarked that the city was "being careful with their wording to imply Arnold prevented their gas line work without directly saying it, because it's not true." The representative also alleged that Schwarzenegger filled in two potholes during that day.
"The city's first response to this news was that the service trench would be filled by the end of May," his representative continued. "So it appears their plan was to close one lane of a two-lane road and force people to drive in cars and bicycles in wrong-way traffic for 2 more months, which is insane."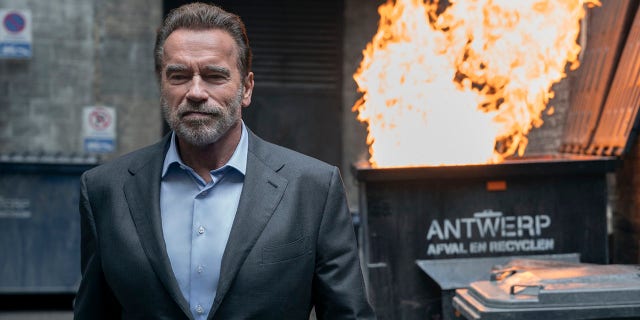 The representative added, "Arnold doesn't blame the mayor for this, because she hasn't been in office very long, he just wanted to protect his neighbors and show that it is possible to work quickly."