Amber Valletta recalls Jennifer Lopez's iconic plunging Versace dress: 'I wore it first'
The supermodel wore the dress on the catwalk before Jennifer Lopez created a pop culture phenomenon when she rocked the look at the 2000 Grammys
Amber Valletta is looking back on originating an iconic moment in fashion.
During the latest episode of Vogue's "Life in Looks" YouTube series, the 49-year-old supermodel recalled wearing Versace's plunging sheer jungle dress — a year before Jennifer Lopezset the Internet ablaze when she rocked the gown at the 42nd Annual Grammy Awards in 2000.
"This dress has been Googled more times than any other look in history," Valletta said. "It literally broke the internet when [Lopez] wore it, so it's kind of cool to be a part of that history.
"But I wore it first," she added with a smile.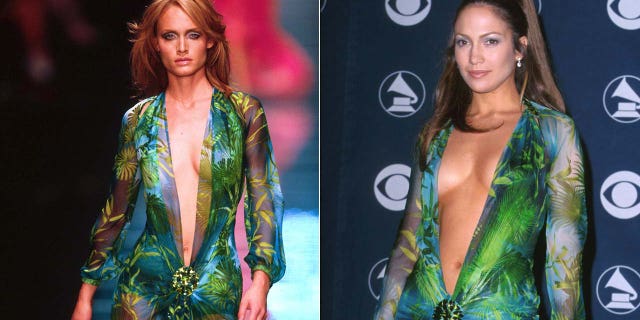 Designed by Donatella Versace, the silk chiffon dress featured a green leaf and bamboo pattern with blue accents and a neckline that plunged below the navel. The floor-length gown fastened at the crotch with a citrine-studded brooch.
JENNIFER LOPEZ REVISITS MEMORABLE PLUNGING GRAMMY'S DRESS
Valletta was the first to wear the gown when she modeled it on the runway for Versace's Spring/Summer 2000 show and she later donned it again when she posed for the famed fashion house's campaign.
"I think this was like the pinnacle of, like, fierce Versace sexiness, blonde ambition," Valletta remembered.
She continued, "It was just like Donatella, Donatella, Donatella. The infamous jungle dress. I wore it on the runway and then obviously, I did the campaign. Then, J. Lo wore it to the Grammys. And again, massive iconic moment when she wore that dress."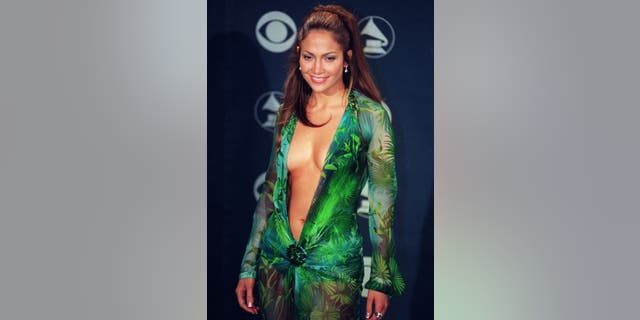 "Nobody went out like that ever. I mean, no one had ever shown skin in the front like that, you know, past the navel and then a big slit up the front," Valletta explained. "I think it was just so ahead of its time and just said, 'I'm woman and hear me roar, literally from the jungle.'"
The "On the Floor" hitmaker created a media frenzy when she stepped out in the gown while accompanying then-boyfriend Sean "Diddy" Combs to the awards show, where she was nominated for her first Grammy. The look immediately went viral as search queries for images of Lopez skyrocketed within hours of the event.
The demand for pictures of the pop star in the show-stopping gown was so overwhelming that it eventually led to the creation of Google Image Search.
"At the time, it was the most popular search query we had ever seen," Google executive chairman Eric Schmidt wrote for Project Syndicate via Business Insider. "But we had no surefire way of getting users exactly what they wanted: J­Lo wearing that dress. Google Image Search was born."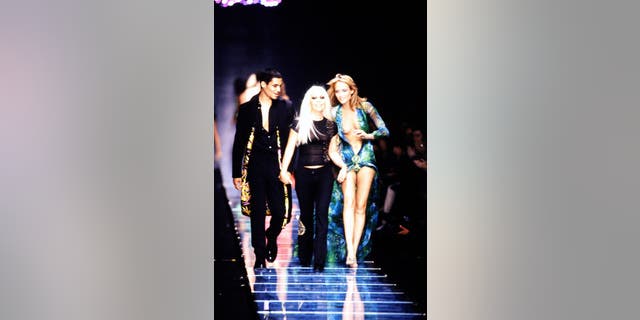 After Valletta, the Versace dress was worn by two other famous faces before Lopez's history-making Grammys appearance. Donatella herself sported the gown at the "Rock Style" Met Gala in December 1999 and Spice Girl Geri Halliwell donned it for the NRJ Music Awards in Cannes, France in January 2000.
In 2020 interview with Vogue, Lopez recalled that her stylist at the time tried to dissuade her from choosing the dress since she wouldn't be the first to wear it.
"She was like, 'No, you can't wear that one, somebody else has worn it, actually, Donatella herself has worn it. One of the Spice Girls has worn it. Sandra Bullock has worn it in another color," the "Shotgun Wedding" star remembered.
"I said, 'This is what we're going to wear. This is it,'" Lopez said.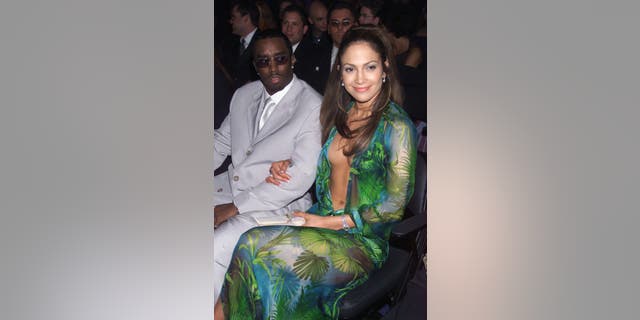 She continued, "I really didn't think about it. I didn't think it was all that risqué, to be honest. I was more excited that it was the Grammys. I wasn't even really thinking about the dress that much. I was just glad I had something to wear."
CLICK HERE TO SIGN UP FOR OUR ENTERTAINMENT NEWSLETTER
In 2019, Lopez received a standing ovation when she wore anupdated version of the gown while closing out the Versace show during Milan Fashion Week.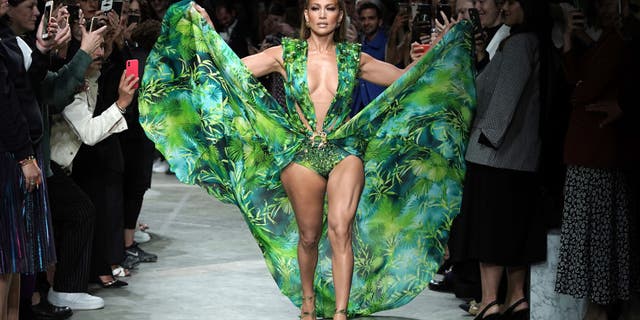 Valletta told the Wall Street Journal magazine that there was never any competitiveness between herself and Lopez when it came to the famous frock.
"I actually never saw any 'who wore it best' between J.Lo and I," the Vogue cover star said.
"I think J.Lo wore it incredibly," she added. "It's just an amazing dress that Donatella designed that just has such longevity and is an iconic piece in fashion history. I don't think it's about who wears anything best. I think we're all uniquely beautiful and have individually something to bring."
"Powerful women wear powerful dresses."