Blade Runner Oscar Pistorius denied parole for 2013 slaying of model girlfriend
Pistorius fatally shot Reeva Steenkamp through a bathroom door in South Africa on Valentine's Day in 2013
Former South African track star Oscar Pistorius was denied parole Friday in the 2013 slaying of model Reeva Steenkamp in a case that captivated the country and captured international attention.
After a closed door hearing, the Correctional Supervision and Parole Board issued a surprise statement, saying that Pistorius had not yet served enough time behind bars to be eligible for release.
The double amputee, 36, was sentenced to 13 years and five months in prison for fatally shooting Steenkamp, his 29-year-old girlfriend after claiming he mistook her for an intruder in the early morning hours of Valentine's Day.
Pistorius can reapply in August 2024, according to the parole board's statement, which cited a new clarification on the former Olympic athlete's sentence issued earlier this week by the country's Supreme Court of Appeal.
BLADE RUNNER OSCAR PISTORIUS: A LOOK BACK AT THE OLUMPIAN'S METORIC RISE AND FALL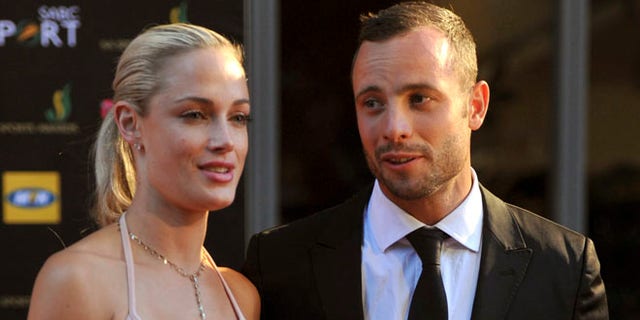 Although Pistorius has technically served half his sentence, which should make him eligible for parole, the calculation has not been straightforward given a series of appeals in his case.
He was initially convicted in 2014 of culpable homicide, which is essentially manslaughter, and sentenced to five years in prison after a dramatic seven-month trial that was watched all over the world.
OSCAR PISTORIUS DOCUMENTARY DETAILS OLYMPIAN'S 'FALL FROM GRACE' AFTER MURDER CONVICTION, DIRECTOR SAYS
The judge's decision outraged Steenkamp's family and was ultimately overturned and replaced with a murder conviction in 2017 that more than doubled his original sentence.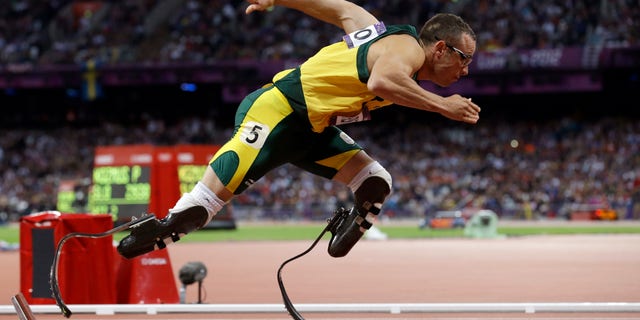 Barry and June Steenkamp, the victim's parents, have opposed Pistorius' release.
"Unless he comes clean, they don't feel that he is rehabilitated," the family's lawyer, Tania Koen, told reporters outside the Atteridgeville Correctional Centre prison in Pretoria, where the Paralympic champion has been incarcerated since 2016. "He's the killer of their daughter. For them, it's a life sentence."
June Steenkamp delivered written and oral statements at the hearing, which was held at the prison, arguing that Pistorius has not shown remorse or been honest about what happened when he fatally shot her daughter.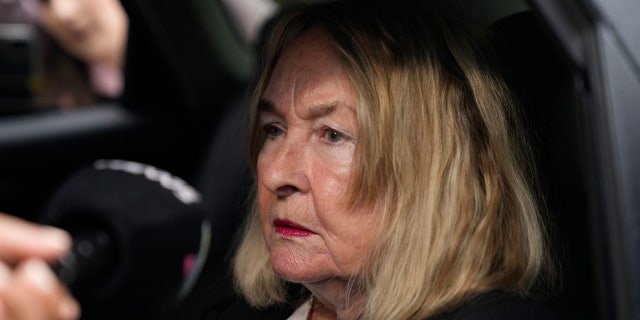 Barry Steenkamp met face-to-face with Pistorius last year as part of the pre-parole process in which crime victims or their relatives are given a chance to meet with offenders, which Koen described as a "traumatic" experience.
Pistorius was an international star when Reeva Steenkamp met him four months before her murder.
'BLADE RUNNER' PISTORIUS CHARGED WITH MURDER AFTER GIRLFRIEND SHOT TO DEATH IN HOME
The double amputee, who earned the nickname "Blade Runner" for the futuristic prosthetics he used for competitions, made history in 2012 when he competed against able-bodied athletes in the Olympics. He lost his lower legs as a baby due to a congenital condition.
However, his downfall soon eclipsed his meteoric rise.
Pistorius testified at trial that in the pre-dawn hours of Feb. 14, 2013, he awoke and thought there was an intruder in the master bathroom.
He fired four times into the bathroom stall of his luxury Pretoria home. He soon realized he had killed his lover, who had gotten out of bed to use the bathroom, he said.
Prosecutors argued that the bullet holes and Steenkamp's wounds contradicted his claim and suggested that she was cowering in fear inside the locked stall after the pair had explosive argument. Neighbors said they had heard the couple fighting before the shooting.
The NGO Women for Change issued a statement standing by Steenkamp's family and opposing Pistorius' parole. "He has failed to admit his guilt or show any remorse for the murder of Reeva," the statement says. "In order to advance change in our society, we need to hold perpetrators accountable."
South Africa has one of the highest rates of violence against women in the world.
CLICK HERE TO GET THE FOX NEWS APP