33 Of The World's Most Disturbing Museum Artifacts
Museums are tools for education and sometimes they play host to the most inexplicable artifacts in the world.
Recently, a call was put out to the museums of the Twitter-sphere to unveil their #CreepiestObjects. Initiated by England's Yorkshire Museum, which houses five permanent collections including archaeology, numismatics, and astronomy, the "disturbing yet educational" fad quickly took off.
As it turns out, the world's museums are full of macabre and unpleasant artifacts. Sometimes, the stories behind these collectibles are more disturbing than the artifact itself.
These pieces are sure to make your skin crawl.
Eerie Collections Around The World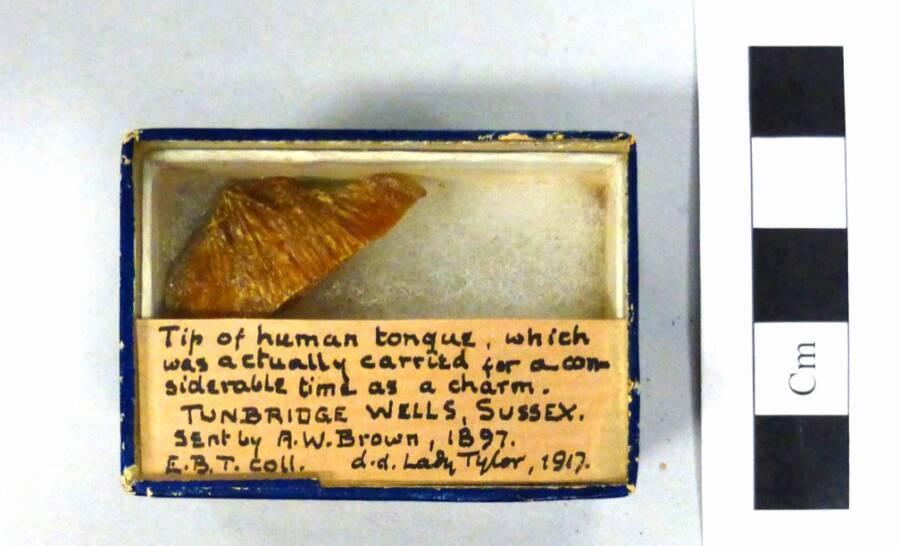 Tip of a human tongue that was used as a charm and is now a part of the Pitt Rivers Museum in Oxford.
If you're looking for the strange and bizarre, there are plenty of museums that showcase untoward oddities around the world.
There is the Pitt Rivers Museum, in Oxford, England, which has devoted an entire room to shrunken heads. Then, there is the Meguro Parasitological Museum in Tokyo, Japan, where 300 rare microscopic bugs and parasites are on display.
Other strange museums include the Icelandic Phallological Museum, which is exactly what it sounds like — a collection of animal penises preserved in jars. There is also Mother Shipton's Cave in England which features a well with the powers to petrify any objects strung beneath its cascading waters.
But one of the most famous collectors of strange artifacts in America is no doubt the Mütter Museum of The College of Physicians in Philadelphia.
Founded by American surgeon Thomas Mütter in 1863, the museum is host to an array of medical specimens that originally included the most puzzling anomalies handled by Mütter and his colleagues. Today, the museum houses over 25,000 specimens, including pieces of Albert Einstein's famous brain and a replica of a woman whose head grew a horn.
Unfortunately, the Mütter Museum did not participate in the viral competition. When asked by eager followers about what they would enter into the contest, the museum graciously declined to join in the whacky festivities.
"No entry from us! There's nothing creepy about the human body," their response read. Although their efforts to destigmatize human anatomy are commendable, they nonetheless house some of the most unsettling artifacts in the gallery above.
Haunted Artifacts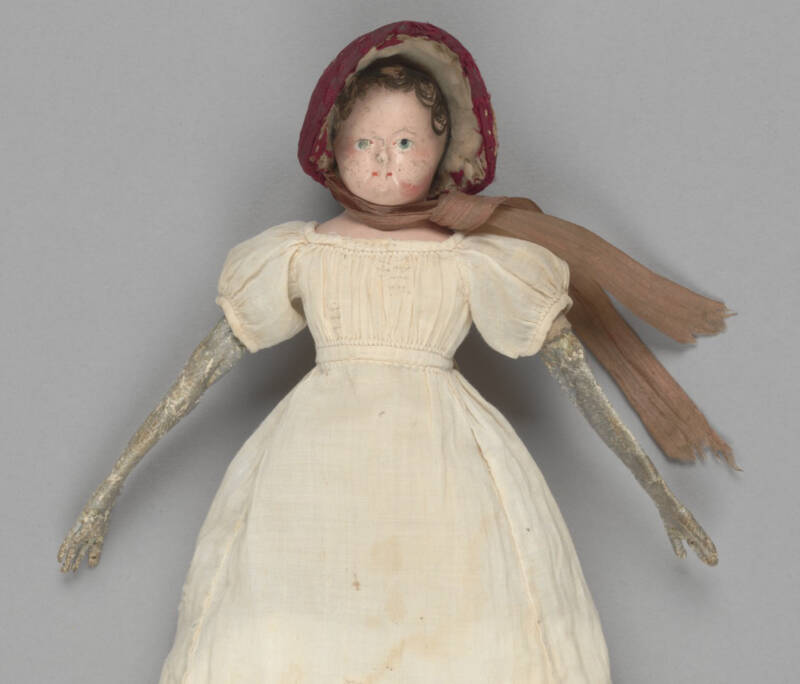 Elizabeth Batman's doll from sometime between 1820 and 1830 on display at the State Library of Victoria in Australia.
Among the pieces displayed in the gallery above are some that have a touch of the uncanny. For instance, the workers at the Prince Edward Island Museum are acutely aware of a nearly 200-year-old wheeled sheep toy that appears to move on its own accord.
Other artifacts were made with the dark arts in mind, like a 200-year-old book bound in the back skin of an English murderer. Indeed, as it turns out, binding books in the skin of criminals was a somewhat common practice among the superstitious in 19th-century England. These books bound in manmade leather were considered eerie talismen or exercises in vengeance.
Not all the collectibles, however, have interesting backstories. Others appear creepy due to age or just poor stylistic choices, like the ceramic doll with a feline head and human hands on display at the Centre of Ceramic Art in England.
Severed Hands, Heads, And Necropants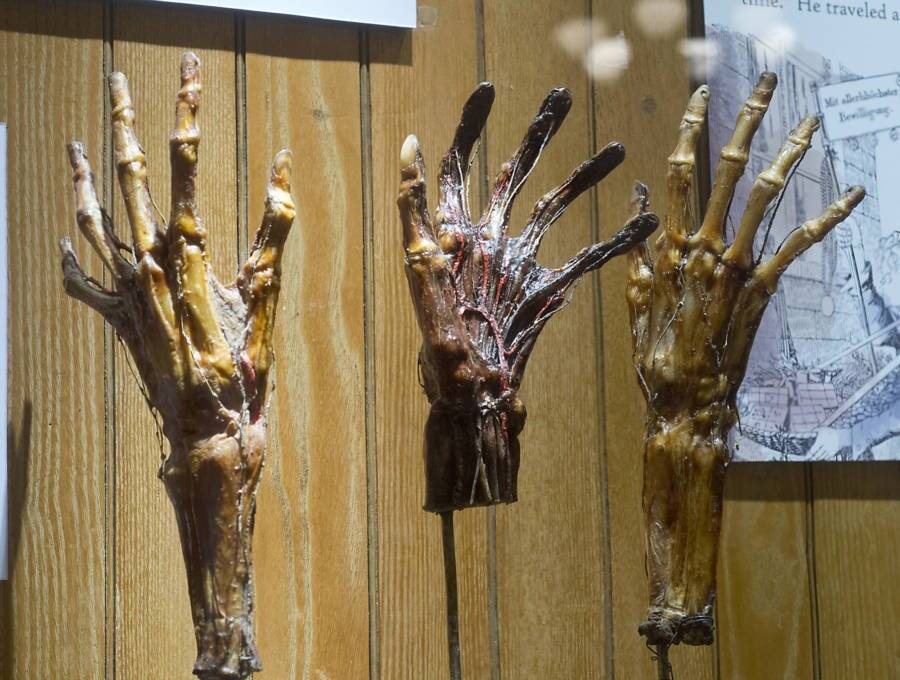 Dried hands from the Grimm's Anatomy exhibit at the Mütter Museum. The exhibit is modeled after the morbidity that inspired Grimm's fairy tales.
While manmade artifacts can cause a stir, no doubt the objects made of man are the most unsettling featured in these museums.
One such object rests in the Ripley's Believe It Or Not! Museum in Wisconsin: the severed head of Peter Kürten, a 1930s German serial killer known as the "Vampire of Düsseldorf." Also called "the king of sexual perverts," Kürten killed indiscriminately and even engaged in cannibalism.
He was arrested five different times before he was finally caught and put on trial. Kürten confessed to committing up to 68 crimes, including 10 murders and 31 attempted ones. He reportedly drank the blood of his victims, once drinking so much of it that he vomited. He was sentenced to the guillotine after which his head was bisected for study and then mummified.
Meanwhile, the Tot Zover Museum in Amsterdam features a 19th-century "hair bouquet" made out of real human tresses from its original owner's dead relatives. At the Icelandic Museum of Sorcery, visitors can view a pair of "necropants" made out of the skin of a dead man.
The pants were made as a talisman to magically summon more money, but could only be fashioned after a dying man consented to be made into them in the first place.
At the Mütter Museum, visitors can peruse a necklace fashioned out of genital warts.
These artifacts are still on display in museums around the world, but until you can get tickets to all of them, let this gallery suffice.