The Story Of The Rat Pack, In 33 Captivating Photos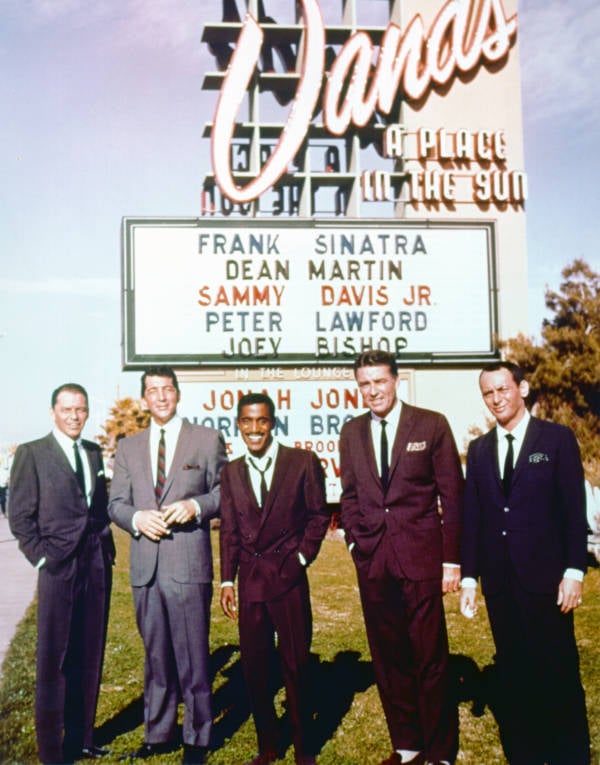 From their 1950s origins to their 1980s farewell, this is the story of the Rat Pack — onstage and off.
In the 1960s, the swanky cool of Frank Sinatra, Dean Martin, Sammy Davis Jr., and company was untouchable. They were the Rat Pack, the kings of Las Vegas, and they defined their era like no other entertainers.
But as much as the members of the Rat Pack remain cultural icons to this day, their story is likely even more captivating and surprising than most imagine.
The Origins Of The Rat Pack
For starters, the story of the Rat Pack does not begin with Sinatra and his pals. Instead, it begins with vintage Hollywood icon Humphrey Bogart, who used to invite his famous friends (including Sinatra, but also the likes of Judy Garland, Angie Dickinson, and countless others) over to his home, where they'd drink the evenings away as early as the late 1940s.
"You look like a goddamn rat pack," Bogart's wife, actress Lauren Bacall, once exclaimed as she walked in on her husband and his buddies having a good time — and the name stuck. And when Bogart succumbed to esophageal cancer in 1957, the unofficial torch of ringleader passed to Sinatra.
Sinatra then brought cronies Dean Martin and Sammy Davis Jr. into the coveted fold. Soon, with other members like actor Peter Lawford and comedian Joey Bishop often in tow, this late 1950s incarnation of the Rat Pack is the version that we remember today.
Of course, Sinatra originally called this new gathering "the Clan," but Davis voiced concerns for obvious reasons. But as the "Rat Pack," they soon went on to dominate the entertainment industry — and capture the very essence of their time — for close to a decade.
Heyday
They were crooners and comedians with pipes and style, the epitome of late 1950s/early 1960s masculinity and swagger. Their female companions: Marilyn Monroe and Shirley MacLaine. Their hobbies: womanizing and drinking.
But in spite of — or more likely because of — their roguish charm, middle-class America fell in love with the talent, charisma, and wit of these Vegas mainstays. Films, albums, charity benefits... it seemed that everything they touched turned to gold.
In various permutations, they released more than a dozen films between the late 1950s and late 1960s, with standouts like Ocean's 11 and Robin and the 7 Hoods epitomizing their style and standing the test of time. Meanwhile, they dazzled audiences on stage in Vegas — and elsewhere — night after night.
And throughout it all, they always looked like they were having a blast. To quote Vanity Fair, "The Rat Pack is the Mount Rushmore of men having fun." This jet set performed hard — but played harder. The high-living kings of swing and their legendary parties did, however, develop a political slant and get at least somewhat serious.
In 1960, Sinatra dubbed he and his pals "the Jack Pack" while contributing support to John F. Kennedy's presidential campaign. On occasion, Kennedy himself even schmoozed with the pack — and enjoyed both the friendship, fame, and financial contributions that they had to offer.
When Kennedy was elected, with Sinatra often being seen by his side, the Rat Pack looked like they were on top of the world. And they were, but with Marilyn Monroe's death in 1962 and then Kennedy's assassination the year after, the first cracks in the Rat Pack era were beginning to show.
The End Of An Era
As the mid-1960s became the late 1960s, the unstoppable popularity of Sinatra and the gang started to fizzle. The Beatles and all that followed had taken over the music scene and both the Vietnam War and the civil rights movement turned the political climate serious in a way that it hadn't been in the relatively carefree days of the early 1960s.
America had turned a corner and Sinatra and company were no longer the stars they once were. However, the Rat Pack wasn't quite done with the spotlight forever.
An aging Frank Sinatra, Dean Martin, and Sammy Davis Jr. got together for a reunion tour slated for 1988. For a brief moment, the pack was back as venues sold out and audiences relived old memories.
Behind the scenes, however, the passage of time had broken the magic.
Martin dropped out after just five shows, supposedly because of health issues. The tour then rebranded, bringing in Liza Minnelli, but rumors of Sinatra's people hoarding subsequent profits irritated a financially struggling Davis, who would die of throat cancer in 1990. Martin died five years later and Sinatra three years after that.
They were, in many ways, the last of their kind. The Rat Pack represented a simpler time in American culture — a time when everyone drank, everyone smoked, and entertainment was taken at face value.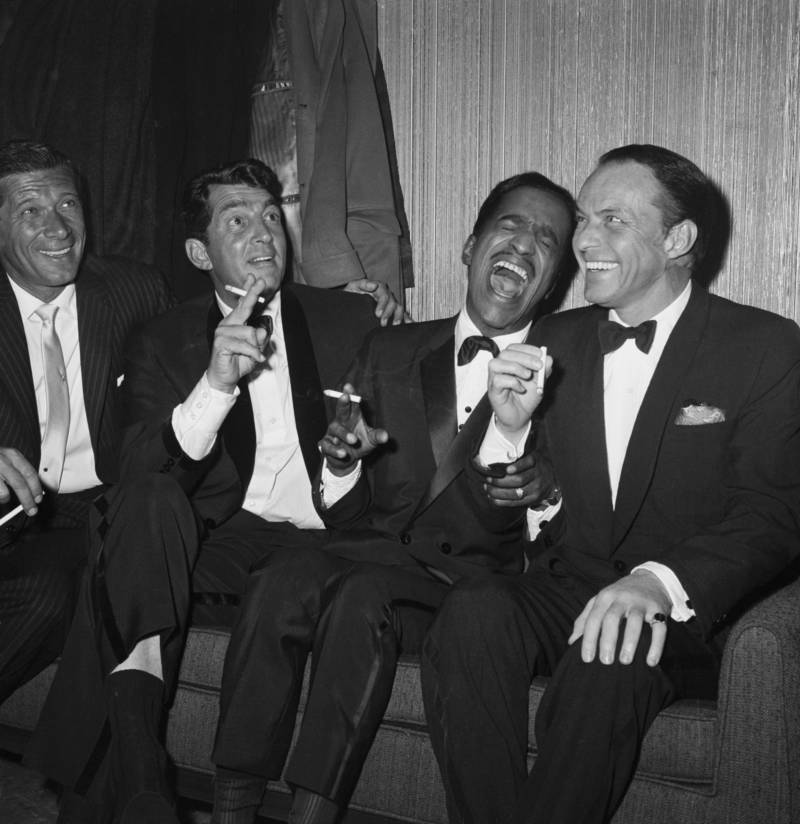 Rat Pack members Dean Martin, Sammy Davis Jr., and Frank Sinatra unwind backstage at New York's Carnegie Hall. Circa 1961.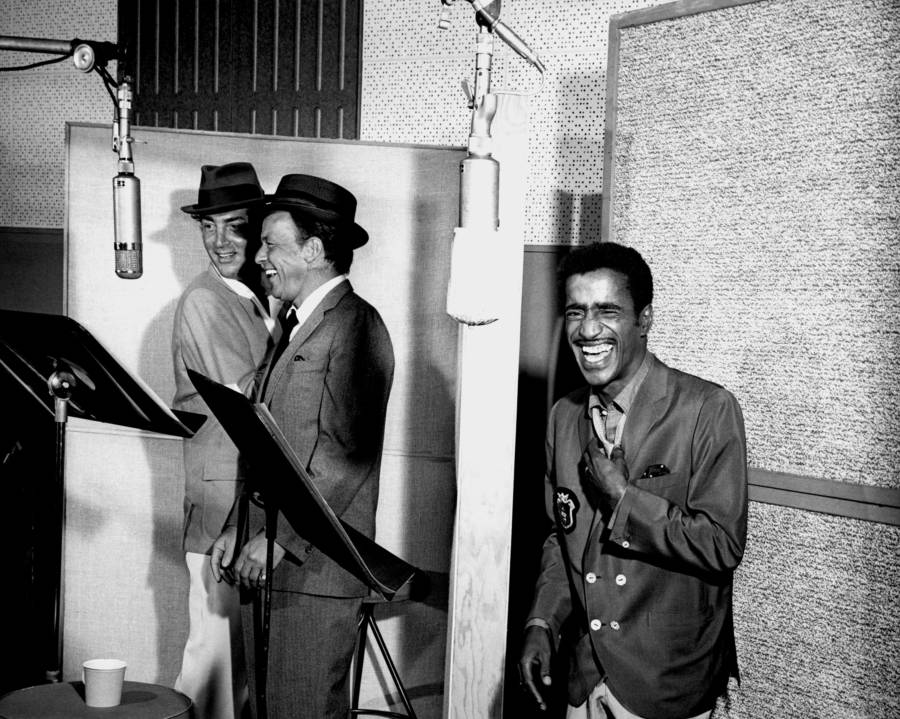 Dean Martin, Frank Sinatra, and Sammy Davis Jr. in the recording studio. 1962.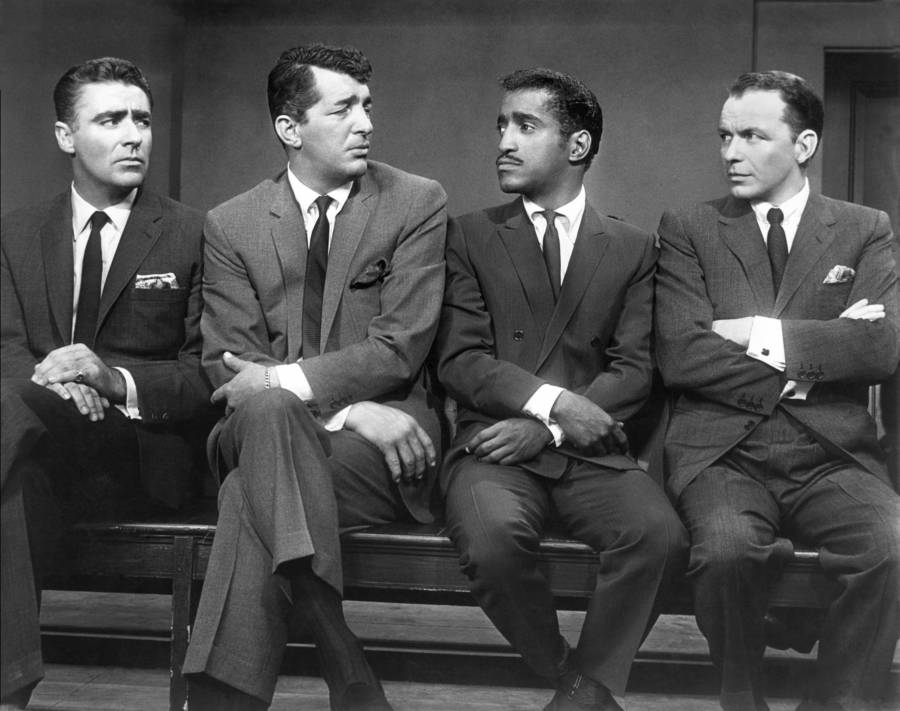 Peter Lawford, Dean Martin, Sammy Davis Jr., and Frank Sinatra star in the film Ocean's 11.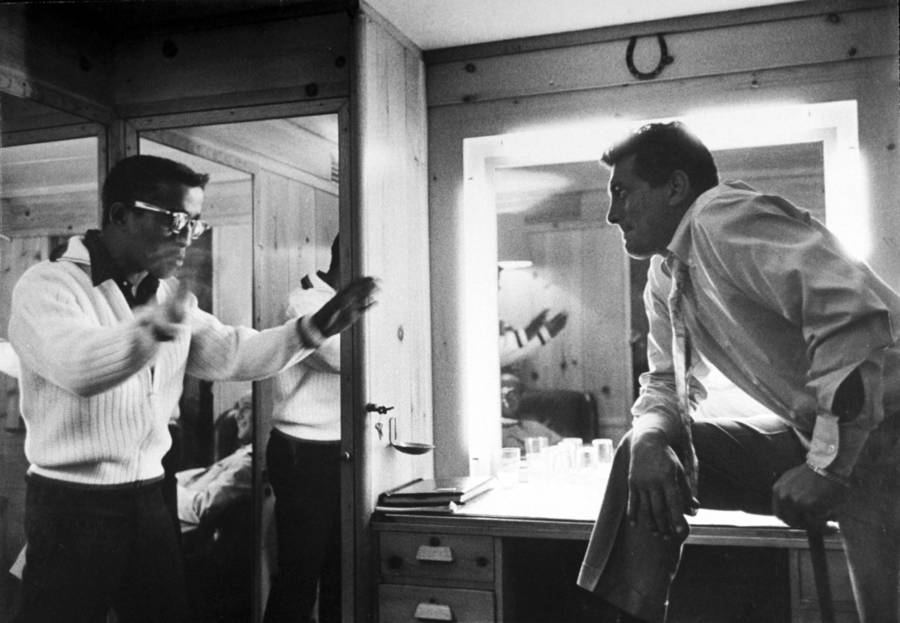 Sammy Davis Jr. talks with Dean Martin in a dressing room. 1958.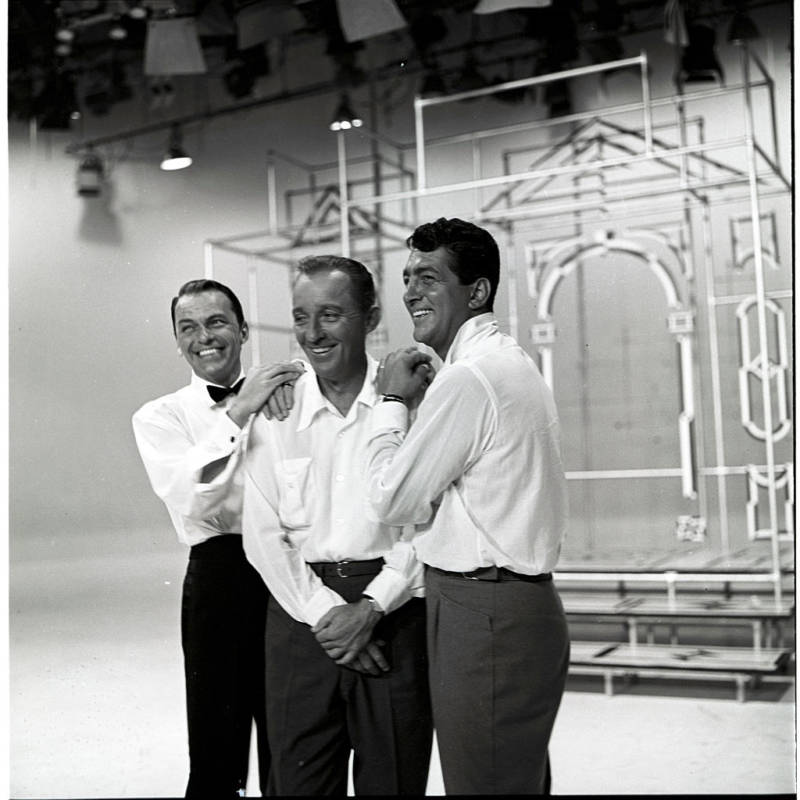 A still from The Frank Sinatra Show with Bing Crosby (center) and Dean Martin. 1959.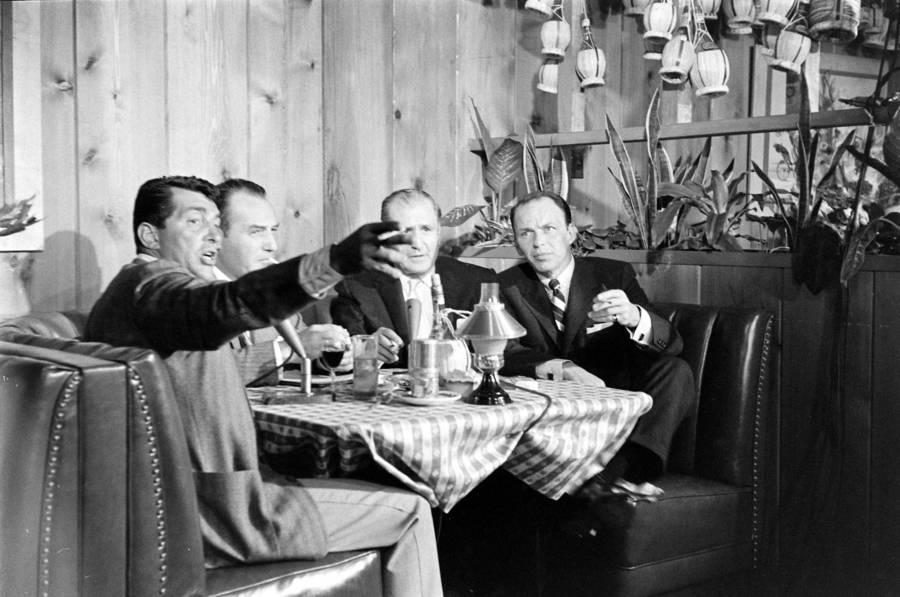 Dean Martin and Frank Sinatra sit in a booth, on either side of two unidentified men, at the opening of the Villa Capri Restaurant in Hollywood. 1957.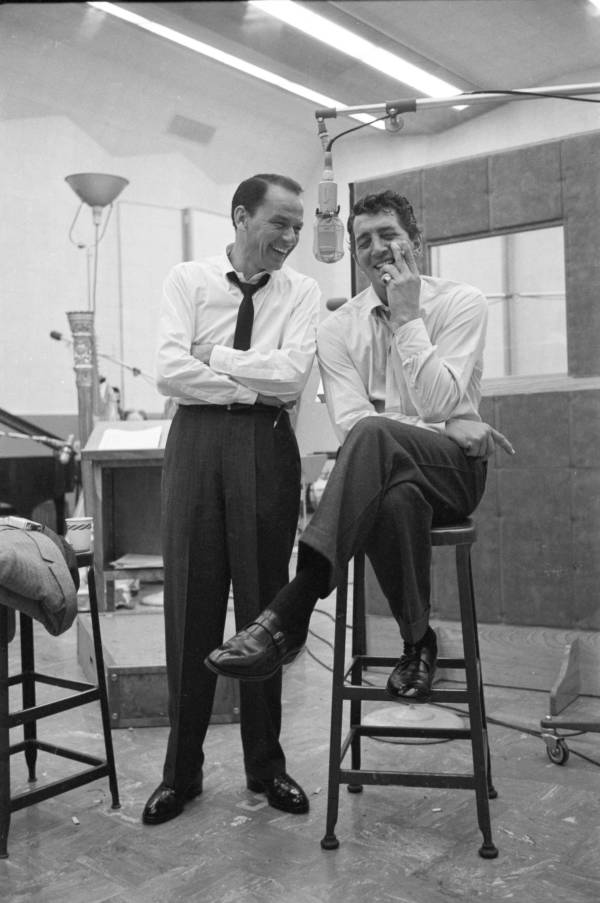 Frank Sinatra and Dean Martin share a laugh in a recording studio in Los Angeles. 1958.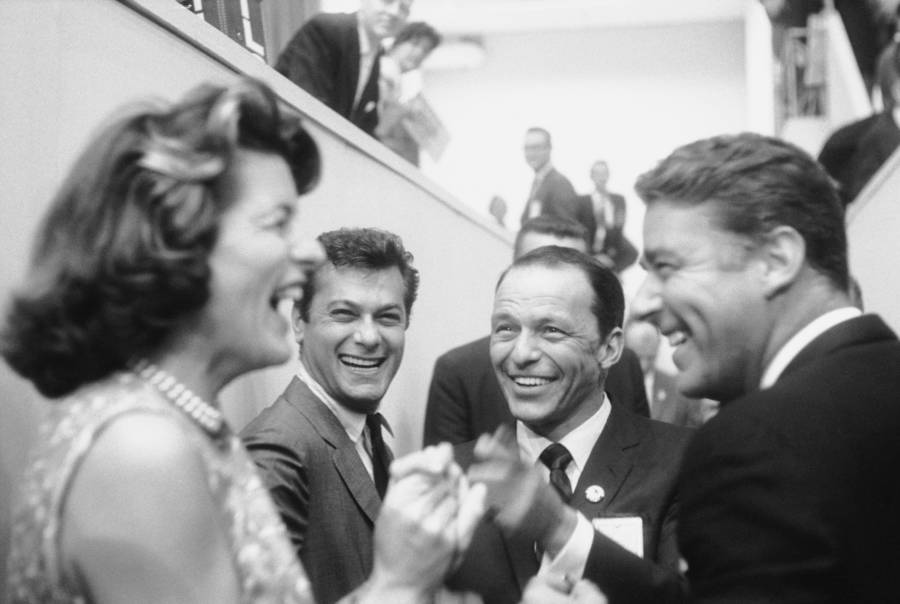 Frank Sinatra and Peter Lawford (right, with wife Pat Kennedy Lawford) as well as actor Tony Curtis at the 1960 Democratic National Convention.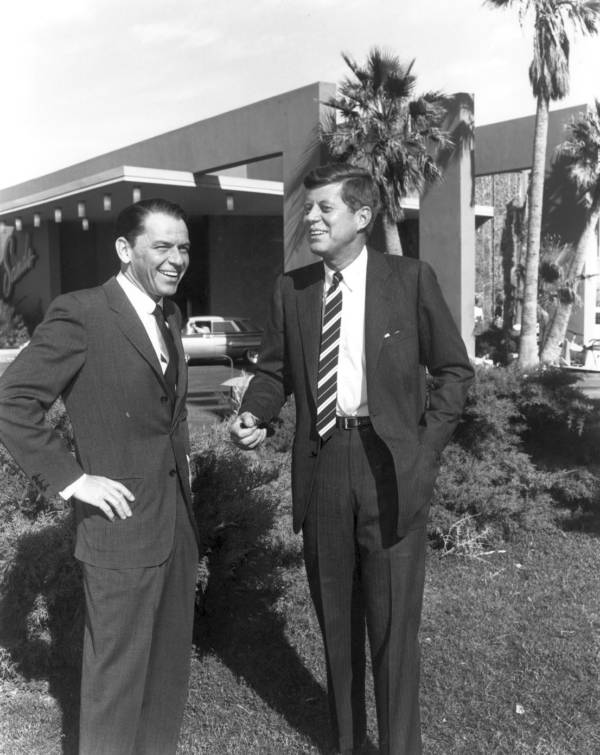 Frank Sinatra with John F. Kennedy. Date unspecified.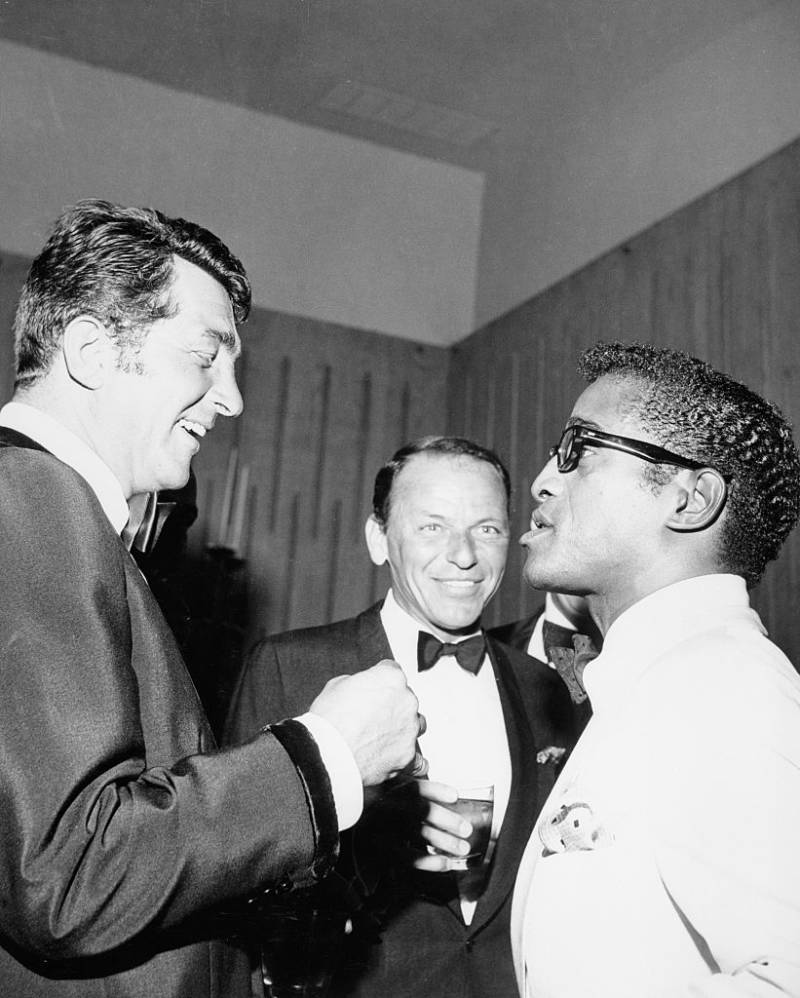 The Rat Pack at the Cedars of Lebanon charity dinner in July of 1961. Sammy Davis Jr.'s pals are congratulating him on the birth of his new baby girl.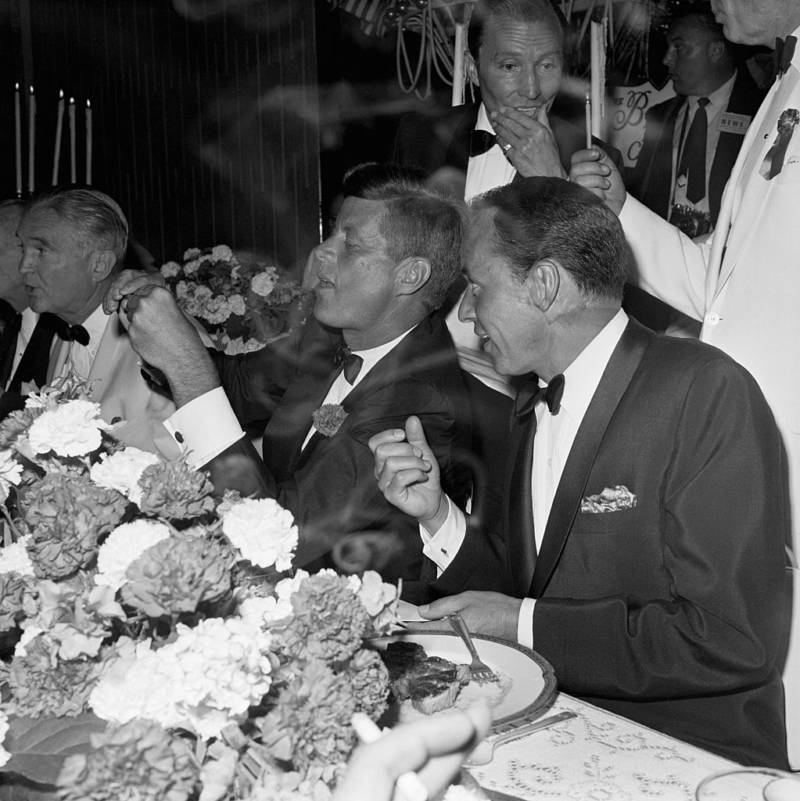 Frank Sinatra sits next to Senator John F. Kennedy at a fundraiser on the eve of Kennedy's selection as the Democratic presidential nominee in Los Angeles. 1960.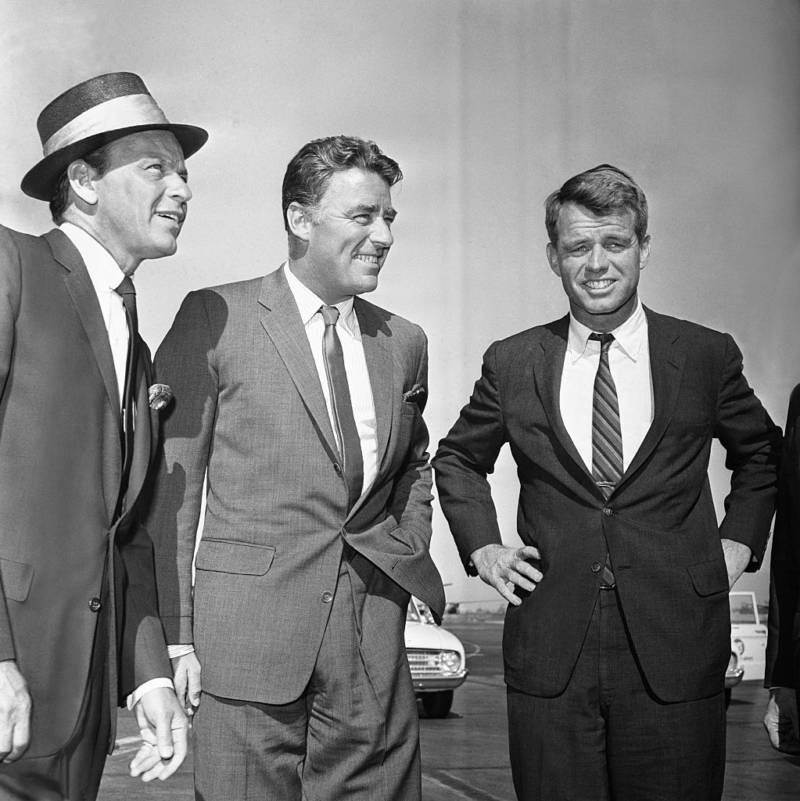 Frank Sinatra, Peter Lawford, and Robert Kennedy wait for a helicopter to take them to a charity fundraiser. 1961.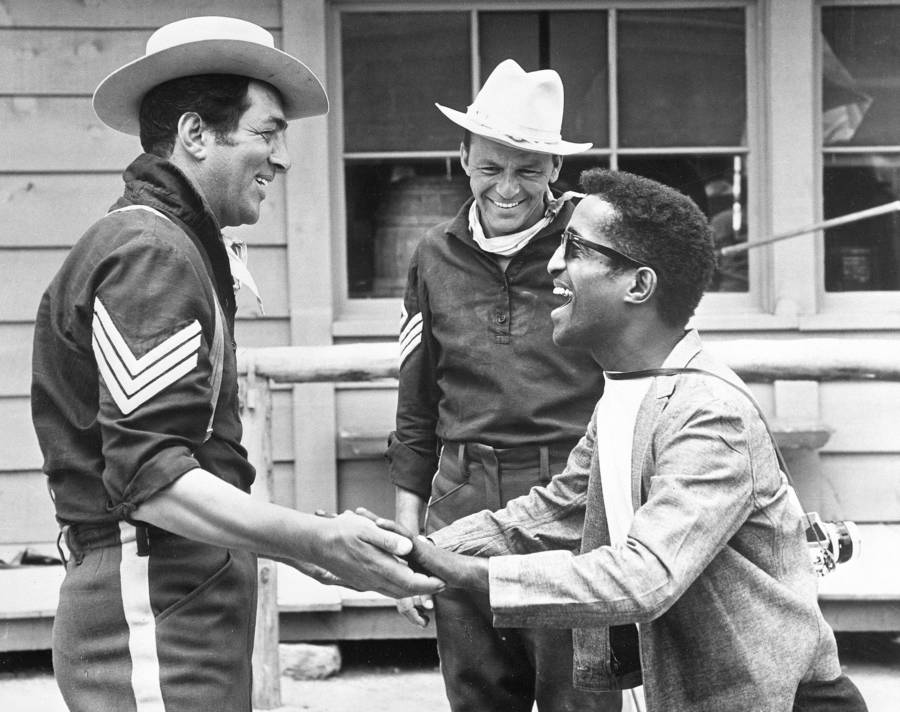 The Rat Pack kills some time between takes on the set of Sergeant's 3. 1961.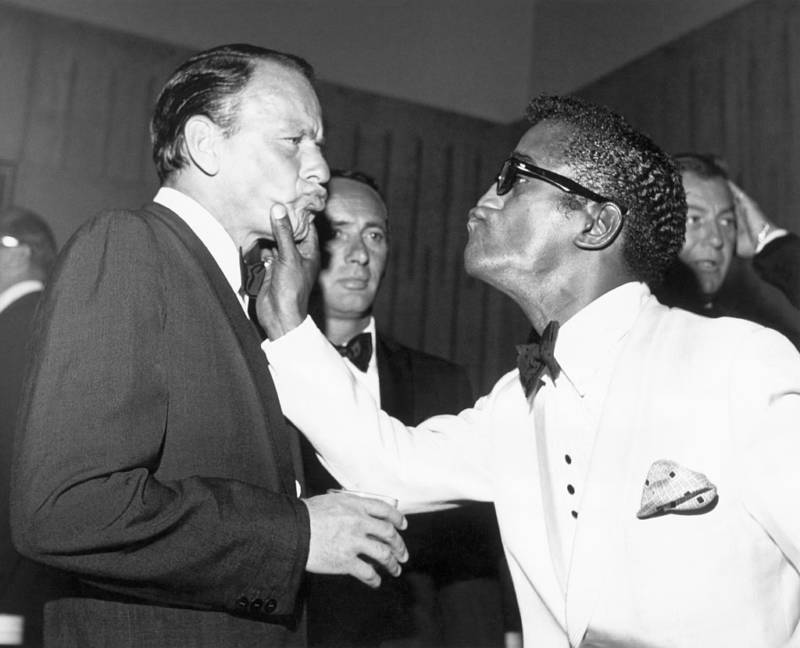 Sammy Davis Jr. mugs with Frank Sinatra at the Cedars of Lebanon charity dinner.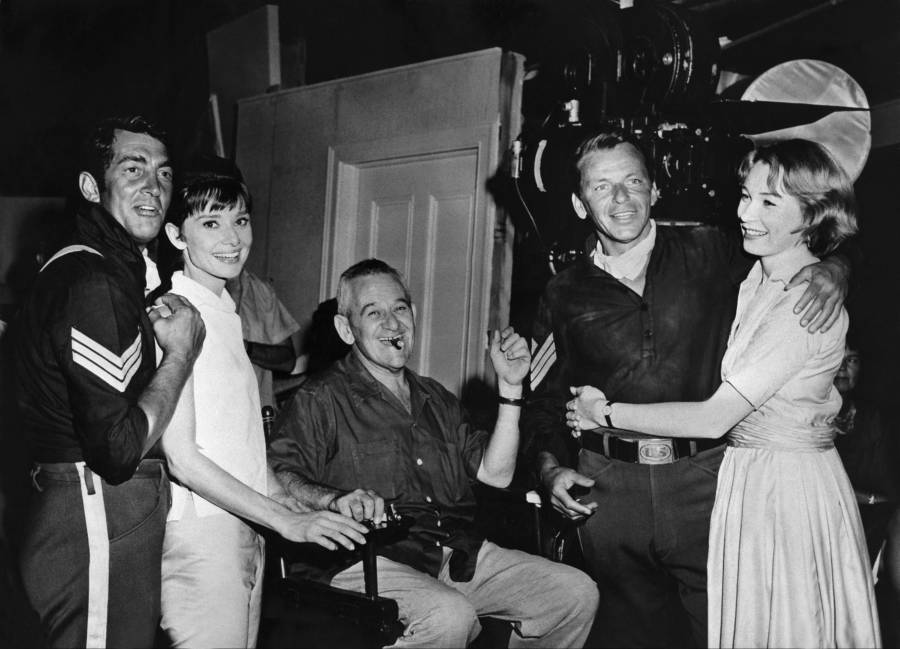 Dean Martin and Frank Sinatra with Audrey Hepburn (left) and Shirley MacLaine. 1962.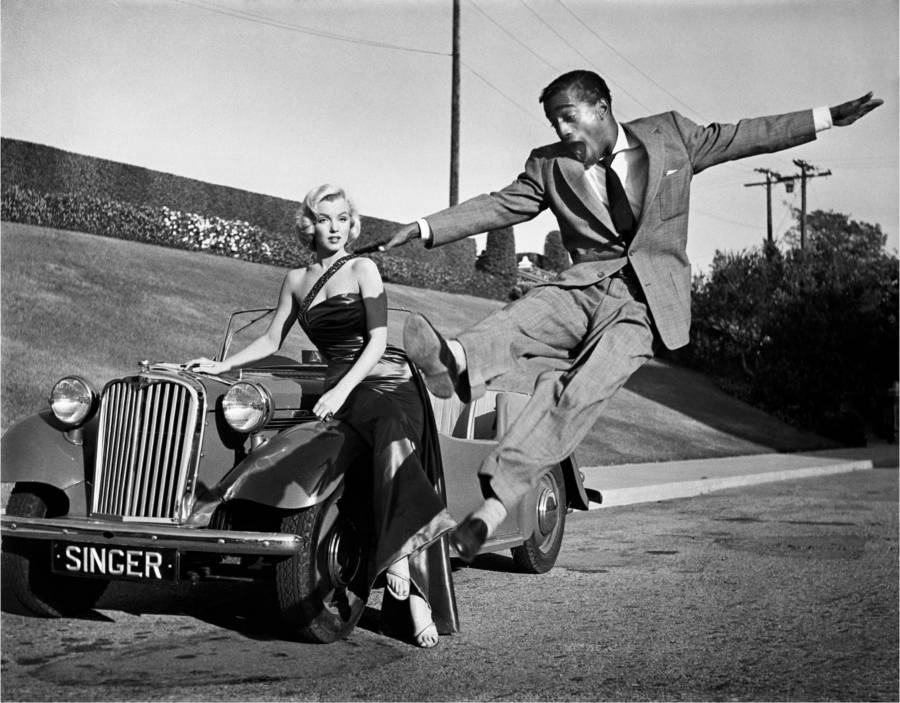 Marilyn Monroe watches as Sammy Davis Jr. leaps into the air on the set of How To Marry A Millionaire. 1953.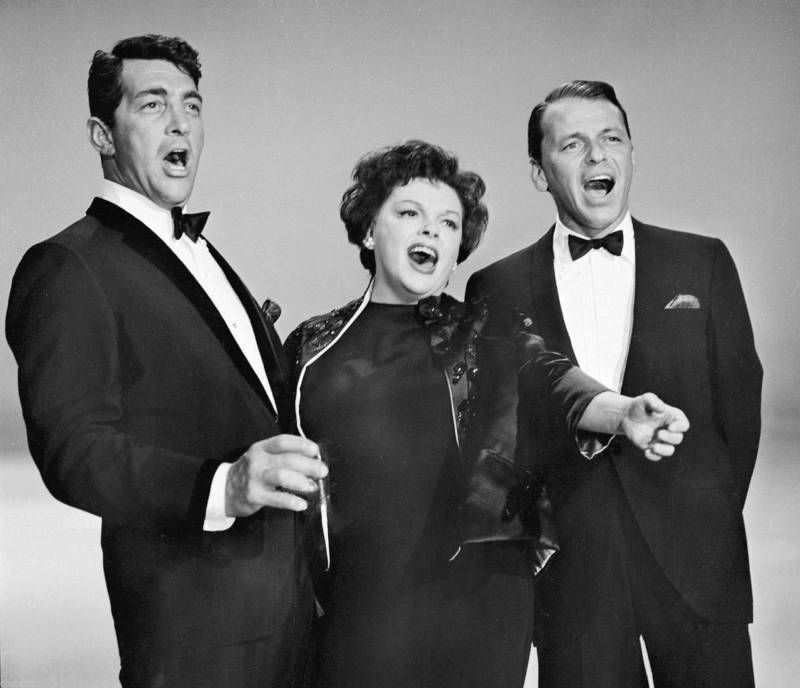 Dean Martin, Judy Garland, and Frank Sinatra perform on The Judy Garland Show. 1962.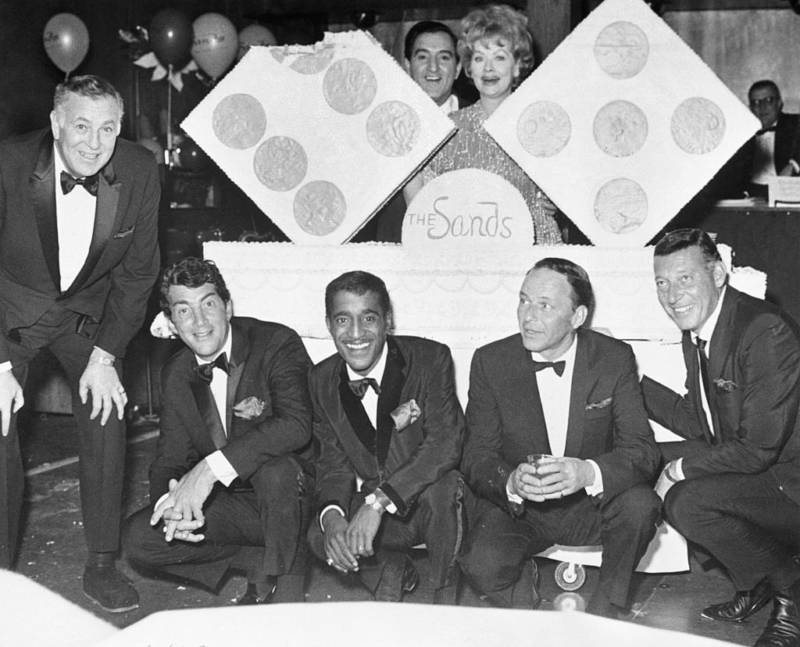 Danny Thomas and Lucille Ball celebrate the 11th anniversary of the Sands Hotel in Las Vegas with the Rat Pack. 1963.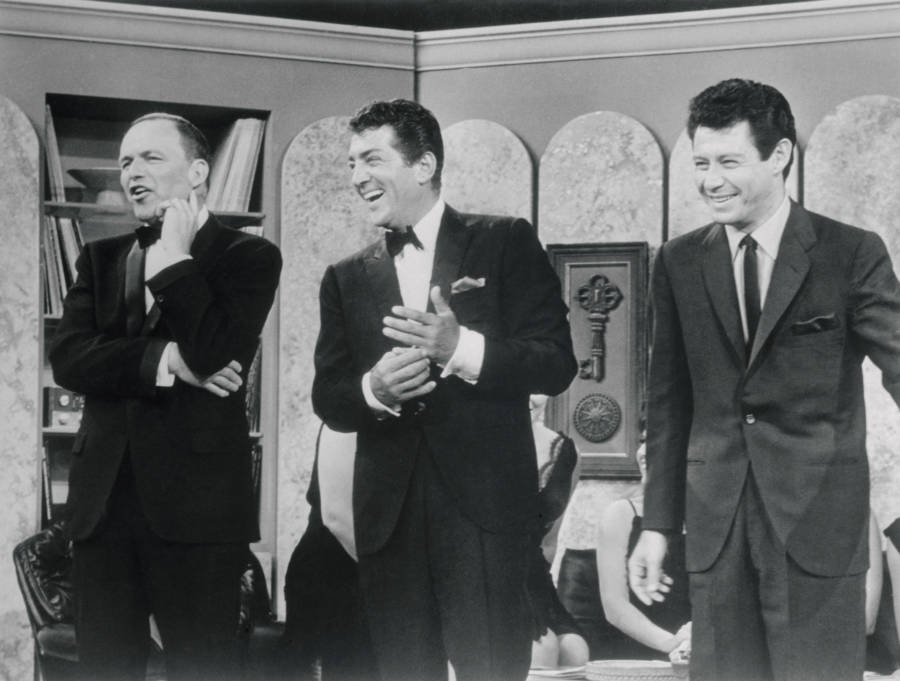 Eddie Fisher, right, joins guest star Frank Sinatra and host Dean Martin for some comedy on the premiere of The Dean Martin Show. 1965.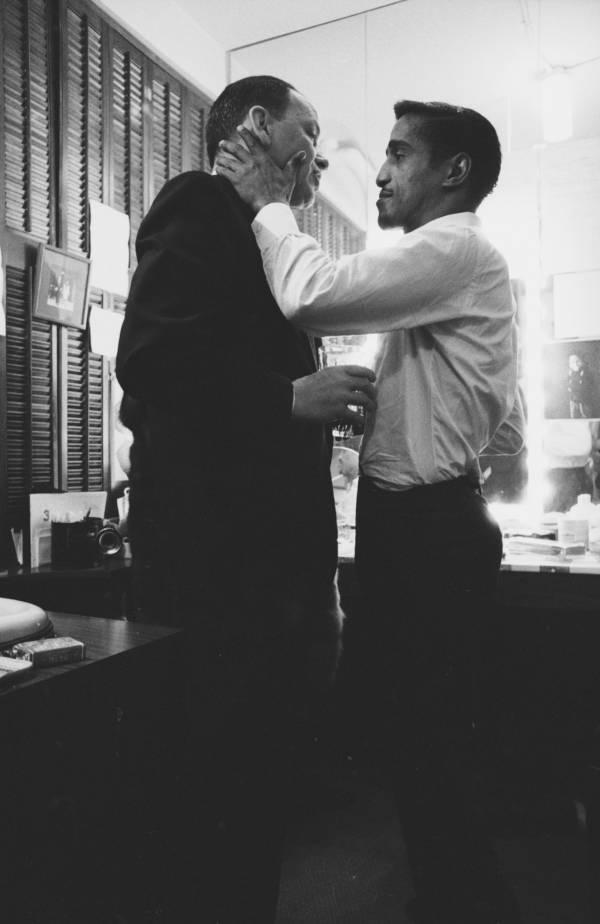 Frank Sinatra and Sammy Davis Jr. share a moment backstage. 1965.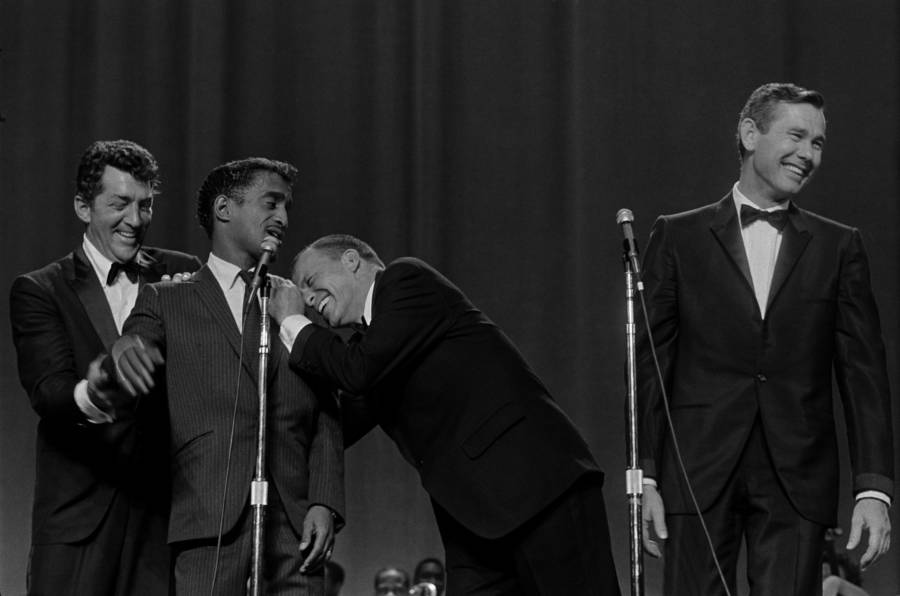 The Rat Pack perform their only televised concert together with host Johnny Carson as part of a benefit concert in St. Louis, Mo., on June 20, 1965.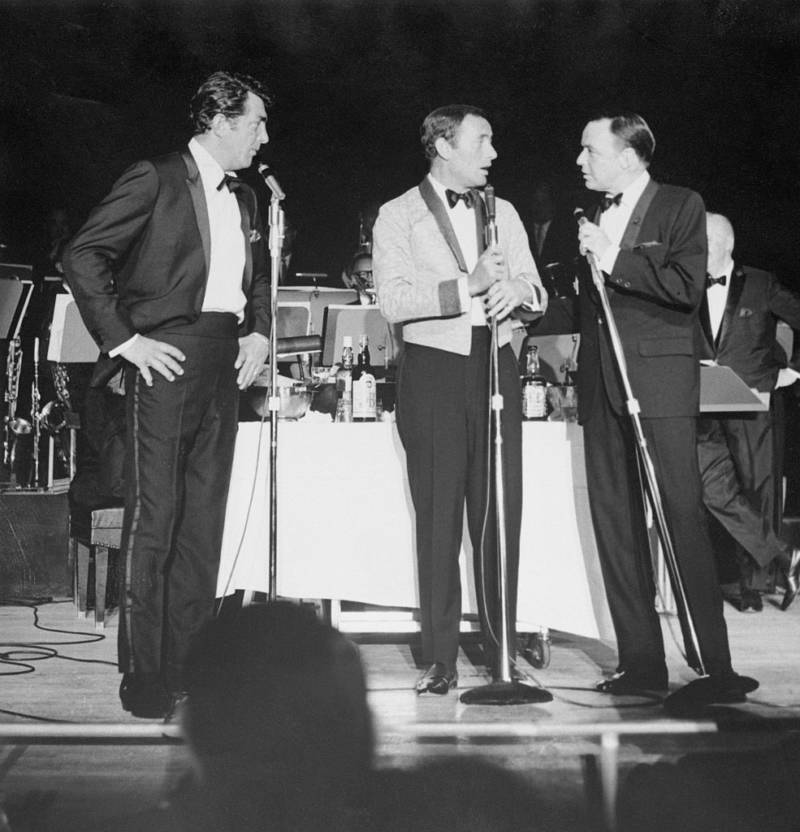 Dean Martin, Frank Sinatra, and Joey Bishop open a three-week engagement at the Sands Hotel in Las Vegas. 1966.