Two More Women Speak Out About R. Kelly's Alleged Sexual Abuse
The new allegations range from underage sexual abuse in the 1990s to holding a "brainwashed" woman in a "cult" today.
As R. Kelly faces

the most intense criticism of his career following a statement released on Monday by the anti–sexual harassment initiative Time's Up, two women are speaking out for the first time, one about a mentally and physically abusive relationship she says she had with the R&B superstar for four years in the late '90s, and another who says her daughter is "brainwashed" and still a part of the alleged "cult" that BuzzFeed News first reported on last July.
Lizzette Martinez says her relationship with Robert "R." Kelly began in the winter of 1995 when she was a 17-year-old high school senior who met the star at a Miami shopping mall. She says Kelly, then 28, knew she was underage when he took her virginity — the age of consent in Florida is 18 — and the relationship continued despite Kelly hitting her on five occasions and pressuring her to engage in sexual acts against her will. Martinez says their relationship ended in early 1999.
"Being silent is not the answer, so I said, 'It's time.' I want my child home."
The other woman, Michelle, is a Chicago mother of three whose last name is being withheld to protect her daughter's privacy as an alleged abuse victim. Michelle says her now-27-year-old daughter — who BuzzFeed News is calling "N." — began a relationship with Kelly when she was 17, which is the age of consent in Illinois. "Being silent is not the answer, so I said, 'It's time,'" Michelle says of her decision to speak out now about her daughter. "I want my child home."
Since the mid-'90s, Kelly has consistently used his wealth and fame to lure women, some of them underage, into abusive sexual relationships, according to court documents and interviews dating back to 2000. The musician often has promised to make these women stars — as he did with Aaliyah, the 15-year-old protégé he illegally married in August 1994 — but none of the other aspiring artists in his circle have ever released any music.
Sources say Kelly's predatory behavior is ongoing. Although two of the six women in the alleged "cult" have reportedly left in recent months — one a model from North Carolina, the other a longtime personal assistant — two sets of parents, the Savages in Georgia and the Clarys in Florida, have publicly pleaded for help for months. They say that for the last three years, Kelly has largely prevented their daughters — who were 19 and 17 when they met the star — from contacting family and friends while living with him in his rented properties in Chicago and Atlanta. (He was evicted from the latter in February.)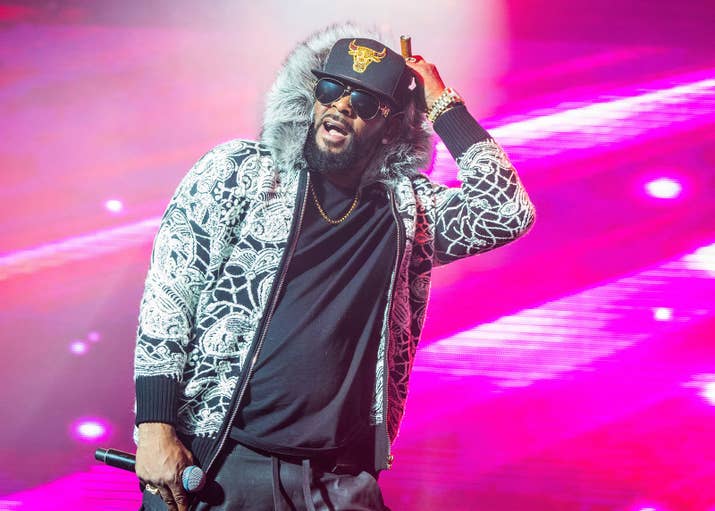 The parents and other sources who've left Kelly's circle say the musician tells the young women when to eat, when to sleep, how to dress, and how to pleasure him in sexual encounters that he records, and he punishes them mentally and physically when they break his "rules." One of the women, Joycelyn Savage, now 22, has said she is happy and where she wants to be. None of the others have spoken publicly. Kelly has repeatedly denied the families' claims.
Michelle, who has been in contact with the Savages and the Clarys, says her daughter N. is "brainwashed" and part of the Kelly "cult," the words used by the other families and reported to Georgia's Johns Creek Police Department in December 2016. N.'s presence in Kelly's circle has been confirmed by seven independent sources, but N. could not be reached for comment.
"I don't know what hold he has on her, but her last words to me was, 'Don't ever give up on me.'"
Michelle says she has not spoken to her daughter in three months and believes N. is in trouble. "I don't know what hold he has on her, but her last words to me was, 'Don't ever give up on me.'"
After the publication of this story Friday, representatives for Kelly provided a statement to BuzzFeed News denying the "many dark descriptions put forth by instigators and liars who have their own agenda for seeking profit and fame." The statement emphasized that the women living with Kelly are adults who can make their own choices, and that law enforcement wellness checks determined that the women were safe. It also accused the parents of failing to return their daughters' calls because they are "angling for a financial windfall."
After years of avoiding public consequences for his alleged misdeeds — Kelly was acquitted on 14 counts of making child pornography in 2008 — the outrage over his behavior has intensified since Time's Up demanded "appropriate investigations and inquiries into the allegations of R. Kelly's abuse made by women of color and their families for over two decades now." To date, despite numerous interviews with the parents and other sources since July, local law enforcement agencies in Georgia, Florida, and Illinois have taken no action. The FBI will neither confirm nor deny an ongoing investigation.
RCA Records/Sony Music, the label for which Kelly has sold nearly 60 million albums, and Ticketmaster/Live Nation, the global concert giant and ticket broker that promotes many of his shows, declined to comment on the allegations against the star, as the corporations repeatedly have over the last 11 months.
In a statement to BuzzFeed News earlier this week, a representative for Kelly called the Time's Up statement an "attempted public lynching of a black man who has made extraordinary contributions to our culture."
Written by and addressed to women of color, the Time's Up statement noted, "The scars of history make certain that we are not interested in persecuting anyone without just cause." It has garnered the support of black public figures such as Ava DuVernay, Shonda Rhimes, John Legend, Questlove, and Tarana Burke, founder of the #MeToo movement.
"This is something that our community doesn't want to deal with," Burke told BuzzFeed News in March. Georgia activist Kenyette Tisha Barnes, a driving force behind the #MuteRKelly campaign, added, "Essentially, he is the greatest example of a predator in that he went after the most vulnerable that no one cares about."
---
"Something's got to be done; enough is enough"
When Jerhonda Pace made sexual abuse allegations against R. Kelly last August, violating a nondisclosure agreement she signed with the musician, she said that concern for her former friend N. motivated her to come forward. According to Pace, they had both been R. Kelly "superfans" who connected over Myspace in 2006 and first met in person when they attended the singer's Double Up tour stop at Chicago's United Center in December 2007.
Now a 24-year-old mother of three, Pace says she began a sexual relationship with Kelly in June 2009, when she was 16, a few months after she cut high school classes and met the star outside his child pornography trial. She says she began to spend weekends at the mansion he owned at the time in the Chicago suburb of Olympia Fields, and she passed Kelly's cellphone number to her friend. Soon, Pace says, 17-year-old N. also began a sexual relationship with the singer.
At first, N. kept the relationship a secret from her mother. "She was working at McDonald's like any teenage girl would," Michelle says. "I remember coming home from work one day, and this random girl was there at my house. I'm like, 'Who is this?' And she said, 'Oh, this is Jerhonda. I know her from school.' So they had their little lie planned out." Michelle learned about the relationship soon enough, however, after she was tipped off by another of N.'s friends.
"If they'd done their jobs, none of this would have happened."
In July 2009, Michelle called Olympia Fields police to see if her daughter was at Kelly's mansion, but Pace says the star told her and N. to hide and did not allow officers to enter his home. At the time, then–police chief Jeff Chudwin told the Southtown Star: "[We] were informed of a possible criminal matter. We investigated the issues, found there to be no crime, and the matters have been closed."
"If they'd done their jobs, none of this would have happened," Michelle now says.
When N. told her mother a few months later that Kelly had offered her a job as his personal assistant, Michelle was wary. "I'm like, you know about all this stuff that he did and all that? And she was like, 'That's in his past, that stuff. You always tell me to give people a chance.' So I said okay, and she became his assistant. All through that time, her being his assistant, she still lived at home."
In mid-2014, N. announced that she was moving with Kelly to Atlanta, and she left home for good. "I'm like, 'Really?' I mean, she [was] grown at that time — about 22, 23 — I can't tell her no, but she just wanted my permission, my blessing to say it is okay. Well, throughout that whole time when she left, she came home for Thanksgiving, she came home for Christmas, she came home for my birthday, she came home for Mother's Day… She always came home and was always on my phone [plan], and any time I wanted to call her and talk to her, I could."
If you have information or tips, you can send us an encrypted message over Signal at (646) 379-1975. You can learn more about how to reach us here:
Things changed after the move, Michelle says. "The last time I saw her was the summer of 2016… I didn't know she was in town, and one day she had an earache or something, and she called me and told me to meet her at Northwestern Hospital. That was actually the last time I seen her — I want to say, like, Aug. 13, 2016."
In Atlanta, Michelle says, her daughter started using a new phone that Kelly had given her, "But it wasn't a number that I could reach her." Anytime she tried to call her daughter, Kelly answered; sometimes N. would call back later.
"I don't have no number for her," Michelle says. "Anytime I need to talk to her, I have to go through [Kelly], and then he'll say, 'Oh, she's at the mall. She's busy.' And one time I asked him — he FaceTimed me, and I said, 'Why you ain't letting my daughter come home?' And he was like, 'She don't want to come home.' Nigger, you're a liar! Anybody knows me and my daughter, we are best friends, like literally, you know?" Michelle says she and her daughter even have matching tattoos.
Once, when she was "real angry," Michelle says she texted a playlist to her daughter's Kelly-issued cellphone, trying to deliver a message with the titles of the singer's own songs: "When a Woman's Fed Up," "The Storm Is Over Now," "When a Man Lies," "Prayer Changes." N. called her mother back and told her to stop threatening Kelly. "I said, 'I'm not threatening him. He made his own songs! What's the problem? I just thought he should listen to his own music!'"
Michelle describes the few calls she got from N. in recent years as being "like prison calls," saying they would often end abruptly.
The FBI interviewed Michelle in September, she says, but she has heard nothing since. She believes her daughter is in trouble and needs therapy. Pace agrees. Both women also worry about the Savages' and Clarys' daughters.
"Something's got to be done," Michelle says. On her decision to speak out after months of hesitation, she adds, "I don't know if God just spoke to me, but I woke up that day and I said, 'Enough is enough.'
Asked if she has a message for Kelly, Michelle responds with anger, then breaks into tears. "Ain't nothing in your life going to go right until you let these girls go home and face your judge, your maker."