Hollywood Wanted An Edgy Child Actor. When He Spiraled, They Couldn't Help.
Brad Renfro looked

different, but Fernando Altschul expected that — they hadn't seen each other in 10 years, when Renfro was 14 years old. The two had first met on the 1998 psychological thriller Apt Pupil, Renfro as the film's star along with Ian McKellen, Altschul as its 34-year-old first assistant director, working with director Bryan Singer. Despite the fact that Renfro had a knack for making his job difficult — like sneaking cigarettes when union reps were visiting the set — Altschul still liked the kid, who at 11 had vaulted from obscurity to movie stardom when he was selected to star opposite Susan Sarandon and Tommy Lee Jones in the 1994 John Grisham thriller The Client.
It was now 2007. Renfro was an adult, playing a supporting role in the dark ensemble drama The Informers, and Altschul was again the first AD. When the two clapped eyes on each other for the first time in a decade, what Altschul saw shocked him. He was familiar with Renfro's struggles with drug use, including an infamous 2005 arrest for attempting to buy heroin in Skid Row in Los Angeles. But he did not expect Renfro, who'd gained a considerable amount of weight, to reference his addiction quite so blithely.
"He jokingly told me he'd put down the spoon and picked up the fork," Altschul, now 55, told BuzzFeed News.
Just a few months later, on Jan. 15, 2008, Renfro's girlfriend found his body in his Los Angeles apartment; the coroner report stated he died from "acute heroin/morphine intoxication." He was 25.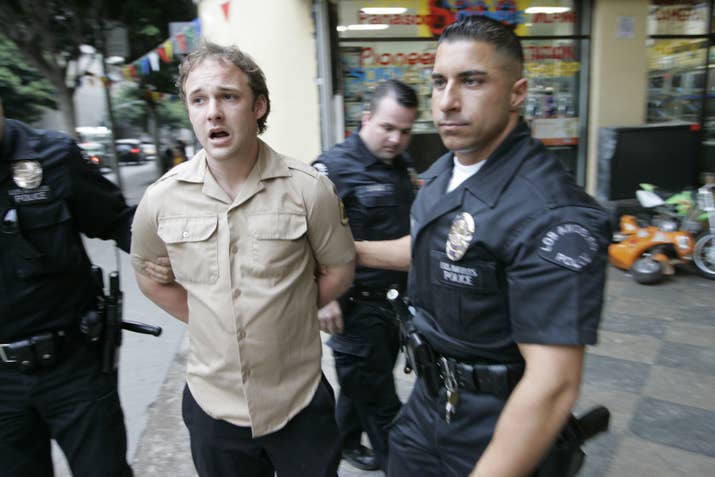 It had been years since Renfro had delivered a performance that caught the public's attention, and at the time, he was treated as yet another addition to the mournful legacy of former child stars — Dana Plato, River Phoenix, Judy Garland — whose lives collapsed from Hollywood darling to death by overdose. One of the many consequences of the reckoning currently facing the entertainment industry, however, has been reassessing the lives and careers of actors who just seemed to fade away.
Before Renfro had turned 14, he'd become a Hollywood heartthrob, praised in the press by a director for his "sex appeal," and filmed shirtless with a frequency that in hindsight feels at best disquieting, and at worst, exploitative. What is genuinely alarming, however — what suggests that Renfro had no business weathering the pressures of stardom no matter his preternatural talents — is that as an adult, Renfro told friends that he'd been born addicted to heroin and had started injecting the drug around age 12. One friend told BuzzFeed News that Renfro had said his mother enabled his heroin use. (Renfro's mother and paternal grandmother — who served as his guardian for most of his childhood — have both died; despite repeated attempts, BuzzFeed News could not locate his father for comment.)
"How can you break the rules? I want to break the rules."
Renfro became an overnight star because he was a rowdy kid with natural talent who stood apart from more seasoned child actors. But 10 years after Renfro's death, interviews with Renfro's former colleagues make plain that the mechanisms in place to protect child actors — mechanisms compromised by conflicts of interest and a dependence on parents and guardians — were scarcely capable of protecting kids like Renfro, and largely remain so today.
As one person who worked with Renfro when he was a child told BuzzFeed News, "He just had an enormous amount of energy, and he looked for trouble. How can you break the rules? I want to break the rules."
Without anyone able, or willing, to enforce those rules, it appears Renfro broke, too.
When Renfro was

cast in The Client from a pool of 5,000 kids as Mark Sway — a foul-mouthed delinquent from a Tennessee trailer park — he was a 10-year-old from Knoxville with the same floppy bangs and youthfully handsome face of so many other popular child actors of the 1990s who funneled through Nickelodeon and Disney Channel shows. Renfro's edge, however, was that he actually had an edge.
"In every city, we contacted sources like Jesuit priests, alternative schools, and police departments," the film's late casting director Mali Finn told the New York Times in 1994. "We asked, 'Do you know any tough kids?' Not that we were looking for a delinquent, but a tough boy."
The effort was driven by director Joel Schumacher's desire for a sense of authenticity. "I wanted a kid who understood in the marrow of his psyche what it was like to grow up too soon," he said in the same story. Looking for a kid who is the role as much as they can performit — especially one with no prior acting experience — remains common practice: It's how the young boys in Moonlight and Lion were cast, and how Quvenzhané Wallis earned an Oscar nod for Beasts of the Southern Wild.
Renfro's parents divorced when he was 5; his mother remarried and moved to Michigan, and Renfro's paternal grandmother, Joanne Renfro, became the primary caregiver for an increasingly wayward child. Various interviews with Renfro over the years reported that he smoked pot for the first time when he was 9, first got drunk at 11, and was expelled from school after he lit up a joint in front of a school official.
Dennis Bowman — the retired Knoxville police officer who oversaw Renfro's D.A.R.E. program, and first recommended he audition for Finn — remembered Renfro as a "problem child" and "out of control" in a Los Angeles Times interview after Renfro's death. "He had these street smarts and the swagger of a 19- or 20-year-old," Bowman said; the idea that Renfro was older than his real age would be repeated about him in the press throughout his adolescence.
Renfro's ability to age up made him especially appealing for roles that required a world-wise maturity, be it the iconic Mark Twain vagabond Huckleberry Finn in 1995's Tom and Huck, a New York City tough kid scraping through a juvenile prison in 1996's Sleepers, or a high schooler obsessed with the Holocaust in Apt Pupil. But it also meant that it could be easy to forget just how young Renfro actually was.
"He was 15 or 16 or something I think when we were doing that job," Tom and Huckproduction designer Gemma Jackson told BuzzFeed News when asked about her immediate memories of Renfro. "He was sexually active. He had a girlfriend who was years older than him." Reminded that Renfro was actually just 13 while making the film, Jackson paused. "Thirteen," she said finally. "OK. He was very young. … I guess that would now be a problem, wouldn't it?"
This was not the first time Renfro had fielded this kind of pointedly ardent attention, either: In 1995, director Peter Horton told the Chicago Tribune that Renfro "has tremendous charisma and sex appeal," and that local girls would follow Renfro around during production of The Cure. (When reached by BuzzFeed News, a representative for Horton said he declined to comment.) "They had birthday cards for him," Horton said in 1995. "This was a little town in Minnesota, and I expected the cards to say, 'Happy Birthday, Brad. We think you're really cool.' But it was like, 'I dream of waking up next to you.'"