Father lunges at disgraced US doctor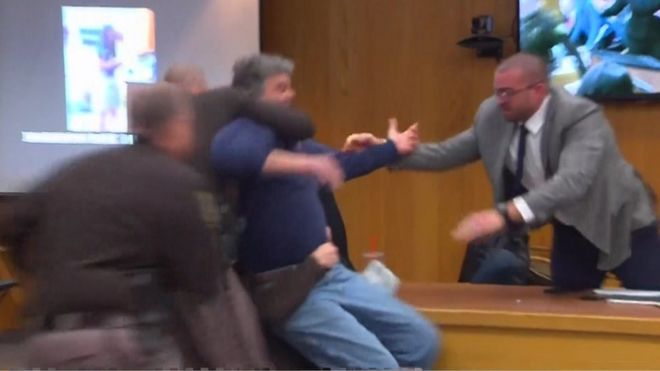 A father whose daughters were abused by disgraced US gymnastics doctor Larry Nassar has tried to attack him in a Michigan courtroom.
The man, named by US media as Randall Margraves, was restrained by three court security officers.
Before rushing to the table where Nassar was sitting, the man had asked to have "five minutes in a locker room with that demon".
Judge Janice Cunningham said she could not allow that.
The dramatic intervention brought Nassar's final sentencing hearing to an abrupt halt.
Mr Margraves' two daughters, Madison and Lauren, had just testified about their abuse at the hands of the doctor.
The incident came as dozens of women waited for their turn to confront Nassar in court and outline the abuse they suffered at his hands.
Nassar, a former US Olympic gymnastics team doctor, has already been sentenced to 40 to 175 years in prison after testimony from nearly 160 of his victims.
"I want that son of a bitch!" Mr Margraves shouted as he was handcuffed.
"What if this happened to you guys?" he said as he was escorted from the courtroom.