British tabloids apologise over false allegation against Muslim couple in UK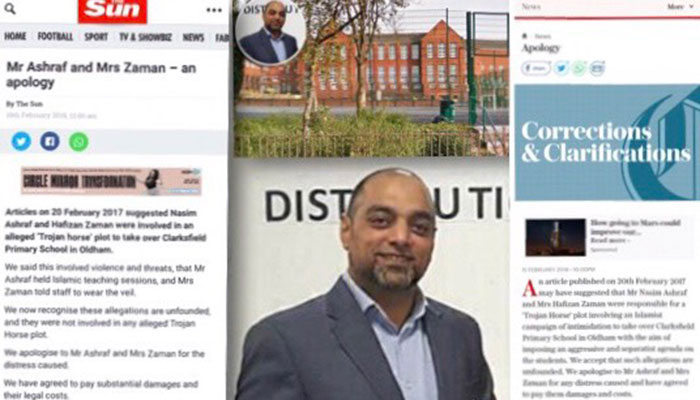 MANCHESTER: British tabloids The Sun and The Telegraph have apologised and agreed to pay substantial damages to Nasim Ashraf and Mrs Hafizan Zaman over an article in which they were falsely accused of being involved in the "Trojan Horse" plot — an attempt to introduce an Islamist ethos at public schools.
The Sun published a number of articles in February last year which alleged that the couple was involved in the Trojan Horse plot to take over Clarksfield Primary School in Oldham. The former editor of The Sun, Kelvin McKenzie, alleged that the plot involved a separatist agenda, violence and that the couple told staff to wear veils.
The Sun has now acknowledged that the allegations were, and are completely unfounded, and has published a full apology today, both in its print edition and online, confirming that Ashraf and Mrs Zaman "were not involved in any alleged Trojan Horse plot".
The Telegraph also published an apology today and agreed to pay the couple libel damages and legal costs.The defamatory allegations were made by the Telegraph and published in an article on the Telegraph website on February 20, 2017.
The Telegraph has set the record straight by publishing a statement recognising that the allegations are false and wholly unfounded.
The allegations were said to be supported by a leaked report from Oldham Council.
In fact, Ashraf was described by a headteacher at another school as a model parent and that the council's experience with Ashraf was of an individual who is very active within the faith communities of Oldham. Contrary to the allegations made by The Sun, the report confirmed that he is not an "extremist".
Ashraf and Mrs Zaman are both active members of their local community and promote inter-faith understanding.
Speaking exclusively to Geo News, Ashraf said: "Hafizan and I are pleased that the Sun and the Telegraph agreed to set the record straight by apologising and making clear that the allegations reported in the articles are untrue and wholly without foundation. The agreement to pay substantial damages and legal costs reflects the gravity of the allegations that were made against us.
We are living in times where anti-Muslim hate and discrimination are increasing day by day and the Muslim community is constantly on the receiving end of false allegations. Unfortunately, the media has played a role in this which in turn only serves the interests of the far right, neo-conservatives and those who wish to create division, rather than mutual respect and unity within our diverse communities in the UK".