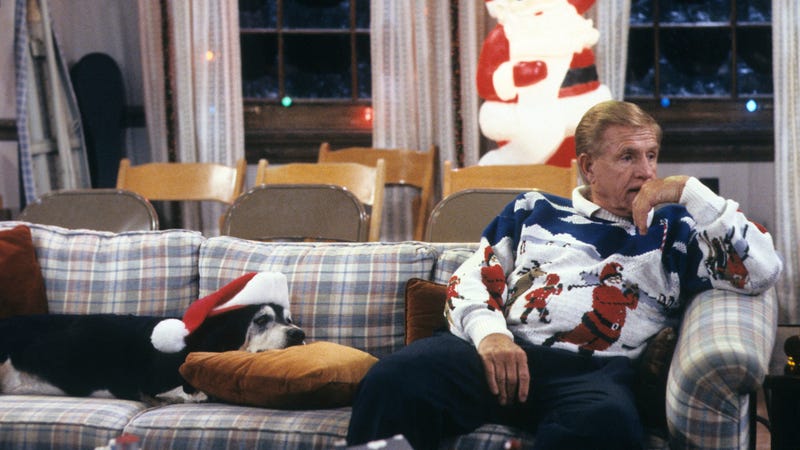 Jerry Van Dyke as Luther Van Dam, on Coach.
Jerry Van Dyke, one of the most recognizable sitcom faces of the 20th century, has died.
According to TMZ
, Van Dyke—who starred for several years on ABC's
Coach
as the beloved but bumbling Luther Van Dam, and who got his start on TV with a series of memorable guest turns on his brother Dick's groundbreaking CBS sitcom—was 86.
Van Dyke was already a successful touring stand-up and military veteran when he made his first appearances on the national stage, bringing his comic stylings—and banjo-playing prowess—to shows like the anthology series
G.E. True
and the John Wayne film
McClintock!
He got his big break, though, when he was cast on
The Dick Van Dyke Show
, appearing as Stacey Petrie, the sleepwalking-afflicted brother of his real-life sibling's exasperated Rob. Van Dyke made the most of the gimmicky premise, investing Stacey's somnambulistic party guy persona with an irresistible energy, while simultaneously making the most of his waking life's endearing, stuttering shyness.
TV execs took notice; Van Dyke was quickly cast as a supporting player on The Judy Garland Show, and was repeatedly courted for leading roles in a number of network sitcoms. After turning down two of TV's most iconic comic doofuses—Gilligan's Island's Gilligan and Deputy Barney Fife on The Andy Griffith Show—Van Dyke finally settled for My Mother The Car, which only lasted for a single season at NBC.
That minor setback doesn't seem to have done much to harm Van Dyke's career, though; he spent the next 50 years serving as minor TV royalty, appearing on everything from The Love Boat and Fantasy Island to My Name Is Earl and The Middle. He landed his most memorable role, dim-bulb defensive coordinator Luther Van Dam, in 1989; he'd end up spending eight years serving as Craig T. Nelson's foil on Coach, a role that ultimately netted him four Emmy nominations.
The role played well into Van Dyke's talents for going big, loud, and annoying, without ever quite losing an audience's sympathy. Despite their bluster, his characters always expressed a vulnerability that made them easy to like, even when they were driving the characters around them up the wall. Combined with a talent for absurd cheerfulness, it made Van Dyke a welcome guest star presence every time he popped up on a show, throughout his 50-year career.