Poet killed in post-wedding stroll with girlfriend in crazed knife attack: video
Police believe the deadly attack was random
Shocking video shows the moment a kind-hearted poet and activist is stabbed to death in a random New York City attack in front of his horrified girlfriend after the couple left a wedding.
In the footage exclusively obtained by the New York Post, Ryan Carson, 32, and his girlfriend, identified on social media only as Claudia, are seen sitting on a bus stop bench Monday in Brooklyn a little before 4 a.m.
The pair, who just left a wedding on Long Island, are chatting as a man in a dark-colored sweatshirt with his hood over his head strolls past.
Carson, wearing a gray suit, and the woman, in a blue, sleeveless gown, start to stroll down the block in the direction of the stranger, who is erratically kicking scooters parked near the curb, according to the surveillance video.
HUSBAND WHO FOUND BODIES OF WIFE, KIDS IN MURDER-SUICIDE: 'I'M DEAD INSIDE'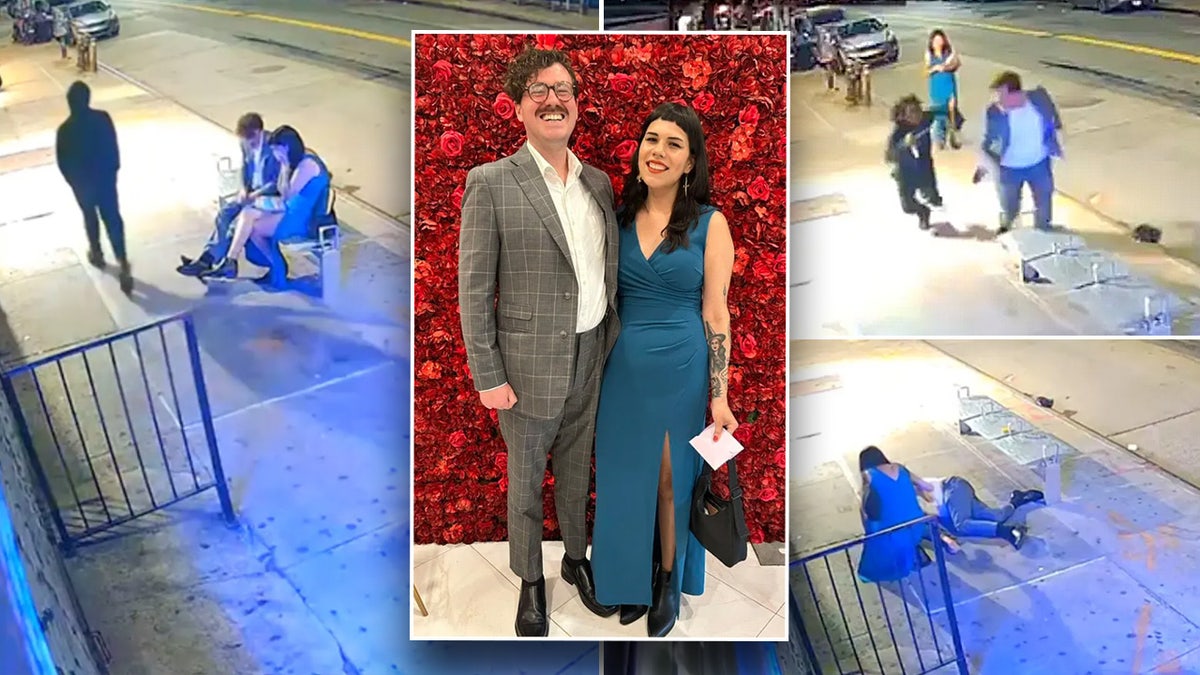 The crazed man turns abruptly to Carson and barks, "What the f--- are you looking at?"
Carson can be heard softly replying that he was not looking at anything, as he steps between the deranged stranger and his girlfriend.
"I'll kill you!" the unhinged man seethes at the beloved community activist.
Carson holds up his hand and says firmly "Chill! Chill!" However, the man pulls a knife and charges at him. Carson turns and runs, tripping over the bench he and his girlfriend had just been sitting on.
The assailant drags him by his coat to the ground and repeatedly stabs him in the chest. As Carson, mortally wounded, curls up on the ground, the knife-wielding madman rushes at the terrified woman.
WATCH DISTURBING VIDEO OF AN UNHINGED NYC MAN RANDOMLY ATTACK, KILL RYAN CARSON
She holds up her hand defensively, as he spits on her, still gripping the knife, then turns back to Carson and kicks him.
An unknown woman suddenly appears in the frame, yelling at the assailant, "Don't hurt him!" and appears to say his name before he flees.
The woman turns to Carson, still lying on the sidewalk, and says, "I'm so sorry. Are you OK?"
The clip cuts out with the girlfriend kneeling beside Carson on the ground and calling 911.
NYC PROFESSOR GETS NEW GIG TEACHING, MONTHS AFTER THREATENING REPORTER WITH MACHETE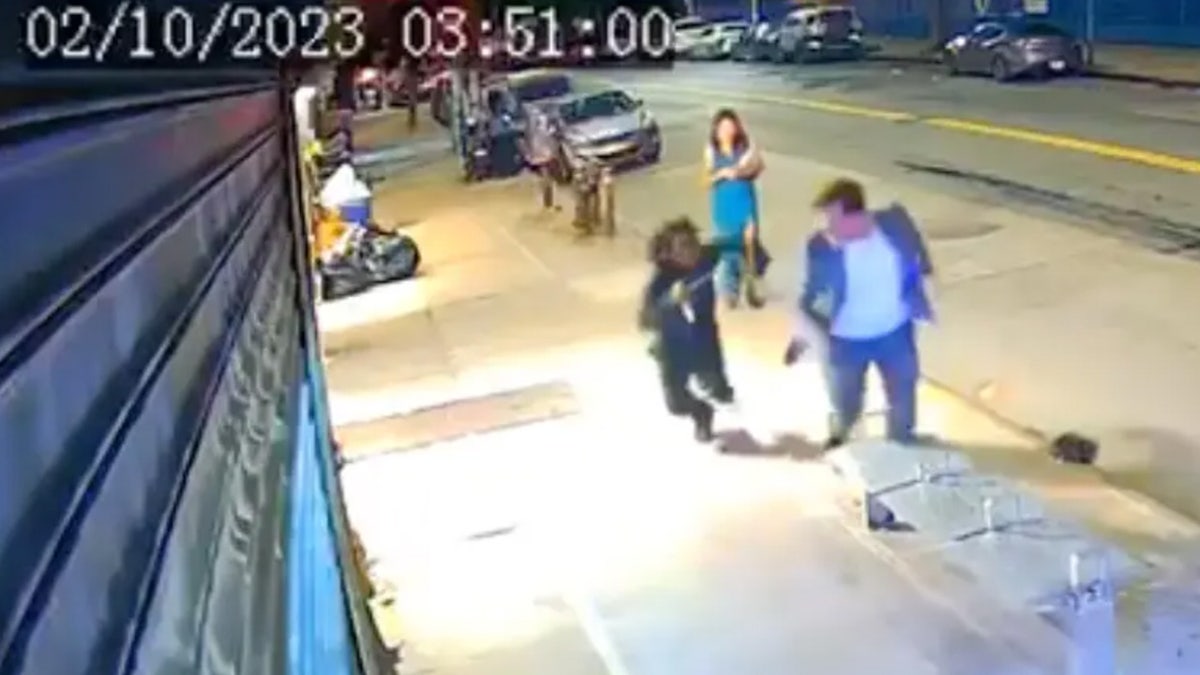 She held him in her arms before an ambulance rushed him to Kings County Hospital Center – but it was too late.
Carson moved to the city from Boston in 2010 to attend the Pratt Institute in Brooklyn. He worked as a senior solid waste campaign manager at the New York Public Interest Research Group, according to his LinkedIn.
He was also a published poet who once wrote about the fear he had of his own death.
His girlfriend posted a photo Sunday night to X showing the couple, dressed in the same wedding attire as in the surveillance footage, beaming in front of a wall of roses.
After his slaying, she posted on the same account a heartbreaking note she had found in her late boyfriend's phone. "When you get right down to it, all I want is to love Claudia more than she's ever been loved, which is frankly all she's ever deserved," the note says.
NYC PROFESSOR WHO THREATENED REPORTER WITH MACHETE PLEADS GUILTY TO MENACING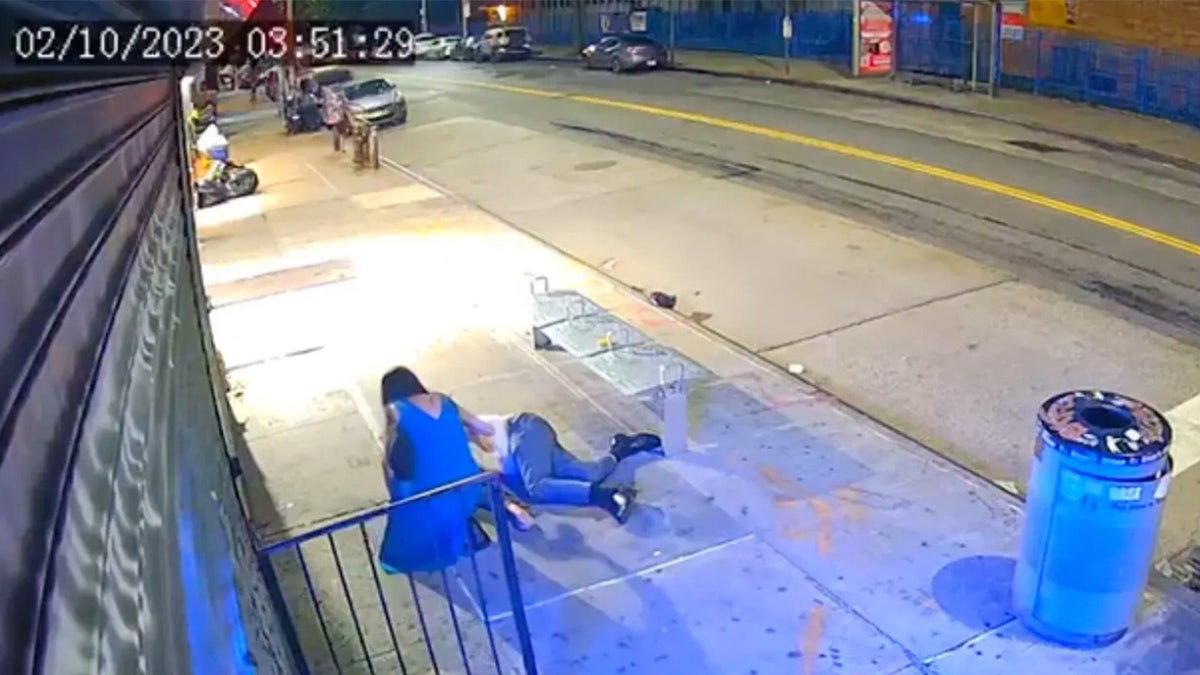 One of Carson's roommates, Tom Krantz, 31, said his slain friend was an extraordinary person.
"I don't think anyone is exaggerating when they say he would give the shirt off his back," he told the New York Post. "He was the guy that bent over backward time and time again to be there with his friends."
CLICK HERE FOR MORE TRUE CRIME FROM FOX NEWS
More than 150 people turned out for a vigil Monday night in the Bedford-Stuyvesant neighborhood, where Carson was murdered.
No arrest has been made. An unofficial wanted poster showing a close-up of the suspect wearing a black "Champion" sweatshirt is circulating online.
Police sources told the New York Post the suspect initially tossed the murder weapon in a pile of trash before returning to retrieve it.
Acadia Cutschall, 32, who attended Pratt with Carson, called him her "best friend."
"I was present once when he literally talked a guy out of mugging him," Cutschall told the local newspaper. "He gave him some money."