Wedding repeat: Couple says 'I do' again for benefit of grandmother with Alzheimer's at senior care home
A grandmother, 91, was front and center at her granddaughter's wedding ceremony — a repeat just for her
Newlyweds who had gotten married two weeks before traveled a total of 360 miles to recreate their wedding ceremony for a second time — so that the bride's grandmother could attend the big day.
Childhood sweethearts Will and Rebecca Heppell, both 26, tied the knot in front of 60 guests in a picturesque ceremony in the Cotswolds last month, as SWNS, the British news service, reported.
The pair then re-enacted their vows in a more intimate setting exactly two weeks later in the grounds of the care home where Rebecca Heppell's grandmother, Peggy Dracup, is currently living.
ENGAGEMENT CHICKEN: THE DISH WOMEN MAKE TO CAST A 'SPELL' WHEN THEY HOPE TO MARRY
The grandmother is 91 and reportedly has Alzheimer's. She wasn't able to attend the first ceremony, said SWNS — so the couple repeated the ceremony 164 miles away in order to make her part of their big day.
Said Rebecca Heppell, "It was a really special day and [it was] great that my grandma could be part of it. She was overjoyed."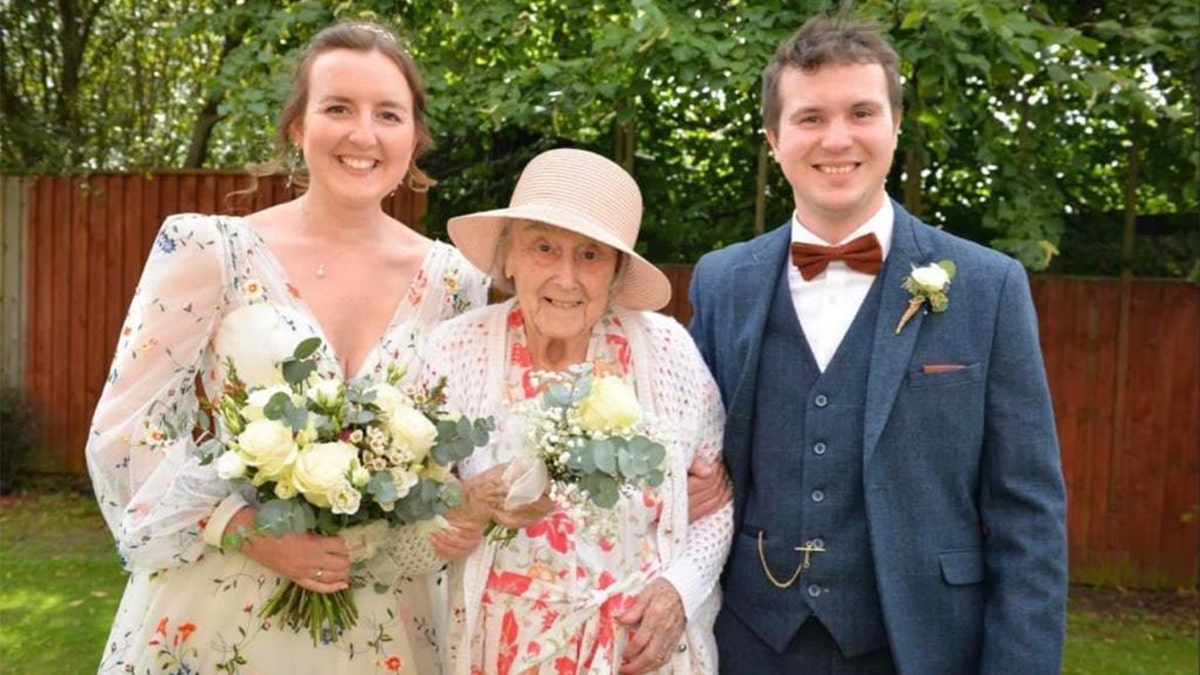 She added, "Her memory isn't great, but she knew who we were … and she kept saying how beautiful my dress was."
The newlyweds are both teachers.
They met as teenagers and got engaged on a romantic break in Iceland on their 10th anniversary last March, said SWNS.
The couple's first wedding took place on August 5; after their honeymoon, they returned home to recreate the special day on August 29.
When it came time to plan their big day, the couple wanted to make sure their grandmother could be a part of it.
MISSOURI CHILD COMFORTS MOM WHO'S SUFFERING FROM MORNING SICKNESS: 'SO EMPATHETIC'
But the staff at Osborne House in Selby, North Yorkshire, where Peggy Dracup is living, felt she wouldn't be up the long journey to the Cotswolds venue.
Undeterred, the couple arranged to recreate the whole day in the grounds of the care home with their grandmother in attendance.
Exact replica of the first
The couple's first wedding took place on August 5; they honeymooned in Kenya and Mauritius, returning home to recreate the special day on August 29, SWNS reported.
The second ceremony was an exact replica of the first — with the second ceremony even decorated the very same way.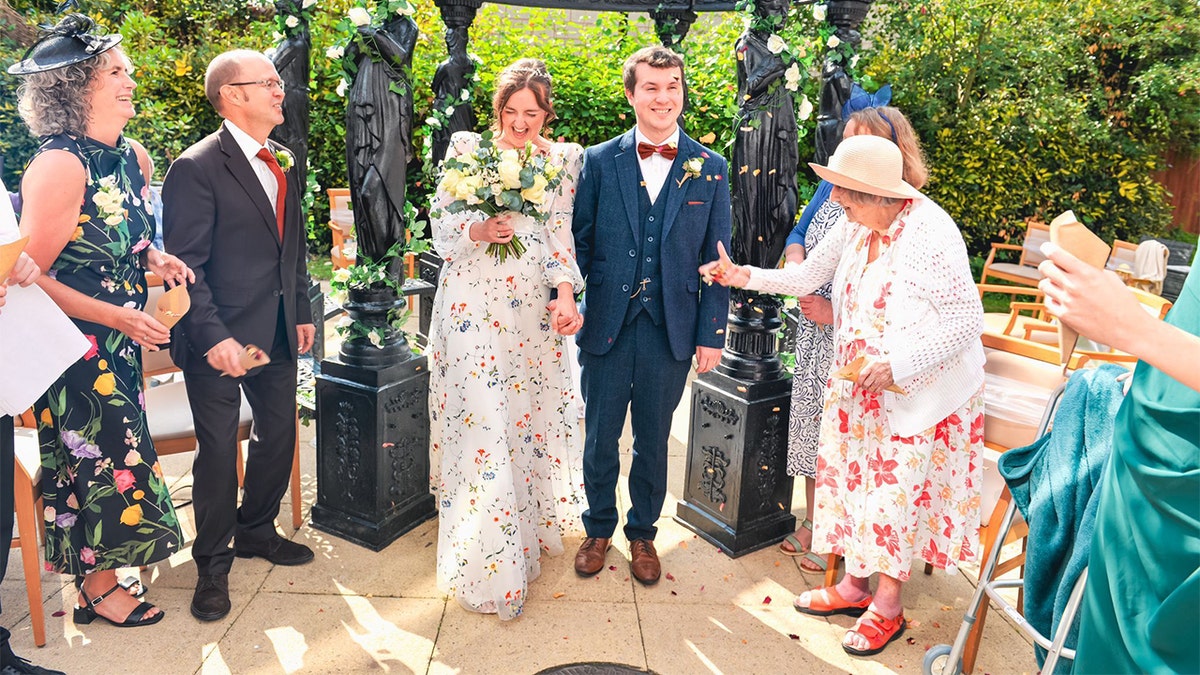 The couple apparently went into "minute detail" to recreate their special day, right down to striking the same pose during their first dances.
Afterward, the couple were showered with hundreds of rose petals as a very proud grandmother enjoyed the moments.
Said bride Rebecca Heppell, who is from Chipping Norton, "I really wanted her to be there. We were hoping she'd be able to come down, but the practicality of her coming down to the Cotswolds just wasn't going to happen. But it was great. She didn't know it wasn't the real ceremony — she loved it."
"And we weren't as nervous the second time round. It was much more relaxed."
The bride added, "And we weren't as nervous the second time round. It was much more relaxed."
She also said her grandmother loves music, so her sister played "a few tunes" at the ceremony.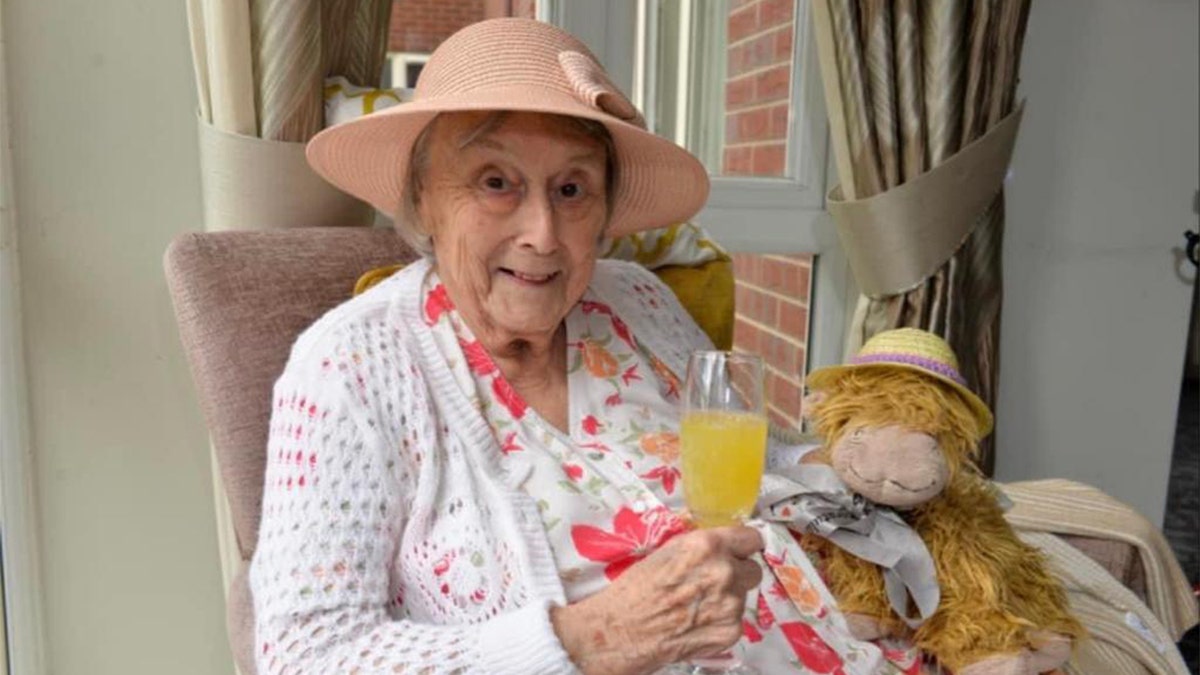 The bride said the people at "the care home were absolutely amazing. The events manager went above and beyond and created a magical setting and made a spectacular wedding cake adorned with handmade sugar roses."
Groom Will Heppell told SWNS, "It was doubly magical, because we were reliving the original ceremony."
CLICK HERE TO SIGN UP FOR OUR LIFESTYLE NEWSLETTER
Said mother of the bride Helen Harrison, "It was hugely important for Rebecca that her grandmother should be present to be part of the celebration and it was wonderful day. My daughter looked fabulous and her grandmother commented on the beauty of her dress.
Harrison added, "It was delightful to see my mom ininteracting with so many people, smiling and laughing and having all her family around her."
"Osborne House was beautifully decorated," added Harrison, "and the chef went above and beyond anyone's expectation catering for the reception with a spectacular silver service buffet tea — a grand finale to a perfect day."