Kim Jong Un orders troops to 'gird for a war' and begin offensive preparations amid US, South Korean drills
The supreme leader directed his military officials to 'gird for war' in response to the 'grave political and military situation prevailing in the Korean peninsula'
North Korean leader Kim Jong Un has ordered his nation's military to prepare "offensive" capabilities.
The supreme leader's directives, reported by state media outlet Korean Central News Agency, were given at a meeting of the Central Military Commission of the Workers' Party of Korea.
"He deeply summarized and analyzed the present situation of the Korean peninsula and its vicinity and made an important conclusion on further stepping up the war preparations of the [Korean People's Army] in an offensive way," KCNA reported.
NORTH KOREA INVITES FOREIGN GOLFERS TO INTERNATIONAL AMATEUR TOURNAMENT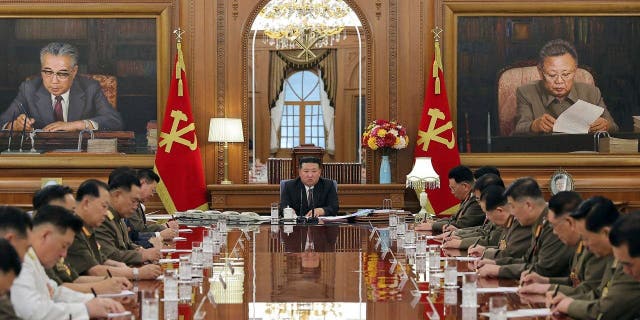 The meeting was called to address the "important issue of making the army more thoroughly gird for a war given the grave political and military situation prevailing in the Korean peninsula."
South Korean Foreign Ministry spokeswoman Ahn Eun-ju dismissed the country's aggressive posturing, remarking that the communist neighbor nation should be more concerned about other matters.
"North Korea should instead pay attention to the safety of its citizens with a typhoon approaching," Ahn said, referencing Tropical Storm Khaunun.
NORTH KOREA FIRES 2 MISSILES AMID US NUCLEAR SUB IN SOUTH KOREA, SOLDIER CROSSING DMZ
The violent storm hit South Korea on Thursday and is expected to make landfall in North Korea on Friday.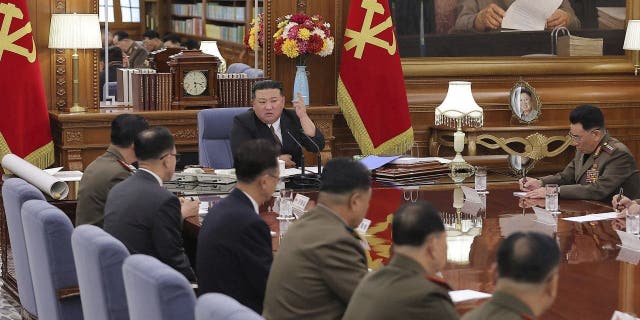 "We are maintaining a firm readiness posture, and North Korea's empty threats of force will not work with us," Ahn added.
President Yoon Suk Yeol's administration will "never" seek an end to the 70-year-long conflict, Reunification Minister Kim Yung-ho said last week in one of his first conferences since being appointed.
An armistice agreement in 1953 ended active military combat between the two nations, but Kim warned that a formal end of the conflict would jeopardize North Korea's accountability for prisoners of war and kidnapping victims.