Divers recover black box of Australian army helicopter that crashed and caused 4 deaths
Australia's black box would help determine why the MRH-90 Taipan crashed during a military exercise with the US
On July 28, four crewmembers of an Australian army MRH-90 Taipan died after the helicopter crashed at sea in the Whitsunday Islands off the country's northeast coast.

On Monday, Navy divers retrieved a voice and flight data recorder from the wreckage in hopes that it would help determine the cause of the crash.

Human remains in the wreckage were also seen over 100 feet below sea level, but bad weather conditions have halted recovery efforts.
Divers have recovered the flight data recorder from an Australia army helicopter that crashed at sea, killing the four crewmembers, during a military exercise with the United States last month, officials said Tuesday.
Recovering the black box was a priority to help determine the cause of the crash of the MRH-90 Taipan during a nighttime operation July 28 in the Whitsunday Islands off the northeast Australian coast.
Navy divers retrieved the device that contains the helicopter's flight data and cockpit voice recordings Monday, a Defense Department statement said.
PAKISTAN TRAIN CRASH KILLS MORE THAN 30 PEOPLE, NEARLY 100 INJURED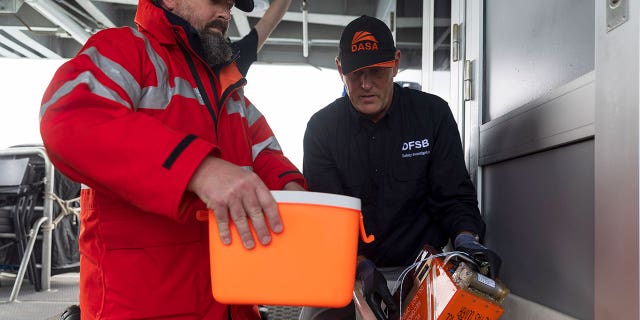 A drone spotted human remains in the wreckage last week at a depth of 131 feet. But the remains have yet to be retrieved because of bad weather and strong currents.
Australia's fleet of more than 40 Taipans has been grounded since the crash and there are doubts any will fly again. The government says they will remain grounded until crash investigators have found a cause of the tragedy.
The government announced in January plans to replace the French Airbus-manufactured helicopters with 40 U.S. Black Hawk helicopters. The Taipans' retirement date of December 2024 would be 13 years earlier than Australia had initially planned.
The army has taken delivery of three new UH-60M Black Hawk helicopters since July.
The crashed Taipan had been taking part in Talisman Sabre, a biennial U.S.-Australian military exercise that is largely based in Queensland state. This year's exercise involves 13 nations and more than 33,000 military personnel.