Can magic mushrooms bring you closer to God? Pastor Dave Hodges explains the spirituality in 'shrooms'
Mushroom experiences are 'beyond this body' says one pastor
Can psychoactive mushrooms benefit spiritual development? For Pastor Dave Hodges, the founder of Zide Door Church, he believes psychoactive mushrooms to be a way of "connecting with your soul."
Based in Oakland, California, the church identifies as nondenominational and interfaith, with an emphasis on utilizing natural hallucinogens known as entheogens to further spiritual development and connection with a higher power. The church predominantly uses mushrooms with the psychoactive chemical psilocybin for these spiritual journeys.
COLORADO VOTES TO DECRIMINALIZE PSYCHEDELIC MUSHROOMS
Hodges joined "Jesse Watters Primetime" last week to explain the spiritual process of taking mushrooms and his personal experience connecting with God through psilocybin trips.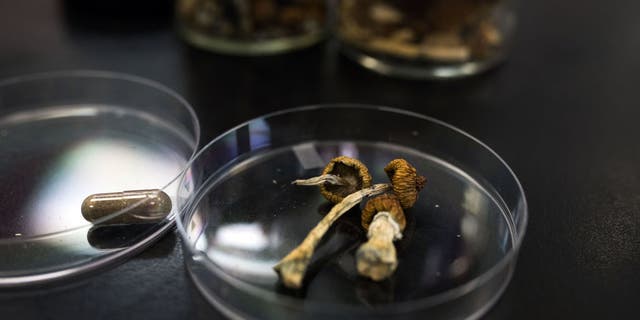 Hodges argued that taking hallucinogenic mushrooms at any dose allows people to connect with their soul.
"I do really high-dose work. And at those levels, you get what can only be described as spiritual visions and interacting with what you are beyond this body," he said on "Jesse Watters Primetime."
The pastor described his most spiritual experience being one where he was "ripped" out of his body. Hodges said he went through "heaven, hell, and everything in between" and explained he ended up in a space of pure light where he no longer existed.
"Nothing existed. There was but this one consciousness. And that's the consciousness that I call God," he explained
The use of mushrooms in California is still illegal, however, and Hodge described fighting for the usage of these compounds under religious protection rights.
After experiencing a raid by the city a few months back, Hodges explained his chi= fighting the Oakland court to "protect what they do."
"They got about 200,000 worth of sacrament and they came in with guns," said Hodges, referencing a video showing the police coming into their church like "some sort of a cartel."
Zide Church argues that psychedelic mushroom experiences were used by our ancestors, and have become a central part of our evolutionary experience. The church sees a convergence between science and spirituality throughout human evolution, which suggest a relationship that has "shaped" the course of human history.
"While in the rest of what I was shown is that God created everything to experience itself, It actually divided into all of us," explained Hodges. "You, me, everybody listening to this, the TVs that they're looking at, the chairs they're sitting in, it is all God experiencing itself in every way possible."