US National Weather Service warns smoky haze likely to persist for days across the US, Canada
The meteorologist noted that conditions are 'likely to remain unhealthy' it's 'all about wind shift'
The thick, hazardous haze blanketing the Northeast disrupting daily life for millions of people across the U.S. and Canada could persist until the weekend, a U.S. National Weather Service meteorologist said.
The weather system that's driving the great Canadian-American smoke out, a low-pressure system over Maine and Nova Scotia, "will probably be hanging around at least for the next few days," U.S. National Weather Service meteorologist Bryan Ramsey said.
"Conditions are likely to remain unhealthy, at least until the wind direction changes or the fires get put out," Ramsey said. "Since the fires are raging — they're really large — they're probably going to continue for weeks. But it's really just going to be all about the wind shift."
"Conditions are likely to remain unhealthy, at least until the wind direction changes or the fires get put out.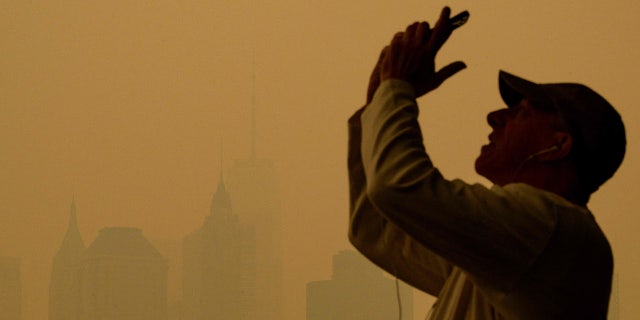 The weather system is expected to hardly budge, the smoky blanket billowing from wildfires in Quebec and Nova Scotia and sending plumes of fine particulate matter as far away as South Carolina.
The dystopian-looking haze covering bustling metropolises like New York City has left the city veiled in a yellow and orange haze as residents resort to wearing pandemic-era masks to block thick smoke.
CANADA CELEBRATES ANNUAL CLEAN AIR DAY, AS FIRES CONTINUE TO RAVAGE NORTHEASTERN US
Health officials from Vermont to South Carolina and as far west as Ohio and Kansas are warning residents that spending time outdoors could cause respiratory problems due to high levels of fine particulates in the atmosphere.
In Washington, D.C., Mayor Muriel Bowser ordered schools to cancel outdoor recess, sports and field trips Thursday. In suburban Philadelphia, officials set up an emergency shelter so people living outside can take refuge from the haze.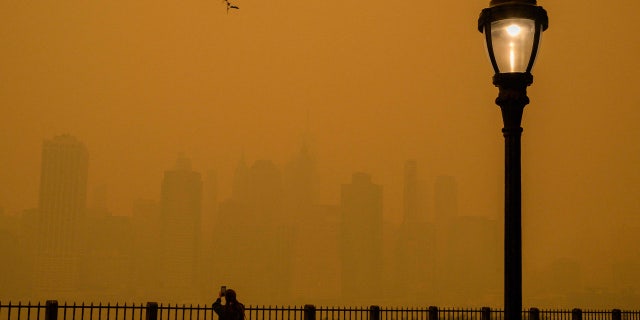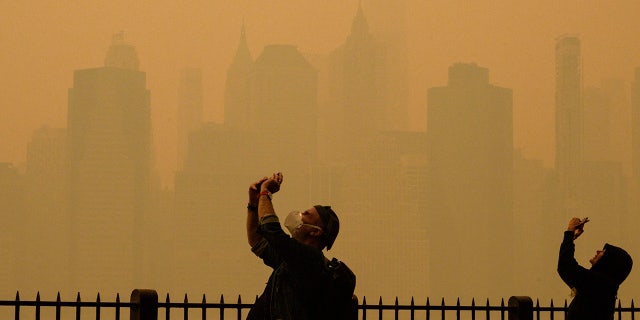 New York Governor Kathy Hochul called the situation an "emergency crisis."
BIDEN SPEAKS WITH CANADIAN PRIME MINSTER, OFFERS ADDITIONAL SUPPORT IN WAKE OF HISTORIC WILDFIRES
The
normal air quality index
is 50. However, in parts New York on Wednesday, June 7, the air quality index was nearly 8 times the normal level-- reaching over 400.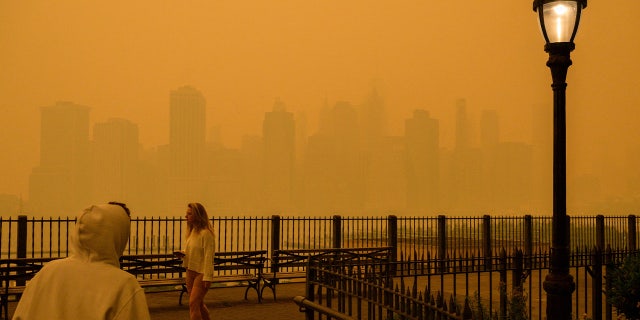 More than 400 blazes burning across Canada have left 20,000 people displaced. The U.S. has sent more than 600 firefighters and equipment to Canada. Other countries are also helping.
Canadian Prime Minister Justin Trudeau spoke to President Joe Biden by phone on Wednesday. Trudeau's office said he thanked Biden for his support and that both leaders "acknowledged the need to work together to address the devastating impacts of climate change."