Teen arrested for murder of Florida grandmother who was Desert Storm veteran
Angela Sutton Washington, 60, was shot and killed just down the street from her home on Feb. 7. Police said she wasn't the intended victim
A Florida teenager was charged this week with the murder of a 60-year-old grandmother who was a veteran of Desert Storm.
Angela Sutton Washington was shot and killed Feb. 7 near a strip mall in Orlando, Florida.
The alleged shooter, who's 15 years old, was charged with first-degree murder with a weapon Friday — four months after the investigation into her murder began, the Orlando Police Department said.
"Through the relentless efforts of our Homicide Detectives along with cooperation from the community and Central Florida Crimeline a suspect has been captured," the department said in a statement posted to Facebook.
MICHIGAN WOMAN WITHDRAWS PLEA, WILL STAND TRIAL FOR 3 YOUNG SONS' DROWNING DEATH IN POND CRASH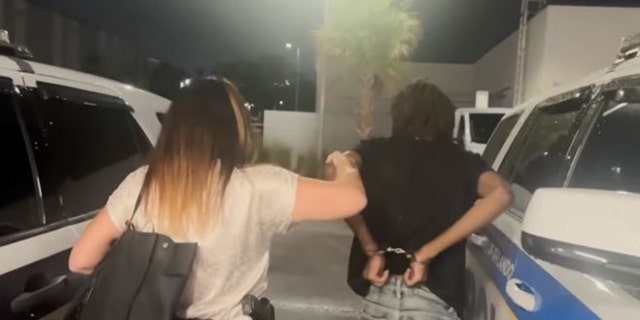 "It is hard to comprehend. I cannot sit here and say that I'm not angry," Angela Sutton Washington's son, Fernando Washington, told FOX 35 in March. "I can't say that I'm not confused, but in the climate in which we live, it's not surprising."
He said he hoped his mother's murder would be a "catalyst for change" in his community.
"We cannot continue to think that senseless deaths make sense, because they don't," he said.
LONG ISLAND GROCERY STORE WORKER WHO KILLED MANAGER, SHOT COLLEAGUES GETS 50 YEARS TO LIFE
Washington was killed just down the street from her home, according to FOX 35. Her family said she went shopping at the center where she was killed nearly every day.
"This was a senseless murder of a valued member of our community," Orlando Police Homicide Unit Detective Barb Sharp said in March, according to the Orlando Sentinel. "Angela was a military veteran, Desert Storm. She's a beloved daughter, mother and grandmother. She was simply stopping at the convenience store on the way home to pick something up and was shot and killed."
Police previously said that Washington wasn't the intended target of the shooting, FOX 35 reported. Several men were hanging out outside the convenience store when she was shot, The Sentinel reported.
Community member Bishop Kelvin Cobaris said it's "heartbreaking" to see a teenager arrested for the crime.
"There are young people in our communities that are making bad decisions, and these costing them their life because while the suspect is not dead, basically after being charged with this, their life is about over," he told FOX 35
He added, "Being a woman who served our country, who sacrificed and gave her life for our freedom, and to see that she gave that service and her life would be taken down by senseless violence in the street for not doing anything wrong."