GOP presidential field expands, but will it help or hurt Trump in fight for 2024 Republican nomination?
Pence, Christie, Burgum next week expected to join Trump, DeSantis, Haley, Scott, Hutchinson, Ramaswamy, Elder, and Johnson in GOP 2024 field
DES MOINES, Iowa – All the declared Republican White House candidates other than former President Donald Trump will gather in Iowa's capital city on Saturday to take part in Sen. Joni Ernst's Roast and Ride — an annual motorcycle ride that benefits veterans.
Ernst, in an interview with Fox News Digital on the eve of her gathering, touted that the appearance of the White House hopefuls is a "great testament to Iowa," the state whose caucuses have led off the GOP presidential nominating calendar for nearly a half century.
"All roads to 2024, they go through Iowa," Ernst said. "Republicans are coming together at the Iowa State Fairgrounds tomorrow to hear from their favorite presidential hopefuls."
FIRST ON FOX: PENCE TO RIDE IN ERNST'S ANNUAL 'ROAST AND RIDE'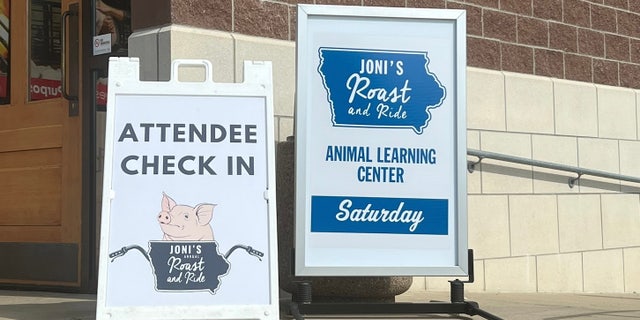 Taking part in the Roast and Ride are Florida Gov. Ron DeSantis, former ambassador and former South Carolina Gov. Nikki Haley, Sen. Tim Scott of South Carolina, former Arkansas Gov. Asa Hutchinson, entrepreneur and conservative commentator Vivek Ramaswamy, conservative radio host and former California gubernatorial candidate Larry Elder, and Michigan businessman Perry Johnson.
Also taking part in the event — and scheduled to ride a motorcycle — is former Vice President Mike Pence.
WHAT THE REPUBLICAN PRESIDENTIAL CANDIDATES HAVE TO DO TO MAKE THE DEBATE STAGE
Pence is one of three Republicans expected to declare their candidacy for president next week — along with former New Jersey Gov. Chris Christie, a 2016 White House contender, and North Dakota Gov. Doug Burgum — as the field of GOP contenders continues to expand.
New Hampshire Gov. Chris Sununu has said he'll have a decision on whether he'll launch a 2024 Republican White House campaign within days, and former Reps. Will Hurd of Texas and Mike Rogers of Michigan are also seriously mulling presidential bids.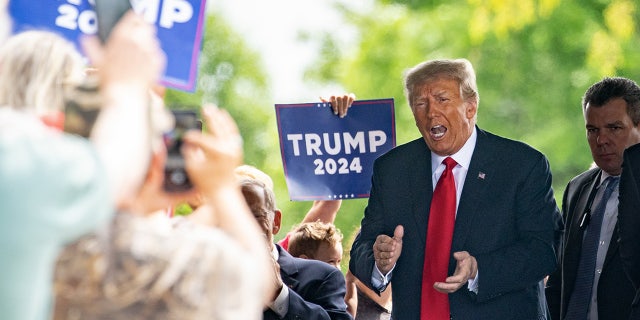 Trump, who in November launched his third straight White House campaign, is currently the overwhelming front-runner for the GOP presidential nomination in the latest polls. And the convention wisdom is that a growing field of rivals only enhances Trump's odds of becoming the party's 2024 standard-bearer — and hurts DeSantis, who is solidly in second place in the surveys, ahead of the rest of the field of actual and likely contenders.
WHO'S IN AND WHO'S ON THE SIDELINES — YOUR GUIDE TO THE 2024 GOP PRESIDENTIAL NOMINATION RACE
"Good luck to Senator Tim Scott in entering the Republican Presidential Primary Race," Trump said when Scott launched his campaign nearly two weeks ago. "It is rapidly loading up with lots of people, and Tim is a big step up from Ron DeSanctimonious, who is totally unelectable," Trump added as he used his derogatory nickname for DeSantis.
Trump and his allies, who have long viewed DeSantis as the former president's top threat in the 2024 race, have blasted the two-term conservative governor of Florida for months.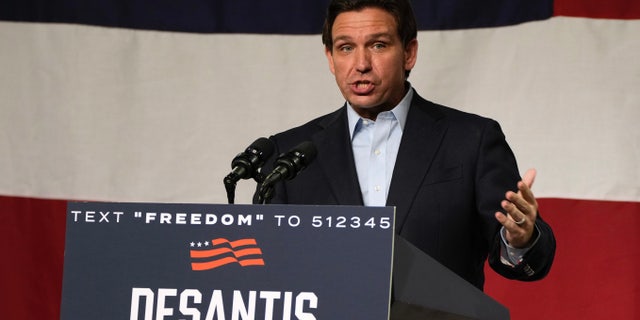 "This is an indictment of DeSantis' disastrous announcement and his dismal poll numbers," Trump spokesperson Steven Cheung argued as he pointed to the growing field of candidates. "DeSantis' blood is in the water and every candidate sees how feeble and weak he is."
DeSantis allies obviously disagree.
"This is a two-man race between Gov. DeSantis and Trump — with momentum building behind the Governor and the former President running scared," Dave Vasquez, national press secretary for the pro-Desantis super PAC Never Back Down, argued in a statement to Fox News.
Hutchinson, a former federal prosecutor and congressman who held top posts in President George W. Bush's administration, welcomes the expansion of the 2024 GOP field.
"It actually means that all of these candidates are saying we need a different choice than the one who's leading the pack right now, which is Donald Trump," he told Fox News.
And Hutchinson, a vocal Republican Trump critic, emphasized that the expanding list of candidates "adds to the message really that the party wants to see a new voice, new leadership, for the party and for the nation."
There are plenty of political prognosticators who point to 2024 becoming a repeat of the 2016 cycle, when a crowded and divisive field of candidates opened the door to Trump's nomination victory ahead of his White House win.
But what expands may also contract.
Sununu recently predicted that when it comes to the size of the field, "there is going to be a process of which it's going to be narrowed down a lot more aggressively than it did in '16."
"Everyone understands that it just needs to narrow down, and my guess is that it will narrow down the end of the fall and as we go into early next year. And it will narrow down quickly," Sununu told Fox News. "If you were going to tell me there's going to be 10 or 12 people in the race through March and April of next year, yeah, that's going to be a problem. But that's not going to happen. That's going to winnow down very quickly."
Asked if the various 2024 contenders will keep it peaceful during the Roast and Ride — which is one of the first major GOP presidential cattle calls of the year in Iowa — Ernst acknowledged "I know they're going to take some swings, and that's OK."
But the senator said she'll encourage the candidates "to remember that we're all Republicans and if we want to move this nation forward and put a Republican in the White House, we have to work together. So no matter what punches they're pulling now, at the end of this fight we all need to be friends."