West Ham players jump into stands to defend families after massive brawl erupts at Europa Conference semifinal
AZ Alkmaar supporters reportedly attacked a section designated for West Ham fans
West Ham United players had little time to celebrate their Europa Conference League semifinal victory over AZ Alkmaar on Thursday night after several of them jumped in the stands to defend their friends and family following a massive brawl that broke out when a group of Dutch supporters stormed the area designated for the visiting team.
A violent scene unfolded at the AZ stadium in Alkmaar, Netherlands, when a group of Dutch fans broke through a fence and attacked West Ham supporters following the team's 3-1 victory, multiple outlets reported.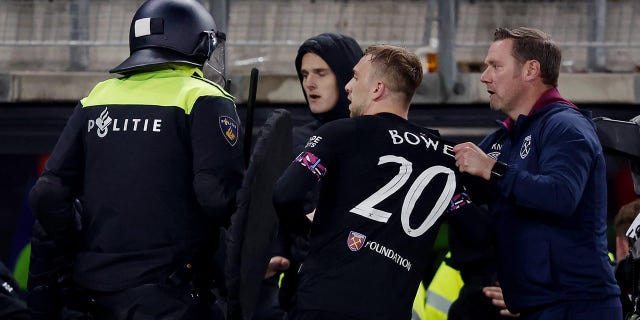 According to the Associated Press, players including Michail Antonio, Said Benrahma, Aaron Cresswell, and Flynn Downes all climbed into the stands in an attempt to stop the melee.
FAN HIT WITH LIFETIME BAN, ASSAULT CHARGE AFTER NEWCASTLE UNITED MANAGER EDDIE HOWE SHOVED DURING MATCH
"I can't explain what happened and why it happened," West Ham manager David Moyes, whose 87-year-old father was at the match, said. "I can only say the players were involved because it was the family section, and most of their family and friends were in there. That was probably the reason for the reaction."
AZ released a stern statement condemning the incident, which the club called a "pitch black evening."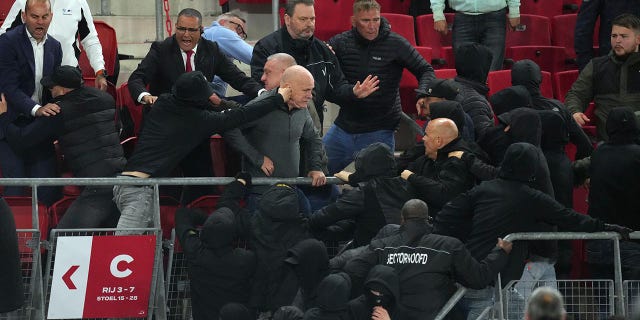 "While everyone hoped for a historic European match, it turned into a pitch black evening due to the events occurring at the referee's final whistle. It turned into a night to reflect on with shame. Not because of the football game played, but because of the behavior of some visitors. Unfortunately, we cannot use the word 'supporters' for these people," the statement read.
CLICK HERE FOR MORE SPORTS COVERAGE ON
"What happened is beyond all bounds. The club again sincerely apologizes to West Ham United and the thousands of well-minded AZ supporters who have also been inconvenienced by the misconduct."
The club said it will work with law enforcement to investigate the incident and warned that the aggressors could face "consequences" for their "outrageous behavior."
"AZ is a civilized club where sportsmanship and norms and values are paramount. The club will do everything possible, together with the authorities involved, to identify these persons and to take appropriate measures."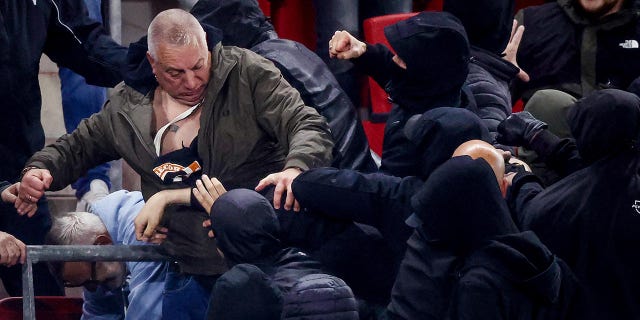 There have been no reported injuries or arrests, but several AZ players have also come forward to condemn the actions of those fans involved.
"I don't even call them supporters. Just stay home if you have such intentions," Defender Pantelis Hatzidiakos said after the match, via Reuters.
"Such a beautiful evening, such a great atmosphere, I really enjoyed it until the final whistle. What happened after that, I find very sad and a pity."