Virginia mom says activists threatened to 'curb stomp' her for speaking out against school curriculum
'This is murder,' Loudoun County parent Alisha Brand told 'Fox & Friends'
Parents in Loudoun County, Virginia, say they have become targets of violent threats on social media for speaking out against the school district's LGBTQ agenda.
"They said that they wanted to curb stomp me," Loudoun County mom and Army of Parents co-founder Alisha Brand told "Fox & Friends" Friday of threats made on the "Loudoun Love Warriors" Facebook page.
Brand said her organization, which she described as a 501(c)(4) that advocates for excellence in education, school safety and parental rights, has made activists online "very angry," leading to "threats of death."
"I'm not sure if your audience is aware of the violent nature of curb stomping, but what it does entail is grabbing somebody by the back of the head, forcing their mouth open, pushing them down to the ground with their face on the cement, their mouth around the curb, and then somebody else stomping on the back of their head," she continued.
TEXAS COLLEGE HIGHLIGHTS FEMINIST WORD 'WIMMIN' THAT AVOIDS WOMEN ENDING IN 'MEN:' 'MAKES CONVERSATION EASIER'
"This is murder, it's a felony, and this is what I was threatened with by these activists who are tied to our political candidates."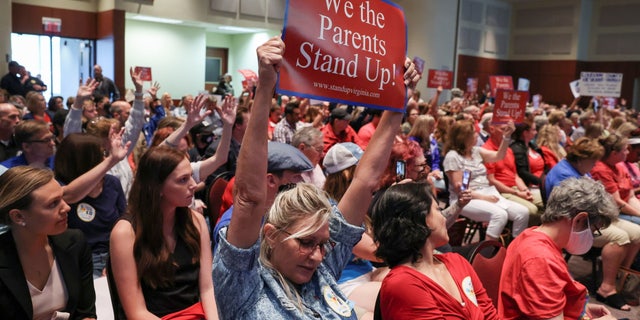 The "Loudoun Love Warriors" group includes members who appear to be associated with Loudoun County Commonwealth's Attorney Buta Biberaj, County Supervisor Juli Briskman, School Board Chair Ian Serotkin, school board member Brenda Sheridan, school board member Atoosa Reaser, school board member Erika Ogedegbe, school board candidate Anne Donohue, sheriff candidate Craig Buckley, and Chair Phyllis Randall. None of these elected officials personally made any threats.
Loudoun County resident Mark Winn told WJLA he learned of messages on the group threatening his life and livelihood after he addressed the school board in Dec. 2022.
"[LGBT] behaviors should never have been promoted, taught, or encouraged in the schools that you oversee," he said at the meeting. "Get back to reading, writing and arithmetic and quit grooming and pimping."
NY TEACHERS UNION RIPPED FOR 'HYPOCRISY,' SILENCE AFTER RANDI WEINGARTEN'S CHARTER SCHOOL IS GRANTED EXPANSION
Scott Mineo, another Loudoun County parent, told WJLA that activists "went after" his job.
"They referred me to the FBI, IRS, and DHS all because they don't like my opinion," he said.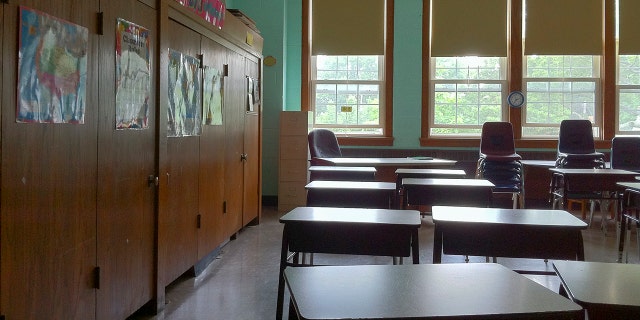 "They're probably going to sit back and celebrate the fact that I'm unemployed. I'm having a hard time finding a job. And who knows what's next with the IRS and the FBI? I don't know. But they've done more than just put me out of a job. It's impacting my family, my kids."
Brand said she's taken the issue to the team of House Judiciary Committee Chair Rep. Jim Jordan, R-Ohio, hoping for an investigation into the threats and accountability. She also called for legislation to protect parents who advocate for their children in public forums like school board meetings.
"This is a First Amendment right," Bland said
A spokesperson for the Loudoun County Public Schools directed Fox News Digital to statements that some Loudoun County officials have made in public regarding the controversy.
"Violent threats are never acceptable and at times can be criminal. I personally condemn all violent language and my office will be investigating whether a crime was committed. Due to the possibility of a criminal investigation, I can not comment further at this time," Loudoun County Commonwealth's Attorney Buta Biberaj said in response to the news.