Stars hold off Kraken in Game 7 to advance to Western Conference finals
Dallas now faces the Vegas Golden Knights – the winner of the series will represent the West in the Stanley Cup finals
The Dallas Stars advanced to the Western Conference finals Monday night after a 2-1 win over the Seattle Kraken in Game 7 of the second round of the Stanley Cup Playoffs.
The Stars move on to face the Vegas Golden Knights to see who will represent the West in the Stanley Cup finals next month.
After only two years as a team, the Kraken were attempting to reach the conference finals, but a rock solid performance from the Stars on both ends of the ice ended those hopes
Goaltender Jake Oettinger only needed to make 22 saves – thanks to tight defense – and Dallas was able to capitalize on two opportunities against Kraken goaltender Philipp Grubauer.
CLICK HERE FOR MORE SPORTS COVERAGE ON
Roope Hintz was the first to take advantage of a Kraken miscue with four minutes left in the second period. The Stars flipped the puck out of their zone to get a line change, but Hintz had other things in mind when he flew off the bench onto the ice.
GOLDEN KNIGHTS CLINCH BERTH INTO WESTERN CONFERENCE FINAL WITH WIN OVER OILERS
He rushed toward the blue and stole the puck away from Jamie Oleksiak and found the top shelf over Grubauer's right shoulder to put Dallas up, 1-0.
Then, it was the rookie Wyatt Johnston, who found the puck at his stick in the Kraken zone after Evgenii Dadonov launched a pass down the ice after seeing no one around him.
Johnston picked it up off the corner wall, made his way toward the net, and flicked the puck over Grubauer's left shoulder this time for the 2-0 lead with 7:12 left to play in the third period.
With the way the game was going, it felt like that was the dagger in the Kraken's back, but Seattle wasn't going to give up that easily.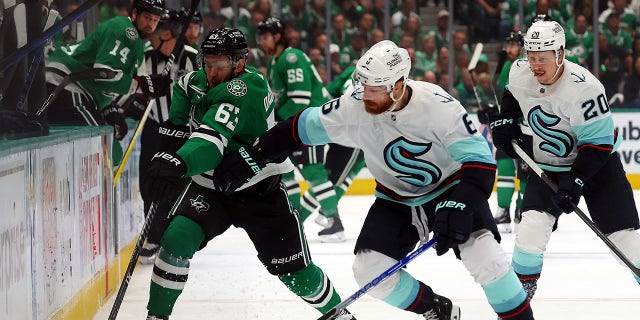 With 17.6 seconds left in the decisive game, Oliver Bjorkstrand used his backhand to finally get a puck past Oettinger to make it a 2-1 game. His reaction, though, was melancholy as he knew the Kraken still needed to pull off the impossible.
With their net still empty on the other end, the Kraken won a draw in their zone with nine seconds remaining. One last heave was thrown at Oettinger, but to no avail – he swatted it aside, clenching the victory for the Stars.
Dallas has just one Stanley Cup in their possession, though the team has won the conference title three times. The last came during the 2019-20 campaign, while the Stanley Cup victory was in the 1998-99 season.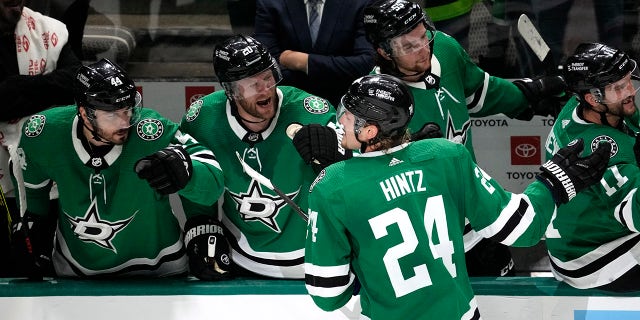 The Western Conference finals will kick off Friday at 8:30 p.m. ET in Las Vegas.